You might have heard a lot of buzz lately about Local Services Ads (LSAs). It seems like every few months, you hear about the latest thing that your legal marketing portfolio must absolutely include. Well, this is one of those things that almost all of the attorneys we work with demand. But what are LSAs?
LSAs are a Pay Per Lead service Google recently rolled out to Personal Injury Attorneys. While it is not available to every industry, it is available to most lawyers. When someone searches for a personal injury lawyer in your area, these ads will show up at the very top of Google under a section called "Google Screened."
This is a prime location on the Google search results page because it is the very first listing a prospective client will see. While around 80% of people prefer organic, plenty of people use LSAs. You can learn more about how LSAs work and how to get yours set up by listening to our podcast or by visiting our page dedicated to Local Services Ads for Personal Injury Attorneys.
What is Local Service Ad Spam?
Seeing as how prime this digital real estate is, there will be law firms out there trying to manipulate the system to get more leads.
Even though Google initially goes through painstaking efforts to have law firms verify the law firms business credentials, it seems as though their verification efforts fall off a cliff once the law firm is established. Several law firms have realized this and are taking advantage of Google's lack of follow-up.
One of the most popular techniques is to change the name of the law firm after the business identity has been established. For example, some law firms have changed their listing names similar to "Car Accident Lawyer Experts" or "5 Star Rated Personal Injury Lawyers."
Many times, large law firms have individual lawyers create individual law firm listings under phony names to capture more of the digital market space in these listings. They will even create dummy websites to make the individual "XYZ Lawyer Professionals" listings look more legitimate. Still, all the business from these individual accounts is feeding the same parent firm.
These techniques are against Google's Terms Of Service. When a prospective client is searching for a credible law firm to represent them, they can be easily manipulated into doing business with a law firm that doesn't legitimately exist in their area or is using a name they can't verify with the State Bar. They are being presented with "options" that aren't real. These practices are also unfair to the credible, honest law firms that are using this platform correctly.
Can I Report LSA Spam to Google?
With Google's credibility on the line, you would expect them to create an easy system to report these malicious law firms, right?
To some extent, they do. When you click on a listing and scroll to the Featured Personal Injury Lawyers section, you can click "Report inaccurate info." It is very small, hidden, and doesn't look clickable. But it is. You can also use this link: https://support.google.com/localservices/gethelp.
From there, you are taken to another page that has a link for you to share your concern, as seen in the screenshot below.

Next, you will need to sign into your Google account if you haven't done so already. You are then taken to a generic Google contact form. Even though you came here through the LSA listings, this is a generic form for all Google complaints.
The first question is "Tell us what you need help with." I entered in "Reporting Local Service Ad Misinformation."
It will then recommend one of three categories. I select Consumer Issues, since I am complaining as a consumer and not as an advertiser.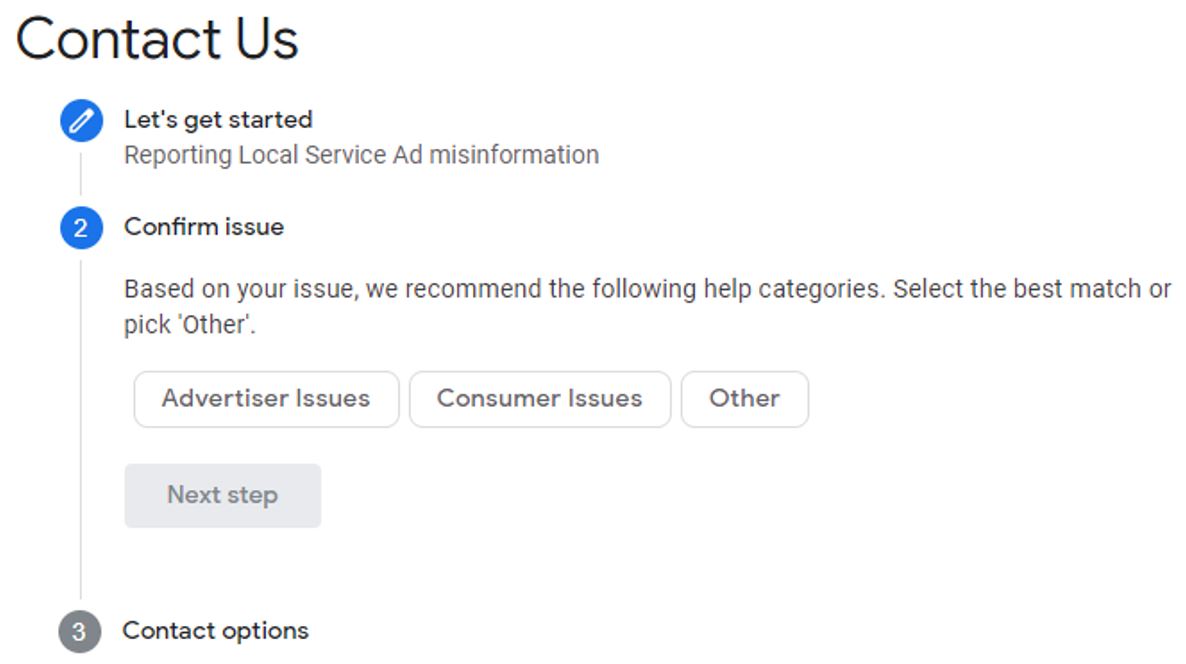 It then recommends some unhelpful information "About Local Service Ads data".
Finally, it takes me to an option to send an email pertaining to one of a list of concerns.
We clearly want to select "Report inappropriate or inaccurate content."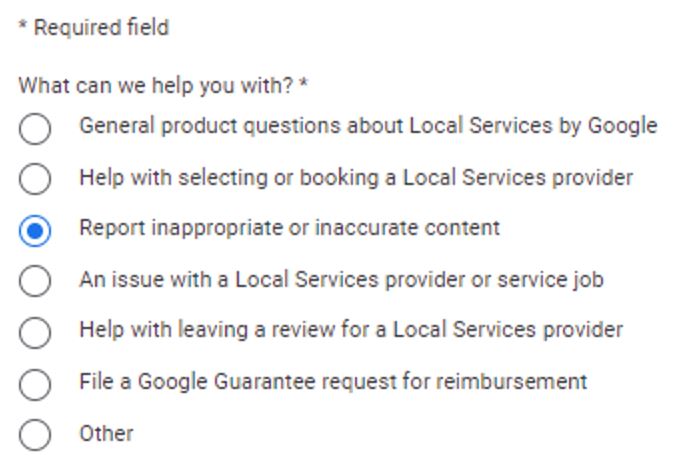 Next, we fill in the form with the contact name (your name) and contact email (your email).
It then asks for the Local Services Provider's Name and Location – this is where you type in the misleading name for the LSA listing and where they say they are located.
Then, you attach a screenshot of their listing. I do this by using my Snip tool on my computer. If you haven't discovered this tool, call me and I will walk you through it for free. It will change your life.
You will save that screenshot and upload it to the form.
The next step I take to prove my point is to find out where that lawyer really works. We won't out anyone in specific here today, but with a simple search in the State Bar of California website, I can find out which lawyer works with which law firm.
I take a Snip of that and also upload it to the Google form.
Finally, I explain the cause in the section that says "Please briefly explain why you are reporting this content as inappropriate or inaccurate."
I write: So and so Injury Lawyers is not the real name of this law firm. This lawyer is misrepresenting her real firm, John Doe Injury & Accident Lawyers, P.C.. I am attaching a screenshot of their LSA listing and their information from the California Bar website.
Then I hit submit. I am taken to a page that confirms that they have received my complaint, but they let me know it might take a while for them to get back to me.
So, I wait.
What Happens after I Report LSA Spam to Google?
Prepare for disappointment.
In the past, it has taken between one day and one week to hear back from Google. When I did hear back, it was just an email saying that they have escalated the issue and didn't hear back from them since.
That isn't to say that action wasn't taken. Pardon the double negative.
The first (rather unfortunate) action was that I can no longer view LSAs from the account that I had reported the issue from. They simply removed all access to LSAs from my primary Google account.
Poof. Gone.
I am still able to see LSAs when using incognito mode. If you don't know about this feature, also give me a call. It can be a great tool – just use it wisely. Ahem.
The next action I am purporting is completely based on assumption. But I *think* Google reached out to the firms that I reported and asked for additional evidence that their firm exists. I am making this assumption based upon the cheap websites they slapped together with their bogus firm names listed on there.
Does Reporting LSA Spam Make a Difference?
While my results have been less than encouraging, it is still critically important to keep reporting LSA Spam. With any new venture with Google, there are going to be hiccups and glitches. Unless these are brought to their attention by several users, change is sluggish at best.
Google must eventually change their process and policies. If their credibility is compromised and users are burned by the misinformation in LSAs, they will stop using them. At that point, Google isn't generating income from that highly-valuable advertising location.
Bottom line: report the abusers. Even if Google doesn't immediately fix the issue, keep reporting. They will eventually crack down on the unethical firms.