Google Ads is Google's Pay Per Click (PPC) product. Specific keywords and search terms trigger these ads to display. Personal Injury Attorneys compete for ad space via a bidding process.
If you need help managing your Google Ads PPC campaign, contact us today. We have extensive experience running these ads, and we are a certified "Google partner". We have a direct line to Google to assist us with managing PPC campaigns.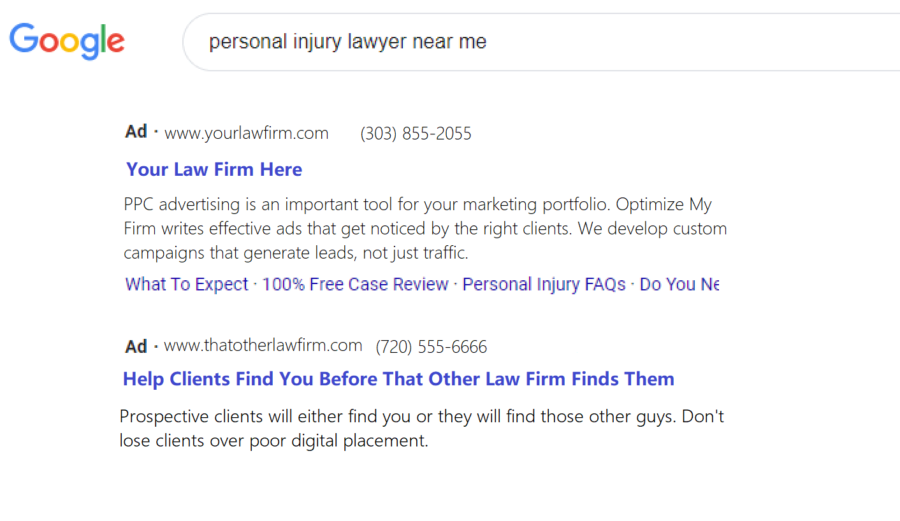 Google Ads can be up and running in minutes. SEO takes time.
Some firms we work with want as much exposure as possible. That includes a strategic, integrated approach of ranking organically, in Google Maps, in Local Service Ads, and also in Google Ads.
Google Ads, with proper location extension configuration, may result in your law firm displaying an ad in the Local 3-pack.
Conversions from Google Ads may be easily tracked with call tracking numbers.
Remarketing campaigns for firms which want ads to follow users around the web.
Ranking organically is far more cost effective.
The vast majority of people scroll past ads.
You have to pay for every click. The traffic stops the second you stop paying.
Click through rates, quality of traffic, credibility, conversions are all higher with organic rankings.
Personal Injury ads for highly competitive terms, such as "car accident lawyer", are expensive, often weighing in at $150 – $200 per click.
A story we love to tell...
The first personal injury attorney we worked with had a PPC campaign running for nearly 24 months when we met them.
Within the first hour of working with them, we discovered they were advertising for the keyword "attorney" while not taking advantage of negative keywords or broad match modifiers. As a result of this error, nearly all of their ad dollars had gone to clicks from people searching for the attorney general or district attorney. Their budget was set to $14,000/month. We estimate approximately $300,000 was misspent.
We repaired the issue and the results were immediately noticeable. Within 6 months, the ad campaign was completely shut off as SEO and content strategies were bringing in more leads than they had ever experienced with Google Ads.
Contact us for help with Google Ads for your Personal Injury Law Firm.
Whether you are looking for branding and awareness, leads, or you're eager to wean your firm off of Google Ads, we're happy to help. We can improve your Optiscore, helping your ads display more frequently and above competitor's ads, develop a strategy for low cost bids, configure an aggressive campaign, shift your budget to Pay Per Lead Local Service Ads, or help you stop using Google Ads all together.