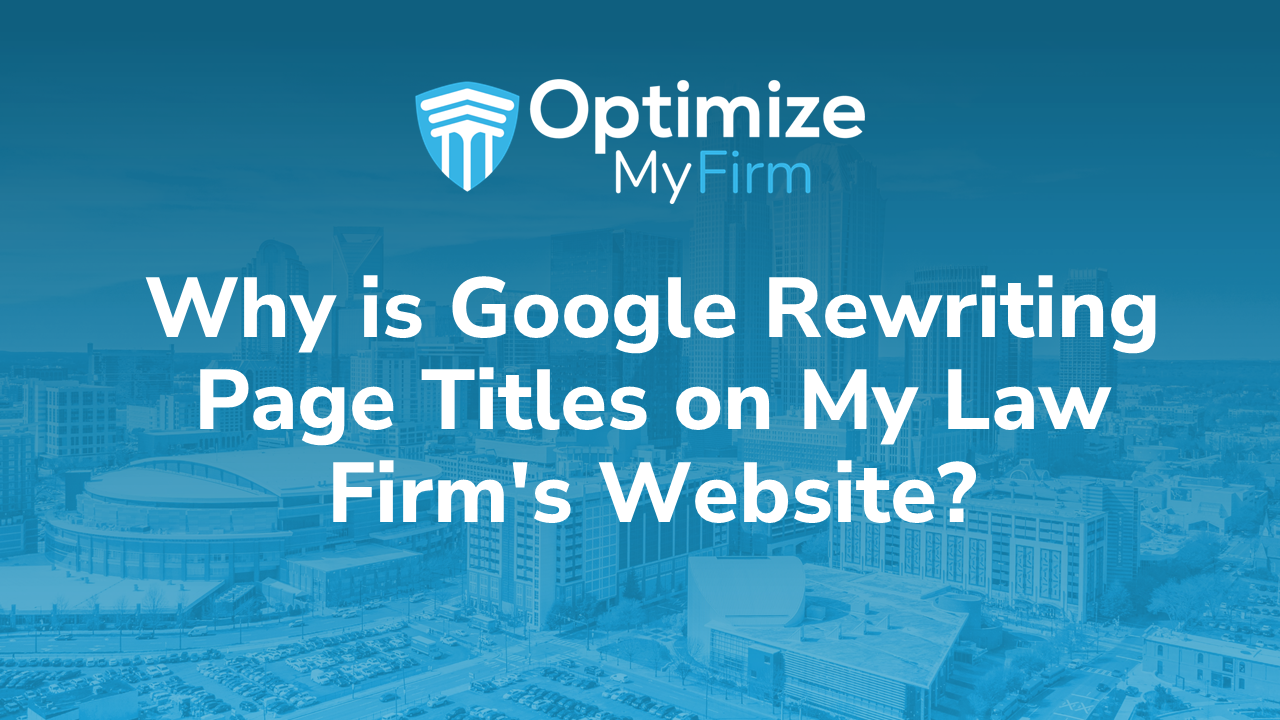 Around the middle of August 2021, Google gave us in the SEO industry one more thing to be hot and humid about: Google quietly began changing page titles.
On August 24, 2021, the rumors were confirmed. Google announced:
Last week, we introduced a new system of generating titles for web pages. Before this, titles might change based on the query issued. This generally will no longer happen with our new system. This is because we think our new system is producing titles that work better for documents overall, to describe what they are about, regardless of the particular query.
Hasn't Google Always Changed Page Titles?
Yes. Google often changes page titles and snippets, based on a user's search query.
For example, if you have a page titled "How to Sue Uber in Los Angeles" which is all about people who have been involved in a motor vehicle accident involving an on-the-clock Uber driver, and someone searches for "Los Angeles Uber Accident Lawsuit", Google could change your title to match the search query.
A lot of people weren't aware of this, but, it's true. Google has been modifying page titles since 2012.
So What's New?
At the end of the day, Google wants to be sure that when users see a title in search results, that the title matches the intent of the page.
While Google still uses the specified title at least 80% of the time, several people have noticed that when Google does change their title in search results, they have been using the top H1 tag off of a page, and paying attention to the way the page is referenced via internal links on the same website.
Tips on Writing Title Tags:
In October 2021, Google updated one of their pages to elaborate a bit more on how they are currently generating title tags. Google says that Google Search uses the following sources to automatically determine title links:
Content in <title> elements
Main visual title or headline shown on a page
Heading elements, such as <h1> elements
Other content that's large and prominent through the use of style treatments
Other text contained in the page
Anchor text on the page
Text within links that point to the page
Does This Impact Law Firms?
In most cases, no. However, if you ave a content heavy site, you're sure to eventually notice a rewritten title tag. Some of the sites we've worked with for years now have thousands of pages of content on them.
There is no way to opt out of this change. Apparently, Google thinks they can do whatever they wan with their own search engine.
And to be honest, some people are REALLY bad when it comes to writing page titles.
What to do if your Page Titles are Being Rewritten:
First of all, I would love to see a page title being rewritten on a law firm's website. If you contact me, I would love to take a look at it. In return, I'll offer some suggestions on how you may be able to tweak your page content or title tag to prevent the rewrite.
If you prefer to do it yourself, I'd just make sure that the title tag matches exactly what's on the page. Why would someone read this page? What are they going to gain from it? Does the current title truly match user intent?
How to Title Pages Moving Forward.
In 99% of cases, if you're already doing a good job titling your personal injury page content, there's absolutely nothing to do. Keep on producing content. Keep on naming pages what you think they should be named. Make sure every page on your site is titled something unique. Don't repeat keywords.
If you're still not sure what to do, check out Google's best practices for titles here or give us a shout.