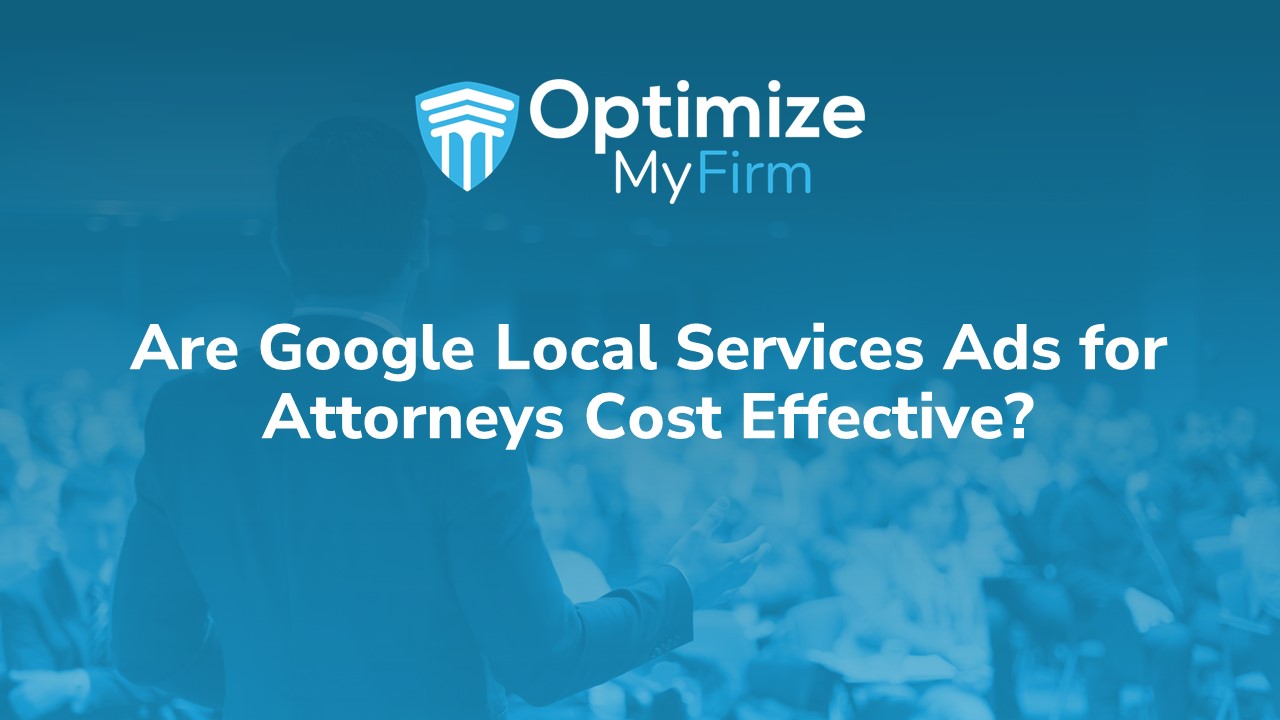 Yes. Every law firm we have ever worked with says that Local Services Ads are cost effective for their law firm. The cost per lead varies depends on a variety of factors.
If you weren't aware, Local Services Ads are VERY different than Google Ads (pay per click).
Are Local Services Ads cost effective for Personal Injury Lawyers?
As of 2022, we have seen leads from Local Services Ads (LSA) cost between $140 – $340 depending on how many attorneys are focusing on one city. On average, 1 lead from LSA costs $240, and 25% of leads convert into a real case, making the average case only $960. This is extremely cost effective.
For more information on this please refer to our page: What do Local Services Ads cost Personal Injury Lawyers.
Are Local Services Ads cost effective for Workers' Compensation Lawyers?
We run LSAs for Workers' Compensation attorneys in cities with a population of 500,000 people. The ads there are running $150 per call. Like personal injury, about 25% of these calls convert.
In our experience, Workers' Compensation lawyers are paying around $600 per case. Is that cost effective for you? We haven't tested this in smaller markets, however we suspect leads may be obtained for $300 or so in smaller cities.
Are Local Services Ads cost effective for Immigration Lawyers?
For whatever reason, attorneys focused on immigration needs in southern California or southern Florida tend to get away with LSA calls at around $18 per call. We have heard that these are very cost effective. Paying clients looking for assistance obtaining a green card may be had for under $100.
Are Local Services Ads cost effective for Family Lawyers?
We have been running LSAs for a Family Law practice in Florida recently and the ads are coming in at around $85/pc.
Unfortunately, as you know (or should know!) as an attorney practicing family law, the vast majority of people calling are looking for advice for divorce cases and are often frustrated to learn that there is no free consultation. Now, some Family Lawyers do offer free consultations, so this just depends. We have heard as many as 90% of people decide to end the call after learning that there is no free consultation. Apparently, people have heard so many personal injury advertisements that they think initial consultations are simply free.
If 1/10 people convert into a paying client you're looking at around $850 per lead. This still may be cost effective. Your mileage will definitely vary in the Family Law niche depending on which city you're in.
Are Local Services Ads cost effective for Criminal Defense Lawyers?
We do not have an enormous amount of data from Criminal Defense Lawyer LSAs, however, we do know of one who is currently paying $75 per LSA lead. In general, about 25% of callers are going to become a client. Criminal Defense lawyers are often looking at $300 to land a good case.
Are Local Services Ads cost effective for Estate Lawyers?
Estate Lawyers are often paying around $50 per lead but again this one varies greatly from area to area.
Recap: