Google began testing "Google Screened" Ads for Personal Injury Lawyers in August 2020. Many Law Firms who focus on personal injury law will be interested in this new ad type.
What Is "Google Screened"?
Google Screened Ads for Personal Injury Lawyers are Pay Per Lead ads, also called Local Service Ads. Participating lawyers go through a screening process which includes a background check and a license check with the State Bar.
Once a personal injury law firm passes all requirements, their ads may be served in Google search results and in Local Service Listings, where users will see a Google Screened icon 
  beside the law firm's name.
This is what a search engine result page looks like which has "Google Screened" displaying at the top. As you can see, the Google Screened Local Service Ads display above Google Ads and the Maps 3 Pack: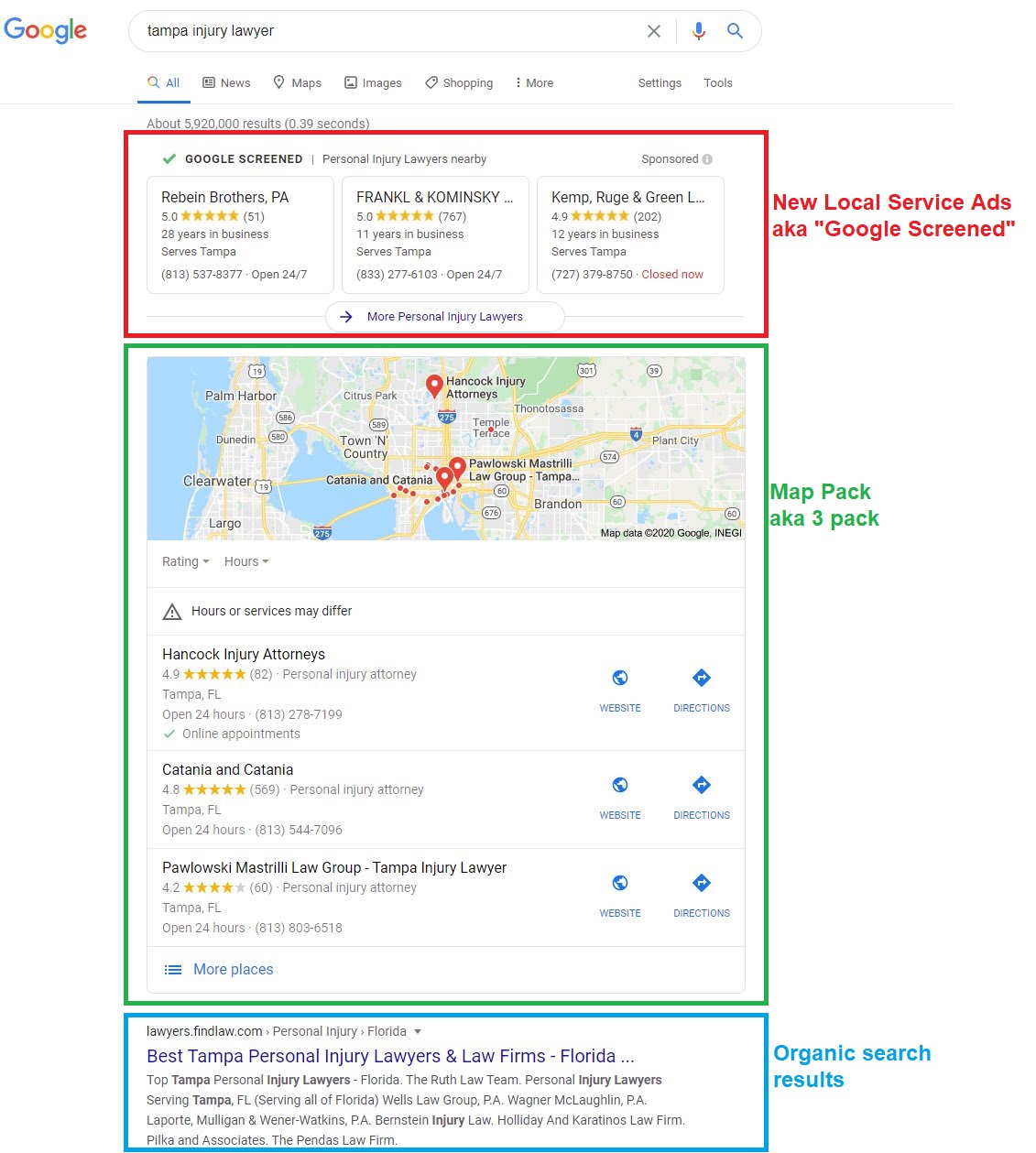 How To Setup "Google Screened" Ads for Personal Injury Lawyers:
To set up Local Service Ads I would recommend logging in with your Google Account which also manages your Google My Business profile.
You will also need all of the following information when you sign up. We have set this up several times for attorneys, but if you'd like to keep your personal information personal, you can follow these instructions:
Gather all necessary documentation. This includes the business name, owner's name, year founded, headshot for attorneys, state Bar numbers, credit card, company EIN, your SSN and more. A complete list is below.
Visit the Local Service Ads Signup form: https://ads.google.com/localservices/signup/eligibility
Fill out everything Google needs for the screening process. As a note, the personal  background checks are performed via Pinkerton.
Wait for approval. Some items take longer than others. Google will import your reviews from Google My Business.
Documentation needed for "Google Screened" Ads for Personal Injury Lawyers:
There are two parts. First is the information you'll be giving Google, then Pinkerton will need personal information from you for a background check.
Information Google needs:
Business name
Owner's name (The majority shareholder or partner you'd like the account name under. There is only room for 1 name on the form.)
Total # of "professionals" (The total number of State licensed attorneys at the firm)
Year founded
Languages spoken
Headshot for owner (and all lawyers who want their faces in ads)
License information (Bar #. Google asks when it expires and I've been entering 1/1/21)
Budget (More on this in a moment)
Attorney info (Names and Bar # for all attorneys)
Misc info: your hours of operation, service area, etc.
Pinkerton needs:
Company EIN
Owner's DOB
Owner's Home Address
Owner's Cell #
Owner's SSN
Owner's Previous address (if you've moved in the last 7yrs)
How Much are "Google Screened" Local Service Ads?
As I type this, the program is not yet live. I'll update the article when I have more data. However, I suspect that attorneys will pay $100 – $150 per lead.
There is a good chance that pricing will vary depending on what the user had searched for. Current "Service Types" available for personal injury law firms to pick from include assault & battery, auto accidents, bicycle accidents, catastrophic injuries, dog bites, injuries from DUI, medical malpractice, motorcycle accidents, motorist insurance claims, pain & suffering, pedestrian accidents, product liability, slip & fall, workers' compensation, and wrongful death.
Organic is still King.
I'm not just saying this because I help personal injury lawyers with their SEO & content development needs, but, the majority of people will continue to avoid paid ads. In fact, multiple studies have shown that Ads only capture approximately 13% of clicks. Still, these ads will likely be cost effective and worth running.