On December 14, 2022, Google dropped the news of their "December 2022 Link Spam Update".
It was a historic moment, and one I've been anticipating since I began building links decades ago. Why? Google's announcement said "Today, we're leveraging the power of SpamBrain to neutralize the impact of unnatural links on search results". SpamBrain is AI powered. More on that in a moment.
There was a little flux in the Search Engine Results Pages (SERPs) throughout December, then, Google paused the rollout for the end of year holidays. The algorithm continued it's rollout in January, and concluded by January 14, 2023.
If you've been doing SEO for a while you may know why Google paused the rollout. If you haven't, allow me to fill you in. Back in November 2003, Google launched an algorithm update the SEO industry nicknamed "Florida". It was full of false positives and many innocent sites got whacked, just before the holiday shopping season. Sites were crushed, along with people's hopes and dreams.
What is SpamBrain?
Google is now using AI to detect unnatural links placed to manipulate their algorithm. In Google's 2021 search spam report, they mentioned SpamBrain was being used to "identify disruptive and malicious behaviors among billions of web pages".
The December 2022 Link Spam Update marks the first time Google has used SpamBrain for links.
SpamBrain does not "penalize" websites, but, it does nullify links it identifies as link spam. This means that if you have a link to your site from a blog you paid to link to you, and SpamBrain detects it, it is not going to give that link any weight. That link is not going to help your website rank better.
Did the 2022 – 2023 Google Link Spam Algorithm Update Affect Law Firms?
Legal websites experienced a minor, but significant impact in 2023 from the latest algorithm update.
In late December, sites on the front page shifted a little. So, if you were ranking on page 1 for "Portland Personal Injury Lawyer" in position #4, you're now like position #3, or position #5.
In January 2023 we saw more of a shift. We had several clients who were on page 1 for multiple terms jump even higher towards the top. It's not that they were suddenly rewarded, it's that sites who were outranking our client's sites lost some rankings and dropped by several points.
Here's a screenshot of a personal injury attorney who had a pretty significant increase in traffic: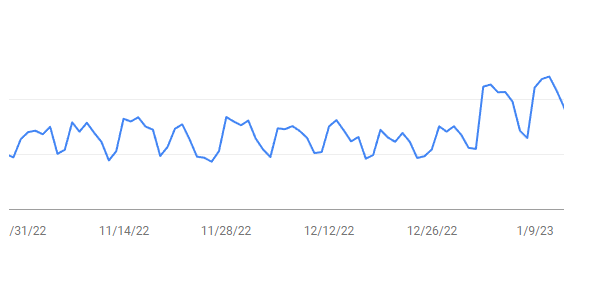 Which Links Were Punished?
We had no websites lose traffic, so, our data is limited. However, based on Sistrix, Semrush and AHREFS data, we believe that there are multiple types of link spam which SpamBrain has correctly identified.
SpamBrain is likely nullifying backlinks from websites which:
Link out to lots of other websites and are obviously selling link placements
Use exact or closely matching anchor text
Link to"money pages" that you're trying to rank
Note: Expertise.com was absolutely decimated by what appears to be the Link Spam Update.
Websites Reaping Rewards:
Google "personal injury lawyer" in any city on the planet, and every firm on the front page has been building links. The winners in this algorithm update build links the way we do here. We have clients who are 100% white hat and we do not need to buy any links for them, and we have clients who need a little help, so we obtain links as naturally looking as possible for them, in context, from quality sites – the same way we've build links for decades, and never had a problem.
Links are Now More Important Than Ever.
If your SEO agency has you losing rankings and losing traffic and your prospective clients are calling our clients instead of you, you need a serious change to your link building strategy as you're likely to keep getting beat out by people who are building better links. Google has been refining the way they reward links for 20 years now.