Welcome to the FAQPage Schema generator for law firms. This marks up text questions with JSON-LD.
This tool was created for the law firms we work with who have in-house marketing teams who generate their own FAQ Page Schema, but anyone is welcome to use it, and it will work on any page, not just law firm websites.
What are "FAQ Rich Results"?
Nearly every attorney scoping out their rankings or competitors have seen FAQ Rich Results in Google's Search Engines Results Pages (SERPs). In search results, Google (or any search engine) may choose to display them. FAQ Rich Results are displayed underneath the normal snippet and take up additional real estate as a FAQ dropdown.
As of 2022, Google allows two FAQ Rich Results to be displayed in search results. To get FAQ Rich Results to display, you must have FAQPage structured data markup. That markup needs to be in the format of either Microdata or a JSON-LD script. JSON-LD is the method we recommend.
Here's an example of a search result showing a page without markup above a page with markup: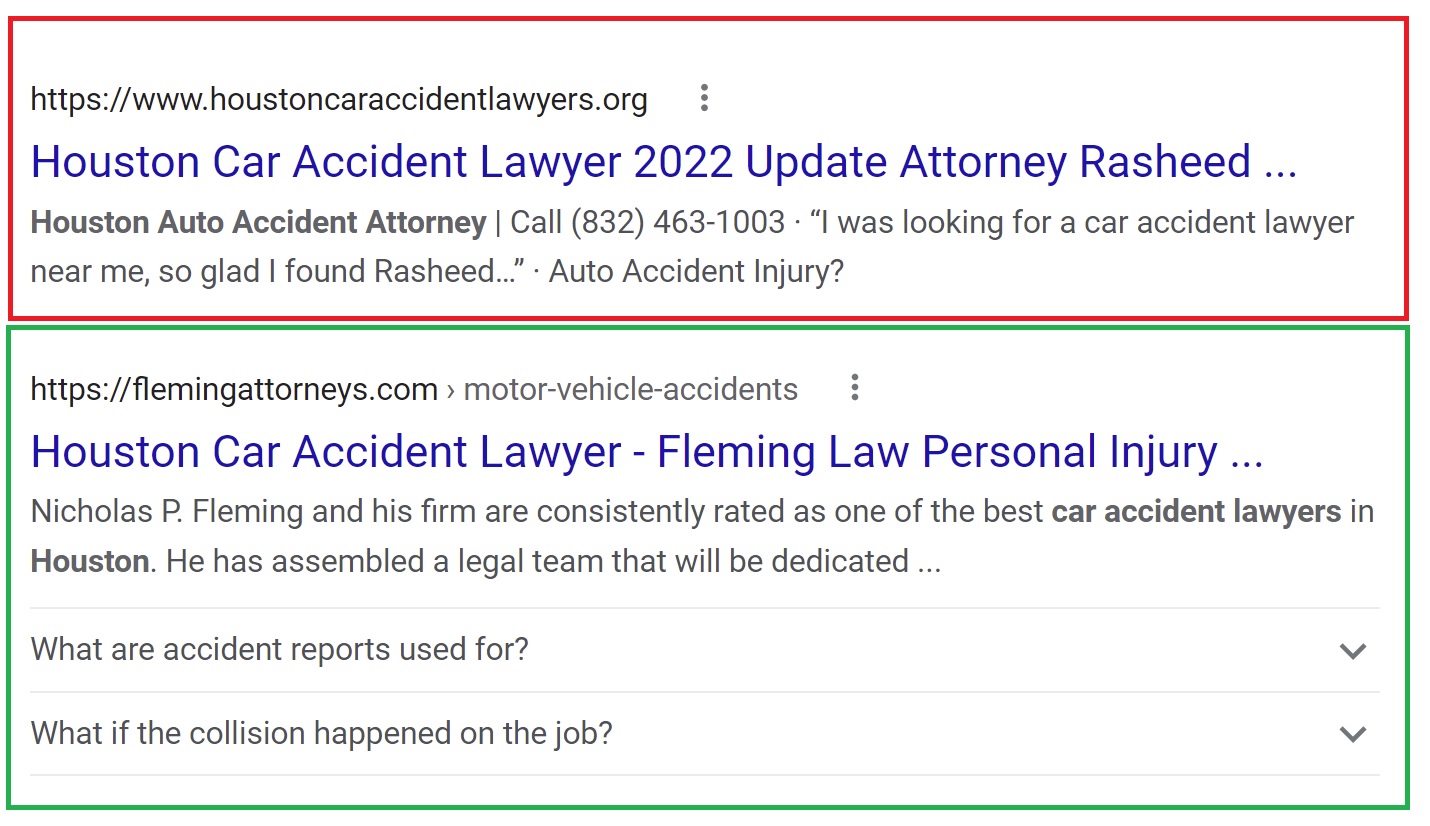 What is FAQPage Schema Markup?
FAQPage Schema Markup simply tells search engines that there is a question and and answer on the page. Someday, search engines will be able to extract FAQs from your site at random. Until then, they need some help.
Important Notes:
As of 2022, Google allows up to two FAQ Rich Results.
Your FAQ markup must match precisely what is displayed in text on your website.
A maximum of 3 websites on page 1 of Google's SERPs may display FAQ Rich Results.
In 2021 Google became more selective of which FAQs may display. If your FAQs aren't displaying, take a look at Yelp's strategy for hints and ways to improve your chances of FAQs displaying in SERPs.
FAQ Schema, FAQ Structured Data, FAQPage markup are all the same thing, but should no be confused with QA Schema Markup, which is used for forums when highlighting 1 or multiple correct answers. This is because Schema.org calls it FAQPage, and Google calls it FAQ Page Structured Data.
In addition to the visible space FAQ Rich Results consume on both desktop and mobile, these results also create an "action" on Google Assistant, which is kind of cool.
Once implemented, you may validate your pages with Google's Rich Results Test.
You may test how Google sees your page via the Google URL Inspection Tool.
If a page is already indexed, you may nudge Google to recrawl specific URLs.
Need Help Standing out in Search Results?