In this episode of the Personal Injury Marketing Minute Podcast, we interview "The Lawyer" from TikTok, Anthony Barbuto, and learn about his journey to 2 million followers.
Anthony Barbuto's brand on TikTok is "The Lawyer". He was one of (if not the first) American lawyers making videos on the platform. You can see his videos on TikTok here @TheLawyer. We've been dying to talk to him ever since writing about The Lawyers of TikTok.
Podcast: Play in new window | Download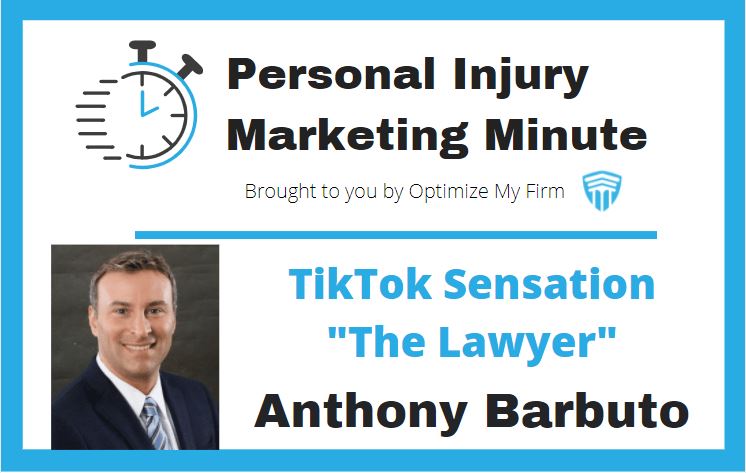 TikTok is not just for kids.
While TikTok is primarily used by teenagers lip-syncing and/or dancing, there are many niches and content creators using the platform. Some of those users create videos on cooking tips, how to apply makeup, skateboard tricks and even politics. As @TheLawyer, Anthony primarily produces comedic and family videos, generally 8 – 15 seconds long.
In this podcast, Anthony explains that he did not start using TikTok to market himself. He started producing videos to share at a personal level and to have some fun with the social media platform. Anthony finds creating videos on TikTok to be a big stress reliever, especially after a long day of litigation.
The Lawyer has Inspired others to become lawyers!
@TheLawyer has reached millions of people all over the world. Many of the viewers are teenagers who have been inspired by the videos to pursue a legal career.
Indeed, stereotypes exist and some people think all attorneys are workaholics with no social life. That's definitely not the case.
Anthony has received thousands of messages from people all over the world who now aspire to be attorneys.
What led to The Lawyer's success?
Anthony had no intention of becoming a social media sensation. What initially made him stand out is that he was an adult, in a suit, and an attorney. Many of his videos incorporate a legal theme.
Anthony also understands that TikTok is different and should be treated like TikTok. You join TikTok to have fun, not serve advertisements for services. Anthony has experience with Facebook, Instagram, YouTube and other social media outlets as well.
Can attorneys get business from TikTok?
In the podcast, Anthony mentions that practicing law is his full time job. He did not join TikTok with the intention of getting business from the app. TikTok videos are usually something he produces a few times a week, and spends an hour on here and there. The vast majority of his business comes from local clients in Palm Beach County, Florida at the law firm Barbuto & Johansson.
However, yes, he has gained business by representing other TikTok content creators with their legal needs.
Clients do see his videos when they look him up and also often discover that he's been in the news. The videos have not scared away clients and they're refreshed to see who he is as a person aside from his legal credentials.
Just be yourself!
Anthony recommends people venturing into TikTok to be themselves, express their interests and individuality.  He also explains that his biggest asset is his personality and that he gets along very well with people. Anthony says "I have never had any client hire me who didn't like me as a person."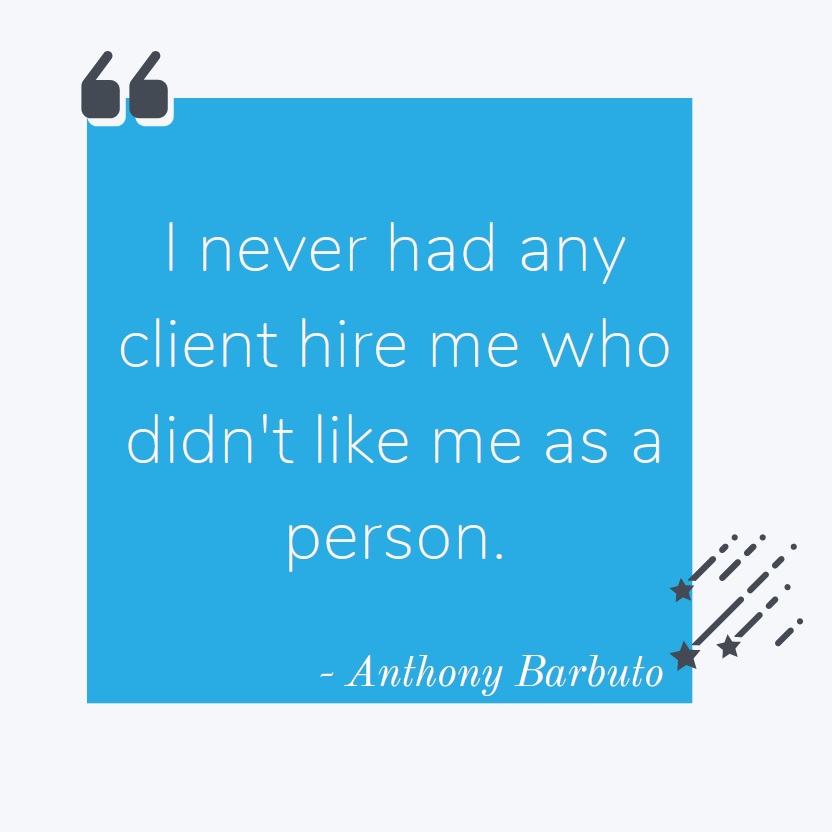 What's next for The Barbuto Family? YouTube!
"The Barbuto Family" is a new YouTube channel featuring Anthony (a/k/a "The Lawyer"), along with his wife and children, Rovena, Leonardo and Sofia. Anthony is committed to creating more videos showing his great family on this new channel and all of their fun adventures both in Florida and in Italy.
Be Sure view and subscribe to this channel here: https://www.youtube.com/c/thebarbutofamily.
The Barbuto Family may also be found here on Instagram: https://www.instagram.com/thebarbutofamily/
The family is traveling to Italy soon and you can find those adventures here on Facebook or on his blog, Italian Enthusiast or Italian Enthusiast on Instagram.