On October 4, 2023, Google Announced the "October 2023 Spam Update. This update primarily focuses on websites which are pure spam, however, as it does impact sites which do link-building, some attorney's sites were indeed impacted.
Google October 2023 Spam Update Timeline:
October 4, 2023 – Google announced the update.
October 6 – 7, 2023 – Impact felt
October 9, 2023 – Impact felt
Law Firm Sites Impacted Due to Spammy Backlinks:
In general, attorneys have decent websites. Sometimes the content leaves a lot to be desired, but, their sites usually aren't straight up spam (unless you're in California). The problems most law firms have is with their backlinks.
As I wrote here in January 2023, Google ignores or nullifies the SEO value of backlinks for one of three reasons:
The site linking to you is obviously selling link placements
Spammy anchor text
You've linked directly to your "money pages" that you're trying to rank.
What Else Does the Spam Update Target?
Glad you asked. Believe it or not, Google's algorithms are not just about legal sites. In fact, Google really focused on billions of other sites.
Here are some of the things that Google's spam algorithms are out to get, according to their documentation (see: Spam policies for Google web search):
Cloaking
Doorways
Hacked content
Hidden text
Keyword stuffing
Link spam
Diagnosing Traffic Loss from a Google Algorithm Update:
The vast majority of SEO professionals out there are pretty terrible at diagnosing traffic drops. That means that attorneys are even worse at it. Sorry. Unless you've diagnosed and recovered sites professionally for a few years, don't even bother trying. There are hundreds of variables to consider, classifiers, and often overlapping algorithm changes.
For example, just recently we've had:
September 14, 2023: September 2023 Helpful Content Update
October 4, 2023: October 2023 Spam Update
October 5, 2023: October 2023 Core Update
That said, here's a tip. If your law firm's website was affected by the October 2023 Spam Update you have probably fallen 10 – 20 positions in the search results. This would indicate that Google has stopped passing SEO value from some of the links that you've built.
Many websites which are pure spam get completely knocked out of the results.
A Fun Story:
A potential client came to us back in August. They insisted they knew how SEO was done. I was extremely blunt with them as I was very reluctant to take them on (I mean, imagine I walked into a law firm and explained to the attorney how I was a law expert).. Anyways, I was able to successfully chase them off by being brutally honest (yes, we turn away many potential clients here).
I'm glad that I was up front. Here's a screenshot of an email that I had sent them:

This site dropped 15 positions in Google's search results on October 9, 2023.
Here's a traffic estimate from a third party tool: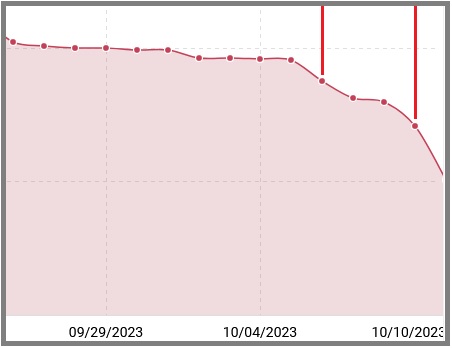 I am not posting this to say "I-told-you-so". It's just that I've seen it 500 times now. Play stupid games, win stupid prizes.
Were you hit by Google's October 2023 Spam Update?
Most attorneys, especially personal injury attorneys, are building links. It is what it is. I build them, too. Unfortunately, many marketing agencies are extremely lazy about it, and link-building must be done meticulously. Some agencies even outsource backlink jobs overseas for $150/mo.
If your SEO agency has tanked your rankings and you're not getting leads, please feel free to reach out and we'll take a look at the damage they've done and offer you advice on how to move forward. After you're back on the right track, check out our personal injury attorney SEO services and contact us to see if we're a good match.