The best location for your law firm depends on a variety of factors, but often includes discovering a location near as many people as possible and also as far away from competing law firms as possible.
Here's how we pick locations (successfully).
A quick note:
While showing up in Google is great, I am also a big fan of a local presence. If this is a law firm which will actually be staffed by employees all day and you're active in the community, I would encourage you to find a place for your law firm which provides great visibility.
Signage is a consideration as well. Using North Carolina as an example: In Cary NC there are strict sign regulations. Standing out is very difficult. Just 15 miles away in Durham, there are tall buildings with law firm's names on them visible from the highway. It just depends.
Local SEO: Getting Maximum Exposure in the Local Pack & Google Maps.
Attorneys ask us all the time where they should place their next law firm.
Long ago, Google used to just list businesses in the center of the city first. Much has changed since then, and as of December 2021, the Local Pack now places significant weight on a user's location. More specifically, they're more likely to display your law firm in a user's results when they perform a search near you.
In other words, the Local Pack changes based on user proximity. Someone located on the northern side of Chicago is going to get completely different local results than someone else doing a search on the south side.
To me, this makes a lot of sense when you're looking for gas, a coffee or a pizza. Not so much for law firms, but, it is what it is.
Here's an example of a Local Pack result – it's the "Google Maps" section on a Google Search Results page: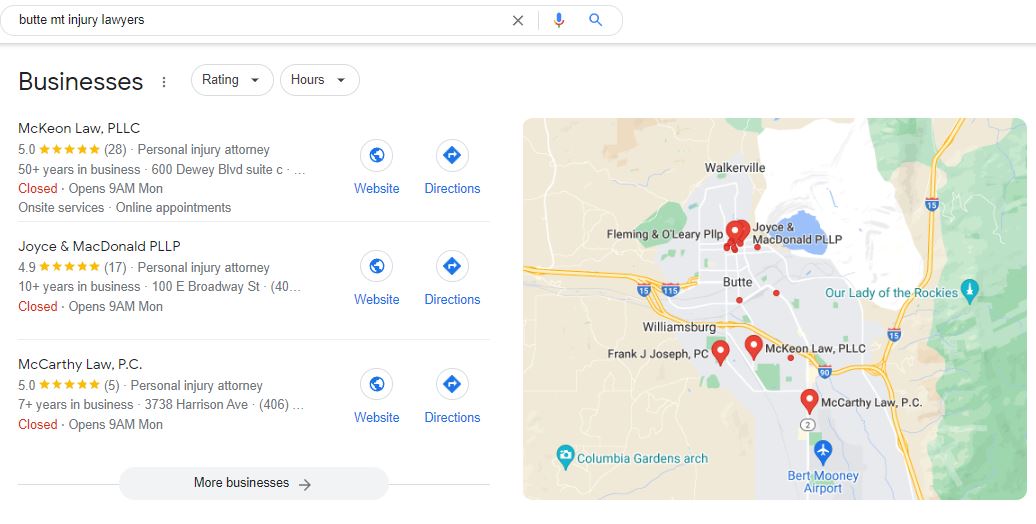 Basically, if you do well in organic search results, have good / recent reviews, have configured your Google Business Profile correctly & are in the general vicinity of your users, you have a decent chance of showing up in the local pack (for a more in depth explanation, check out our podcast: How Law Firms Rank in Google's Local Pack).
A Real Life Example:
This is Butte, Montana: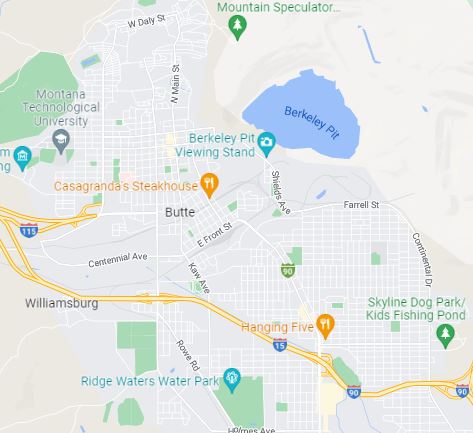 Here's where the Personal Injury Law Firms are located in Butte – they're mostly all downtown near the courthouse. This could be because many of these firms are general practice attorneys: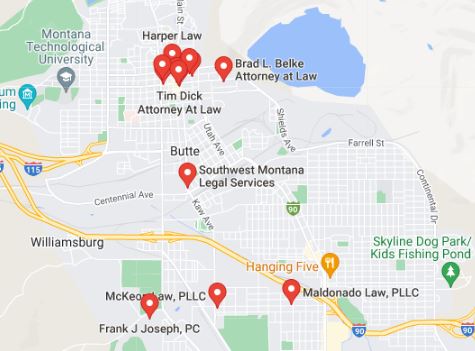 But what about this huge area where are the people are located? There are no attorneys there: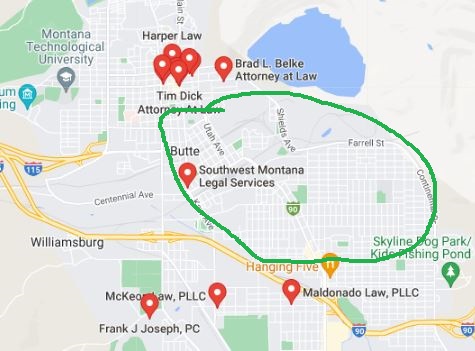 In the red rectangle below we can see a long strip of commercial buildings on Harrison Avenue which would be excellent places for setting up a law firm or a satellite office. An attorney here would almost definitely display in the Google Local Pack to (at least) anyone performing a search for a Personal Injury Lawyer in the green circle.
Need Help?
We've focused on SEO for Personal Injury Law Firms for over 10 years now and helped law firms with finding virtual locations, remote / satellite offices, relocations and consulting with firms purchasing commercial buildings.
If you have a decision to make about your next location and how it will impact your visibility in search, contact us today.