Google updated their Local Search algorithm and changed the Local Pack layout in December 2021. This directly impacts law firms rankings in Local Search results (aka the "Local Pack" or "Three Pack").
The December 2021 Local Pack Layout Change:
This change impacts business owners and law firms who display in Local Search effective December 9, 2021.
Google had been testing this change since July 2021. The new look affects desktop users only.
Here's a before and after look at the Local Pack for the search results for "Denver Personal Injury Lawyer":

Google Local Search Results Algorithm Change:
In early December, many law firms noticed a ranking change in their Local Search results when they gained or lost visibility. The change was made worldwide and affected all types of businesses. More specifically, businesses impacted would have noticed a change between December 1 – December 8, 2021.
According to a tweet by Google, the algorithm update "involved a re-balancing of various factors we consider in generating local search results".
We agree with Google's explanation as it appears they "twisted the dials" of their algorithm. According to Google, Local Search ranking factors include "relevance, distance and prominence". These are very vague variables which leave a lot to the imagination. We always tell our clients that Local Search ranking factors include:
Good organic rankings. There is a strong correlation: law firms rank in organic search results also tend to do well in Local Search results.
User distance. The location of a user and the proximity of that use to the physical location of your firm is most definitely a ranking factor (Local Results change based on user's locations).
Reviews. Law firms need a good review score. They need a large amount of reviews. They need recent reviews. While it's impossible to measure how reviews impact "prominence" in Google's opinion, the fact remains that law firms need ongoing reviews.
Law Firm name. We have helped several law firms rebrand with "Accident and Injury Lawyers" in their assumed name or official name because keywords in the business name impact rankings in Local Search results.
December 2021 ranking changes were very vague and vary from city to city. In some cities, no rankings changed. In others, we're seeing law firms in the Local Pack who have never shown up there. In some cities, we're seeing top rated firms lose some visibility.
In general, we feel that Google's changes were minor. From our observations it is possible that Google may have made the following changes:
Google could be placing less "weight" on the business name. This makes sense and is years overdue as a name should not impact "relevance". However, it should be noted what we're seeing is inconsistent.
Google may have adjusted how businesses display based on a user's distance. This is a big factor and it appears that Google made some adjustments here. However, nobody is certain what those adjustments are. We can say that personal injury law firms in dozens of cities that we monitor have stopped displaying after a certain number of miles from their location.
Organic rankings are still very important. We have seen some firms drop in Local Results who recently dropped in organic rankings. There's definitely a correlation here, at least in some cases.
Before and After:
The image below has two screenshots from LocalFalcon local rank tracker and shows where an accident lawyer ranks in the 3 pack in Milwaukee Wisconsin based on a user's location. This specific firm lost a little visibility but still ranks fairly well. Many of the Local Search results have looked similar to this – a bit random. In this case, the law firm is indeed using "Accident and Injury Lawyer" in the title of their business, and as mentioned above, Google may be placing less weight on the business name. If that's the case, you could see why they have lost some placement. It should also be noted that some people think user proximity weighting has been adjusted. In the case below, either (or both) explanations would explain the loss of visibility.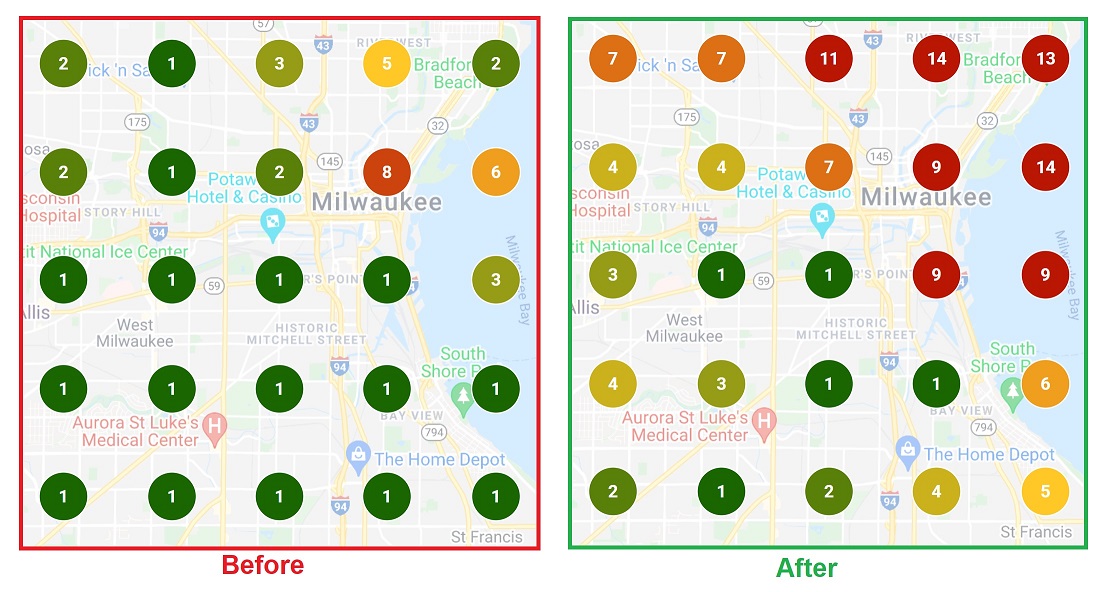 Do You Need Help Getting Cases from Local Search?
Law firms we work with still get excellent leads from Local Search.
Showing up in Local Search results in multiple new cases each and every month. If you need assistance showing up in the Three Pack or Google Maps, give us a call and we'll be happy to take a look at what your Internet presence. We work with everyone from solo operations to larger international firms.