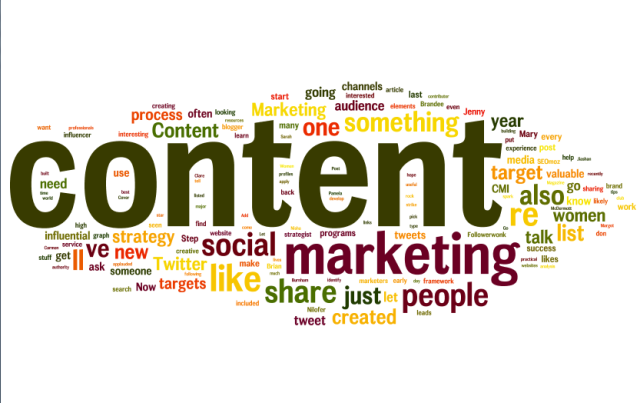 There's nothing worse than staring at a blank spreadsheet. All those pale gray boxes mocking you. Reminding you that your well of content ideas has run dry. What do you write today? What should you work on for the rest of the month? Worse than writer's block, a lack of content ideas can drag you to a halt before you even pull up a new word document.
So what's the best way to build your file of ideas and keep everyone working and happy? How does an endless supply of content sound? Well, if we share strategies maybe we can get close to an infinite stream of great ideas.
Stay on Topic with Your Ideas.
Many SEO companies will correctly advise you that you need a steady flow of articles to show that things are happening on your site. Google's bots are attracted to shiny new things, such as recent page and blog posts. These companies may also tell you that it really doesn't matter what the articles are about. Just keep posting. That's not true, or at the very least it's a very inefficient use of your resources.
Writing an article about the dangers of cigarettes won't do much to draw in potential clients. If they're asking Google questions about cigarettes and health, it's unlikely Google will direct them to a personal injury law firm website article when there are many medical websites available that have better authority on the matter.
Writing about random topics won't attract readers, either. It is better to select topics that target the clients your lawyers need and that would fall into the wheelhouse of a law firm's authority.
You should maximize your article's reach and punch by sticking only to topics directly related to your lawyer's specialties. You show Google that your site is active, and you are also targeting anyone who wanders by looking for information on injuries caused by defective household products or any other type of personal injury.
Expand Your Coverage Area and Your Spreadsheet.
Your client's coverage area probably doesn't stop at the city limits. Outside of that city, there are probably dozens of smaller cities and towns where your attorney could unearth clients.
So, if you write an article on "Dallas Pedestrian Accidents Involving Uber," you can immediately also write one on "Fort Worth Pedestrian Accidents Involving Uber." Then draft one for Plano and for Grand Prairie and so on.
It's a basic step that most content managers utilize, but here's one step further. You can also target folks in different neighborhoods within your city. New York City isn't the only place with iconic boroughs.
If you don't live in Philadelphia, you might not know that there are official regions of the city and probably a few nicknames for certain sections too. Philly has a Center City District and an Eastwick Neighborhood. There's also a section known as Germantown and Port Richmond. Any article you write for Philly you can turn around and write a similar one for Eastwick.
You might not know how Philly cheesesteaks are made, but you can cover all of your bases in a city you might have never visited. Try to write articles for every search an injury victim may enter. "Lawyers in Philadelphia," "Lawyers in Center City," Lawyers in Germantown."
While this might seem like a redundant exercise, if someone is searching for a great slice of pizza, they will likely search "best pizza in Eastwick" as opposed to "best pizza in Philly." Google will prioritize the page that is most relevant to the search. By having several iterations of similar content ideas, you give Google something more valuable to present. The same is true for lawyers who want to demonstrate to show up in a large metropolitan area with several districts.
Blogging About Local Traffic Accidents.
Monitoring local TV station and newspaper websites can provide new blog content ideas each and every morning. Not every accident will suit your needs. You'll want to use collisions where the at-fault driver is clearly in the wrong and caused serious injury to victims. If the injured victims caused their own accident it's a tragedy, but there's likely nothing your attorney can do for them.
It's always best to source your accident details to the news outlet, including a link to the original report if possible. The same goes for any statistics you pull from DOT reports or traffic studies in the blog…add the link. Google likes it when you show your work.
If you have an accident that meets your criteria, document what happened and then guide the victim (if they are reading) or relatives of the victim to the information they'll need. You can build in information on pertinent things like wrongful death claims or options after a hit-and-run incident.
Get these articles out as soon as possible. It's understood that information on an accident will receive elevated traffic online for around 48 hours. Beyond that, your blog may not get a lot of views. Of course, your goal with these accidents is to reach out to the actual victims and their family members who might be Googling the accident to see what people are saying. They need to be made aware of their options before insurance agents intervene and try to steer them away from fair compensation.
Now for a few personal preferences. At Optimize My Firm we avoid using accident cases that are extremely tragic or that involve injured children. We also feel that mentioning the names of suspects or victims goes too far. We will indicate the ages of victims and where they are from if the information is provided.
You want the actual victims of the accidents you're writing about to be able to find your article if they are searching online, but you don't want to offend them or upset them at an emotionally vulnerable time. Mentioning the names of the roads where the collision occurred and specific details of the crash should be enough to lead a victim to your site.
Studies on your Radar.
Sometimes a study gets released at just the right time. Thank a statistician! These can make great blogs. Year-end studies often come out in January and February detailing different accident numbers from the past year. These facts and figures can also provide material for bigger articles with graphs and charts.
A local TV station may write up an article on a pedestrian safety study, neatly breaking down the vital stats for you. You can also go to the source and get numbers directly from the researchers.
Your article can present the bleak numbers and then work in a "what to do if you're hit by a careless motorist" segment. They can even link to previous pedestrian blogs you've written.
Monitor Hot-Button Issues in your Client City.
Make a city your own. Follow local government news and tweets with searches each week.  You'll get previews of traffic projects that may greatly affect pedestrian and bicycle safety in a particular neighborhood. You may spot a road construction project and major detours planned. You can get out ahead of all the accidents that might pop up on these crowded detour routes. Your next article could be "Topeka Accident Lawyers for Victims on the I-470Construction Detour."
Your client may want to reach out to the victims of bicycle accidents and you spot public outcry over the lack of bicycle lanes across the city. Following these issues can provide topics over multiple months.
City council may take public input on a proposal to add paths for pedestrians and bicycles. That's your first article! Approval of those plans a few months later can be your second blog. The first pavement poured or a groundbreaking can be yet another article. And finally, the completion and opening of a bike lane can be a final update in blog form.
These articles can show that your attorney cares about the walkability and bike-friendliness of the city. If you show that your legal team is worried about the same issues pedestrians and cyclists are worried about you'll automatically build your brand and client trust.
Using Google Question Hub.
Who would know better what questions folks are typing into Google than Google itself? The new, as of January 2021, Google Question Hub allows you to track the questions google sees daily related to your target topics.
The tool is especially handy for highlighting questions that people are asking that Google really isn't finding great answers for. The idea is to start trying to answer these underrepresented questions with good, solid explanations. People find the answers they need and you increase traffic for your client. It's a win-win.
How does it work? We've got an article up that talks about how to take advantage of this new service. More Info on Google Question Hub.
Remember Your Reader: Injury Victims.
It's also important to come into your planning remember the victims.
So many times, content creators plan and write to impress other writers or even a Google algorithm. Hitting your SEO goals is important, but it's also vital to make sure your topics and content reaches out of the screen and lets potential clients know that your lawyer cares for them and understands what they've been through.
The person who found your article through a google search may be laying in a hospital bed, trying to recover from serious injuries. It's a good idea to address your article directly to their needs.
As my managing editor here always reminds me, "don't tell people you're compassionate, write compassionately." That means it's always better to write in a way that shows you care for victims, rather than just simply saying "this personal injury lawyer is compassionate."
Instead, say something like "you may be experiencing terrible anxiety and depression, which is completely understandable after experiencing such a frightening crash and having to cope with such a difficult recovery."
These small touches can convince a victim to pick up a phone or email an attorney in ways that a lot of legal terms and advice may not. Trusting someone after a devastating accident can be tough, but your job as a writer is to build those connections. So plan your content around this guiding principle.
Fill Your Content Spreadsheet at the Beginning of the Month.
No matter if you're a procrastinator or a double-caffeinated go-getter, content planning can loom over you and your company for days if you allow it to. Don't fall into that trap. Content writing can be full of stops and starts as it is, but you shouldn't have to waste hours thinking up a direction for your next round of content.
Pull up a map and jot down the sections of a city you've never heard of. Start following broadcast news websites for that city. Find out what people are talking about. And remember, your attorney answers phones all day too. They may have the best idea of what kinds of questions accident victims are asking.
There's always room for new ideas and, luckily, there's also room to take old ideas and expand them into a million subpages.