When starting a new business or opening a new office location, it is crucially important to properly set up your Google My Business account. In most cases, this is a relatively simple process. You go to business.google.com, enter your business information, Google sends you a post card with a verification code, you enter it, and viola – you have a Google My Business Listing. But what happens when that post card doesn't show up?
What to Do When Your Google My Business Postcard Doesn't Come?
If your postcard never arrives, you can contact Google directly via email. Google will ask you to provide verification information including pictures of your office from a variety of angles including street view, external signage, internal signage, etc.
Even when you provide the requested photos, Google might ask for additional verification through a video call. We have been seeing this for new locations for personal injury law firms we work with more and more. If you are prepared, this call can be a simple experience, and you can get your Google My Business listing up soon after.
Scheduling Google My Business Video Verification
If a video verification is required, a customer support member from Google will reach out to schedule the call. Before the call begins, you will confirm a time with them. Since Google My Business representatives are globally located, your representative will provide a time window that works for both time zones. For example, if your representative is located in Ireland, they might provide a time window like Mon-Fri from 6:00 AM to 2:30 PM PST.
They do not allow for same day appointments. They require one day's notice to confirm the appointment. While some representatives allow you to book a week in advance, some require that you do not book the appointment until they day of. (It is a little wonky, and I don't know why but that is just something we have run into.)
Preparing for Google My Business Video Verification
While many of us are used to the Zoom or Facetime platforms, Google uses Google Meet to conduct the video verification call. While with Zoom, you have the option to just click a link without downloading an app, that isn't the case with Google Meet.
In order to join the call, you must first install the Google Meet app to your phone, tablet, or computer. Next, you need to register your Gmail account with Google Meet. Finally, the representative will send you a link to the Google Meet video call that you will click on at the scheduled time.
An important note about the link: they don't always send a separate email with the link. Sometimes the link is actually hiding in the email where they say they will send a separate email.
For example, in the email below the representative said that they will be sending a link to the Gmail account. This would make a logical person believe that they will be sending an additional email. However, the link is actually at the bottom of the same email. They did not send an additional email prior to the meeting.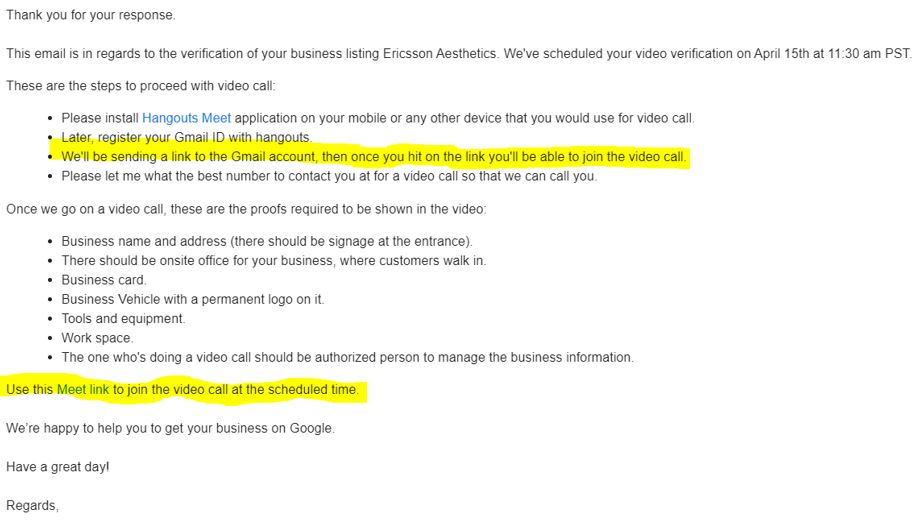 As you prepare for your Google My Business video verification, it might be tempting to pass this task off to an intern who knows their way around Google. However, it is important that the person conducting the video call be authorized to access business information.
What to Expect During Your Video Call
Once you click the link at the arranged time, you will be in the Google Meet waiting room. It has happened that the representative experiences technical difficulties and the waiting room timed out. If this happens, email the representative and click the link again. However, usually the reps are prompt and get the call started on time.
Street View Verification
It is best to be outside of your building at the start of the call because the first thing they will want to see is the street view. This might be a parking lot, but they want to get an idea of where your office is located.
Next, they will want to see the face of your building, building address, and business signage. If you happen to have a company car or van with your business name on it, they will want to see that as well.
Customer View Verification
After you show them the exterior of your office, they will want to see the view as customers enter your building. If your firm is located within a larger building, be prepared to walk with them through the building entrance, up the elevator, and through the doors of your office.
They will want to see where you meet with clients. This might include your waiting room, conference room, or personal office or workspace.
Address Verification
Finally, they will ask to see something that has both your logo or business name printed on something with your business address. For example, you can show them a business card that has your office address. If you have multiple offices and don't have the address printed on your card, you can show them a bill, receipt, or package that has both your business name and address.
Corrective Actions
Once you have shown the Google representative all of the spaces and items they request, they will either approve your listing or alert you of any corrective actions that need to be taken.
For example, if you fat-fingered your address in your Google My Business listing, they will require you to update that information before they approve your listing.
They will send you a follow-up email after the video verification. Once you have completed the corrective actions, you will email the representative. After they review the required documents, they will either approve your listing or tell you what you need to provide. Once all of the items are completed to their satisfaction, customers will finally be able to locate your business on Google.