On May 10, 2023, Google announced their Search Labs experiment, SGE (Search Generative Experience).
Their article, titled Supercharging Search with generative AI, explains that their Search Labs test and Generative AI will impact how people search, how they ask follow up questions, comparisons, how they shop, code and find local businesses such as law firms.
First Looks (No, it's not an Apocalypse):
Of course, I signed up immediately for the test and was one of the first people to give it a test drive.
My big takeaway – this changes nothing, at least not for us or our clients. It changes everything, but there are no changes to make. However, there may be changes for YOU to make…
At the end of the day, high ranking websites, configured properly, with comprehensive content which caters to users is king and will not be dethroned.
In Google's own words "As we bring generative AI into Search, we're committed to continue sending valuable traffic to sites across the web."
Yay! You'll also be happy to discover that Google tells everyone reading AI generated legal content to contact a lawyer (not that they wouldn't anyways):
Here's a YouTube video we made showing generative AI in action:
Before we go any further, let me note that our video above is very brief and simply shows a few common ways that people search for an attorney. SGE is so much more than that.
Signing Up for and Test Driving SGE:
To sign up for SGE, just go here and get onto the wait list: https://labs.google.com/search/experiments.
Once you're in, you'll receive an email which looks like this: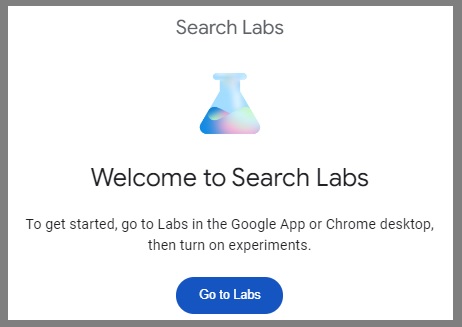 Once you're in, you can perform some searches. Going back to that same page you used to sign up allows you to toggle SGE on and off.
Note: In most cases, the Search Generative Experience provides an "AI-powered overview" on top of normal search results. This AI is often generating summaries. The search engine itself still works the way that it always has.
Below are screenshots of some generative AI search results:
Search: What is the statute of limitations for personal injury cases in California?
Answer:

Search: Louisville Personal Injury Lawyer
Note: Most local searches generally produce a typical 3 pack / local pack. You can, however, use generative AI to generate what I call an AI pack. The AI pack varies drastically depending on how you've searched. It's also much different on mobile than it is on desktop. Also note the emphasis on reviews…
Result: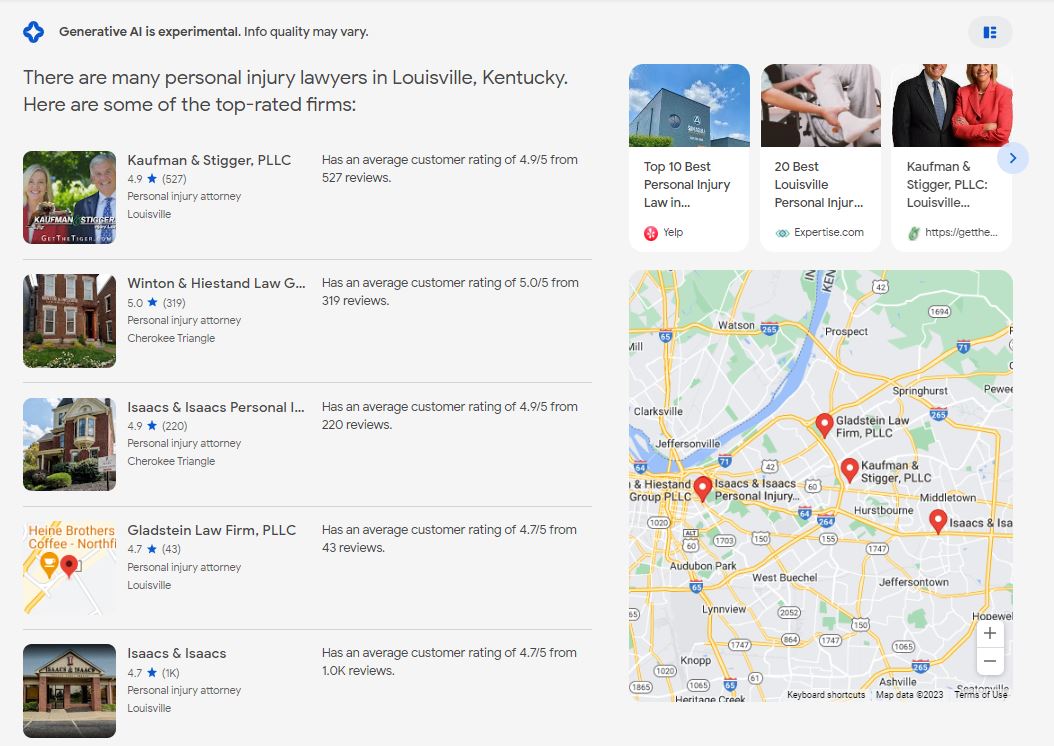 Which Verticals Will Be Disrupted?
If you do a search for "best dog food", you'll see drastic changes to the search results which line Google's pockets and are devastating to affiliate marketers.
Comparison searches are interesting.
Product searches can display a massive number of ads.
Google Ads PPC (pay per click) campaigns are going to change.
A Note on SGE "Perspectives":
We've always encouraged attorneys to make videos. Hyper-local, informative, niche, short videos.
At the time of this article, I haven't spent much time researching "perspectives", which is a new feature of SGE. That said, "perspectives" promises to highlight videos and images in search results.
What Attorneys and Law Firms Need To Do NOW:
Hopefully, this news does not change how you are marketing your law firm on the Internet.
You still need:
A great website
Good rankings
Unique content which caters to what people are searching for and answers all of their questions
Reviews
There's no need to freak out, unless:
You have a clunky website
You do not have good rankings
You have bland content written by a lazy marketing agency
You're slipping in the review department
Yes, click through rates are going to change. Who knows how rankings will change by the time this rolls out in 2024. There are some unknowns. That said, if someone needs a divorce, they're getting sent to jail, an insurer doesn't want to compensate them for an injury, they're still going to call a lawyer and they're still going to turn to Google to find one.