Podcast: Play in new window | Download
Gary Kilpatrick is an expert witness who has extensive experience with automotive accident reconstruction. He has a degree in engineering paired with a lifetime of knowledge of industrial mechanics. Gary joins us for Episode #57 of the Personal Injury Marketing Minute!
Visit Gary's website, The Kilpatrick Group, PA, here: https://thekilpatrickgrouppa.com/about/ or call 336-841-6354.
See all episodes or subscribe to the Personal Injury Marketing Minute here: https://optimizemyfirm.com/podcasts/.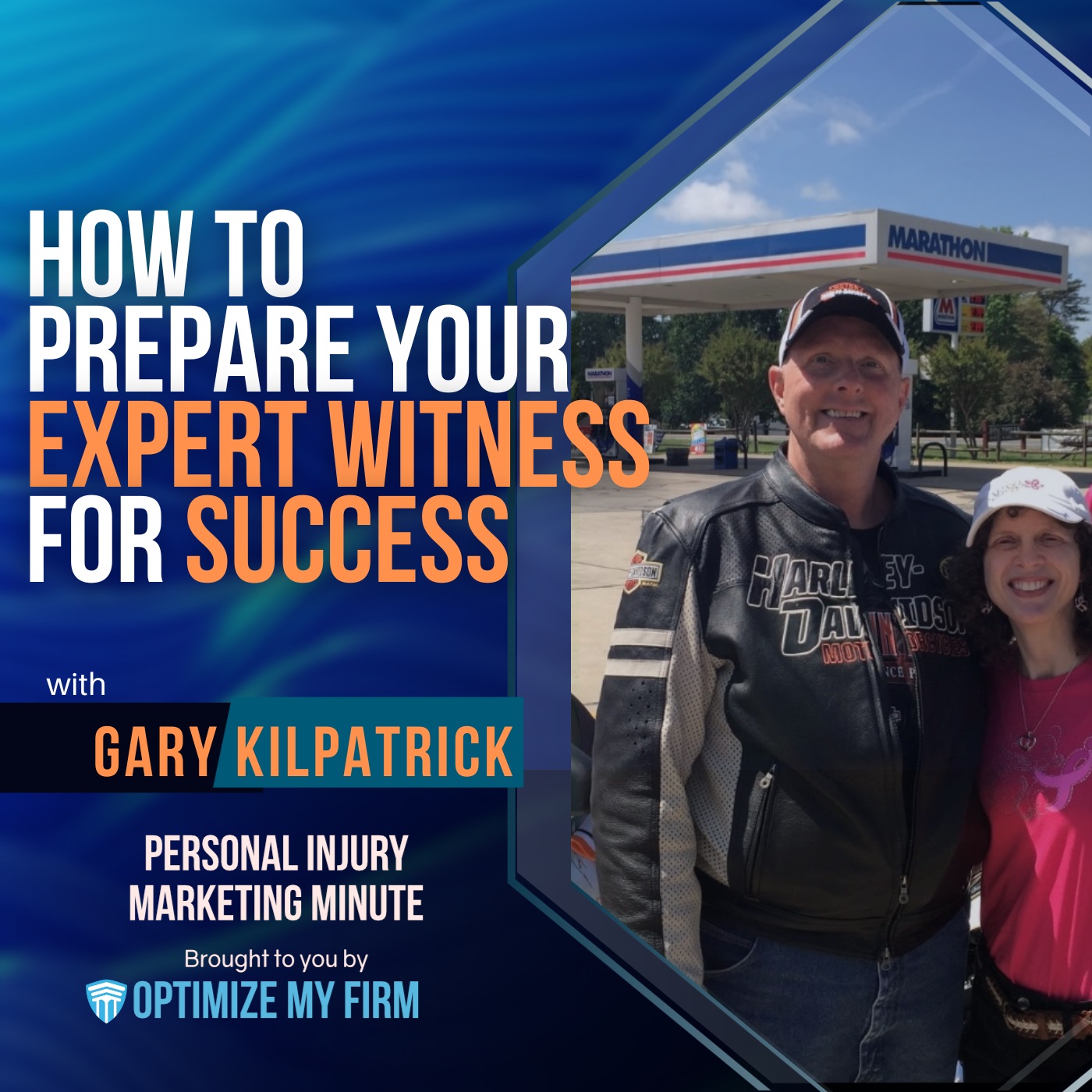 Transcription:
Introduction:
Welcome to the Personal Injury Marketing Minute, where we quickly cover the hot topics in the legal marketing world. I'm your host, Lindsey Busfield. In the personal injury world, the majority of your cases will be settled out of court, but there are some of those complex cases that will require mediation or court proceedings. In those cases, you have already invested long hours and countless resources to build the best case possible, hoping that there will be a big payoff at the end. Part of building that case might include the involvement of an expert witness. If it does, you want to make sure that you are leveraging that asset to its full potential. We are going to talk about how to do just that. Gary Kilpatrick is an expert witness who has extensive experience with automotive accident reconstruction. He has a degree in engineering paired with a lifetime of knowledge of industrial mechanics. Thank you so much for joining us today.
Gary:
Yeah, it's good to be here.
Why Did You Become an Expert Witness?
Lindsey:
Well, tell us briefly why you decided to become an expert witness.
Gary:
Well, back about 2000, 2001, I read an ad in our local newspaper where University of North Carolina at Charlotte, UNCC, was hosting a presentation on the introduction to forensic engineering, and so I signed up. I was curious, so I signed up, and it was an eight-hour presentation. Dr. Young, who is a civil engineer, may or may not be there anymore, but he's got a PhD in civil engineering and is a licensed professional engineer, and his presentation was mainly for the civil world, but I could see how it would be applicable to other areas.
And so at the end, he gave us a book, and I've still got that book today. At the end of the book, there are a couple of pages of references, one of which had different professional societies that we could go to for more information, one of which was the National Academy of Forensic Engineers. And so I contacted them and I spoke to the founder of that organization, Marvin Specter, and we talked for a bit and he encouraged me to join and become at that time a correspondent, and they were really the mentors behind how I got really more involved in this profession.
Lindsey:
What types of accidents are you routinely providing expert witness services for?
Gary:
Well, being a mechanical design engineer, it allows me to work in different areas. One is going to be motor vehicle crash recon, because as the engineers and the engineering dynamics and all the coursework we take, that goes front and center right down the list of everything that they talk about, and they get into the conservation of laws of linear momentum, work dealing with things sliding across a surface, kinetic energy and so forth and so on, and all those concepts are used to calculate the impact speeds of two vehicles coming together. I'm also heavily involved in industrial accidents, because I've got 20 years plus of experience working in the industry, one of which was where I worked for Clark Equipment, who invented the forklift and the front-end loader, and they were a major competitor to Caterpillar back during that day.
So, I'm heavily involved in industrial accidents, dealing with OSHA regulation, machine guarding, forklift accidents, crane accidents, and amusement park ride accidents, because they are machines. And let's see if I missed anything. Mobile elevating work platforms, like scissor lifts, the little Genie lifts you see. And so I have licenses to operate all these machines, the area work platforms, forklifts and so forth, and I'm also set up as a trainer where I can actually train people and give them their licenses. And so that's essentially what I do. Those are the big hitters, the areas where I work.
How Personal Injury Attorneys Interact with Expert Witnesses:
Lindsey:
Well, and you can see a thread, a common thread of how those are all tied together with the engineering and the automation behind it or the automotive components that all go into that. There's a universality where you can have a deep breadth of experience and understanding for how those things work because you have a long career in working with those types of machines, and so that feeds into your own personal knowledge base.
And clearly, attorneys, especially in the personal injury field or you would think in workers' comp, would be calling you up because those types of accidents are happening all day every day across the nation. So, any type of personal injury attorney might come into a case where either something isn't so straightforward that it's quickly settled and it might go into court. So, at that point you would think that an attorney would call you up and want to work with you, and when working with a personal injury attorney on a car or motorcycle or ride at the state fair, what is the typical process of your relationship with them?
Gary:
Well, the first thing is I get a phone call, and he will kind of lay out essentially what happened in the case. He will identify whether or not he's working for the plaintiff or defendant, and lay out asking everything that he knows about the case, or at least everything he will tell me about the case. And based on that information, I may or may not be able to help him. If I can, then… And what I do is when I talk to these lawyers, I will be honest with them and tell them upfront, "I think you have a good case," or, "Based on what you're telling me, I think you ought to walk away from it." But that's up to him. He may decide to go get another expert that may say something different. So, that's up to him.
If he decides to retain me, then I send him a contract agreement to sign and then he will send me, I require him to send me back a copy of that signed agreement along with a retainer check, and that retainer check exercises the terms of the contract agreement and puts everything into motion. Then at that point in time, depending on whether or not a lawsuit has been filed or not, if a lawsuit hasn't been filed and he wants me to do some inspections, do some research to try to give him an idea of what he should do next, whether it be to drop the case or whatever, or take the case.
After that, then if there's a lawsuit that's filed, then he's going to send me the pleadings, which are the complaint and the answer, interrogatories, request for production of documents, reports, training, employee training documents. If it's an industrial accident and OSHA was involved, then there may be a citation packet that they've created, which that's what we call an OSHA report, but OSHA calls it a citation packet. They send me pretty much everything that's discoverable that he has, and then I read through it. If it's going to be, whether or not it's a motor vehicle crash or some sort of an industrial accident, at some point in time, once I read through all this documentation, then I'm going to want to go see for myself what's going on, and I will do an inspection of a forklift, a crane, a piece of industrial process equipment, or go out to the scene of a crash and thoroughly document it if the evidence is there.
If it is a motor vehicle crash, per se, and there's a lot of detailed evidence there that I can use, then I can actually make speed calculations in my office based on what I've gathered to create this accident scene situation map. And then I can, once I've done all that stuff along with whatever else is going on, then he may ask me to write a report and I'll write that and submit it. At some point in time, if this thing does not settle quickly, opposing counsel will want to take my deposition, and I'll testify in deposition or they will depose many other people, fact witnesses, other experts and so forth. And so if the lawyers cannot come to an agreement and mediate this thing, then we will go to trial and I'll testify for my client as an expert under oath in front of a jury and a judge. And then after that, I've done my job, and it depends on how the jury rules on it, and that's pretty much kind of how that works.
Determining the Cause of Auto Accidents:
Lindsey:
Well, it sounds like the most important part that an attorney can be a part of in terms of preparing you for success is that evidence piece. So, in looking at the evidence, what all do you need in order to piece together an accident timeline or the positioning? What pieces are you looking at in order to make your determinations?
Gary:
Well, if it's a motor vehicle crash reconstruction, I've got to have a copy of the police accident report to see what they've alleged. If the accident took place very quickly, well, let me say this. When a motor vehicle crash takes place, the evidence field will start to deteriorate right then. Wind, rain, fire trucks, ambulance, wreckers rolling through this area, trying to clear it, and some of that evidence is going to be damaged or taken away. So, my job is to get out there and see what I can find. If all the tire impressions, skid marks, gouges and scrape marks and so forth are on the asphalt and on the property, along with anything else that the vehicles hit, their uncontrolled rest position and so forth, then I can document that on an accident scene situation map and hopefully have enough information to be able to recreate the accident on paper and track the motions of the centers of mass of those cars as they come together and leave. And if I can get to that level of detail, then I can very easily calculate the impact speeds of those cars.
If I don't have any of that stuff and the police took a few pictures, they didn't do anything to memorialize the evidence, there's nothing really I can do, because I have got to have that evidence in order to be able to run these calculations. If it's, say, an industrial accident, like say a forklift accident or an accident dealing with a crane or a piece of industrial process equipment, I want to go see this thing and see what it looks like, and hopefully it is in the same condition that it was at the time of the accident and it's not been modified. If it's been modified or put back into service, that's what we call spoliation of evidence, and the other party can be sanctioned for it, for destroying that evidence. And so evidence is key, and that's what we as engineers have to go by. We can't pull things out of the air, we can't do anything but go by what the evidence shows us.
Lindsey:
Right. You really have to have something tangible that you can look at and make a calculation. It's not just speculation or generic opinion, but it really needs to be supported by facts.
Gary:
That's right.
Lindsey:
And as you're talking about the evidence disappearing, I mean it's second by second that it starts to go away. From the minute that you're moving the car to the side of the road, things are starting to deteriorate.
Gary:
Correct.
Lindsey:
So, it sounds like it would be really challenging to have a perfect crash scene in order to reconstruct. But at the very, very bare minimum for an attorney to hire you on and for you to do some calculations, what are some bare minimum requirements that they should have in terms of evidence?
Gary:
Well, I've got to have a copy of the complaint. If a suit's been filed, I want to see what their allegations are. If they have a police, let's say if it's a motor vehicle crash, I've got to have a copy of that police crash report and any photos or videos that were taken at the scene. That's going to be a good start. If it's an industrial accident, then more likely than not, it's going to be written reports of employees, personal statements, supervisory statements on an accident report, photos, videos, security videos and stuff like that.
Challenges with Out Of State Attorneys:
Lindsey:
And of course, that's definitely one challenge that you're facing as an expert witness, to make sure that you have the documentation required and the facts required to make your calculations. But I know that there are other challenges that you run into while working with attorneys from other states. Not every state is as amenable to having expert witnesses. So, can you tell us a little bit about the challenges that you run into while working with attorneys from other states?
Gary:
Across the board, it's actually pretty similar. Depending on the state in which these accidents take place, when it comes to personal injury or wrongful death, it's what the legal community calls tort law. Tort is a short word for meaning torturous or injurious, and there are two basic laws in which states operate when it comes to tort liability, one of which is called comparative negligence, and what they do is they weigh out, a 49/51 split. If the plaintiff was guilty of some issue dealing with an accident that caused his injury, then he may not be able to get the full amount allotted by the court, but he can get some.
Whereas on the other case, there's just a handful of states in this country that subscribed to what's known as pure contributory negligence with a 0% rule, the 1% rule, a 10% rule, and what that does is that casts a magnifying glass over the plaintiff. If the plaintiff in, say, in North Carolina where I am right now, this is a pure contrib state with a 1% rule. If the plaintiff is guilty of any infraction, no matter how slight he is barred from any recovery, the case will never go to trial, but the lawyers can mediate it. They can do some things for the plaintiff, and sometimes there have been some big settlements, but they can't take it to court. It's all mediated or arbitrated.
Lindsey:
That's interesting, and those are all good things to keep in mind as you as an expert witness are working with lawyers nationwide, clearly.
Gary:
Yeah. One other thing I wanted to point out is licensure. I'm a licensed professional engineer, and that's necessary for me to provide engineering services on my own as a company, and every state has their own regulations. As a matter of fact, I got a call today from a lawyer in Alabama, and Alabama is one of these pure contrib states, and I told the lawyer that, "Before I can enter your state and inspect your piece of machinery, I have got to call the engineering board, the Alabama Board of Professional Engineers, and see what they say about that." I really don't want to be licensed in Alabama, because it's one more license to carry in a state that's more likely than not, like North Carolina, is not going to give me much business. I've been in business for over 20 years, and this is the only case, this is the only call I've ever got out of the state of Alabama.
Lindsey:
Wow.
Gary:
Because of the pure contrib, the tort liability, the tort laws they have. So, I called the Alabama Board of PEs and they told me, "If you cross that state line, now you've got to be a licensed PE." I told the attorney that, and if he wants me to do this, then he's going to have to pay my licensing fees along with it's going to take about four to six weeks to go through this process to get licensed, and after that, he may not have a case. I really don't know. And it's going to be for nothing, on my part anyway. So, I would prefer, I'm just not going to deal with Alabama, because I never get called anyway.
But some other states are different. Some states, say the state of Texas, as I understand it, and I've called Texas before, doing this type of work in Texas, they don't really consider it to be engineering. So, you can actually come into Texas, more likely than not, and do this type of work and not have to be licensed. But in other states, like North Carolina and some of these other states, you do. And any state that I go in that's a comparative negligence state, I will always get licensed and carry it, because other people are going to be calling me later on.
Lindsey:
You would think that some of the larger comparative negligence states, like California, you would be able to work with a lot of attorneys out there who would need that kind of service.
Gary:
Well, the problem is when you go coast to coast, more like I've been called by one lawyer in California, and the reason is because it's so far away. If I get on a plane and have to fly round trip, it's going to be probably an eight-hour day. Probably more than that. I charge from the time I leave my office, I've got to go to the airport, I've got to go through security, which is going to be, it's going to take me at least an hour to drive from my office to my local airport and then go through security, and I'll have less than an hour before I get to my gate. And then after that, then I pick up a flight that's going to have some layovers, and it's going to be in the afternoon, late in the afternoon before I get to California, like LAX. And so that's billable hours.
I cut my billable hours in half because I'm just flying around doing nothing, at least it saves the company, the law firm some money. But the problem is when you go across the country like that, you have that aspect of transportation cost, and sometimes that's going to be a deal-breaker, because there's plenty of people out there on that part of the country that can do the same thing I do, and they're not going to call somebody like me. As soon as I say, "Oh, I'm from North Carolina," it's going to be click. You know?
How To Prepare Your Expert Witness for Court:
Lindsey:
Yep. Yeah, it definitely would help drive down the cost quite a bit to work a little bit more locally. But it is nice that you can lend your expertise nationwide. So, what tips do you have for how an attorney can best prepare an expert witness for success in the courtroom?
Gary:
I need to have all the documentation that's arguably relevant and discoverable. I have had attorneys before that would deliberately withhold documents from me that would be prejudicial to their case and they did not want me to see it. If I write a report or give an expert testimony not having seen that, then the attorney is some way manipulating my opinion because I have not seen all the evidence. That's called hamstringing your expert, and I would prefer not to do that, because it could really put me into a bad situation and my opinions could be struck and I could actually ruin my career. So, the attorney needs to be forthright and upfront with me and give me all the documentation that he's got, everything that he's listed in his request for production of documents, I want to see.
Sometimes it may not be that relevant, like medical reports and so forth. I'm not a doctor, so I could care less about that. I would like to see what the injuries were, but outside of his treatments, I don't really need to see stuff like that, because some of these medical reports are hundreds of pages long, and I really don't have a need to read through all that stuff. But I need to see everything, the pleadings, I want to see what his allegations are, both complainant and defendant, the complaint and the answer. I need to see everything involved with the interrogatories, all the questions they ask each other, the request for production of documents, OSHA reports, any kind of report, training documents. Anything that he has. And he may not have some documents that I could suggest to him to ask for, and I could get those too. So, he or she needs to give me everything that they've got so that it will help me give them a more informed opinion, and it helps protect myself from being impeached and having my opinion struck because I never got all the information.
Contacting Gary:
Lindsey:
Well, that is incredibly helpful as our listeners prepared to work with an expert witness. How can they get in touch with you if they have some more questions?
Gary:
Well, I have a website. It's www.thekilpatrickgrouppa.com. I have a an email address. It's kilpatrickg1@northstate.net, and the one is the numeral one, and of course, my office phone is 336-841-6354.
Lindsey:
Great. Well, we'll be sure to include all of that information so that our listeners can reach out to you with additional questions. Thank you so much for joining us today, Gary.
Gary:
Oh, you're welcome. It's good. I'm glad to do it.