Podcast: Play in new window | Download
Attorney Brian Labovick is a Florida Personal Injury Attorney with an outstanding referral program called the "Family of Warriors".
Brian began getting referrals before we had cell phones by passing out business cards. As of 2023, he now receives thousands of leads and hundreds of cases every year from their referral program.
In this podcast, Brian offers up some priceless tips for firms big and small.
Learn more about the Family of Warriors here: https://www.labovick.com/family-of-warriors/.
See all episodes or subscribe to the Personal Injury Marketing Minute here: https://optimizemyfirm.com/podcasts/.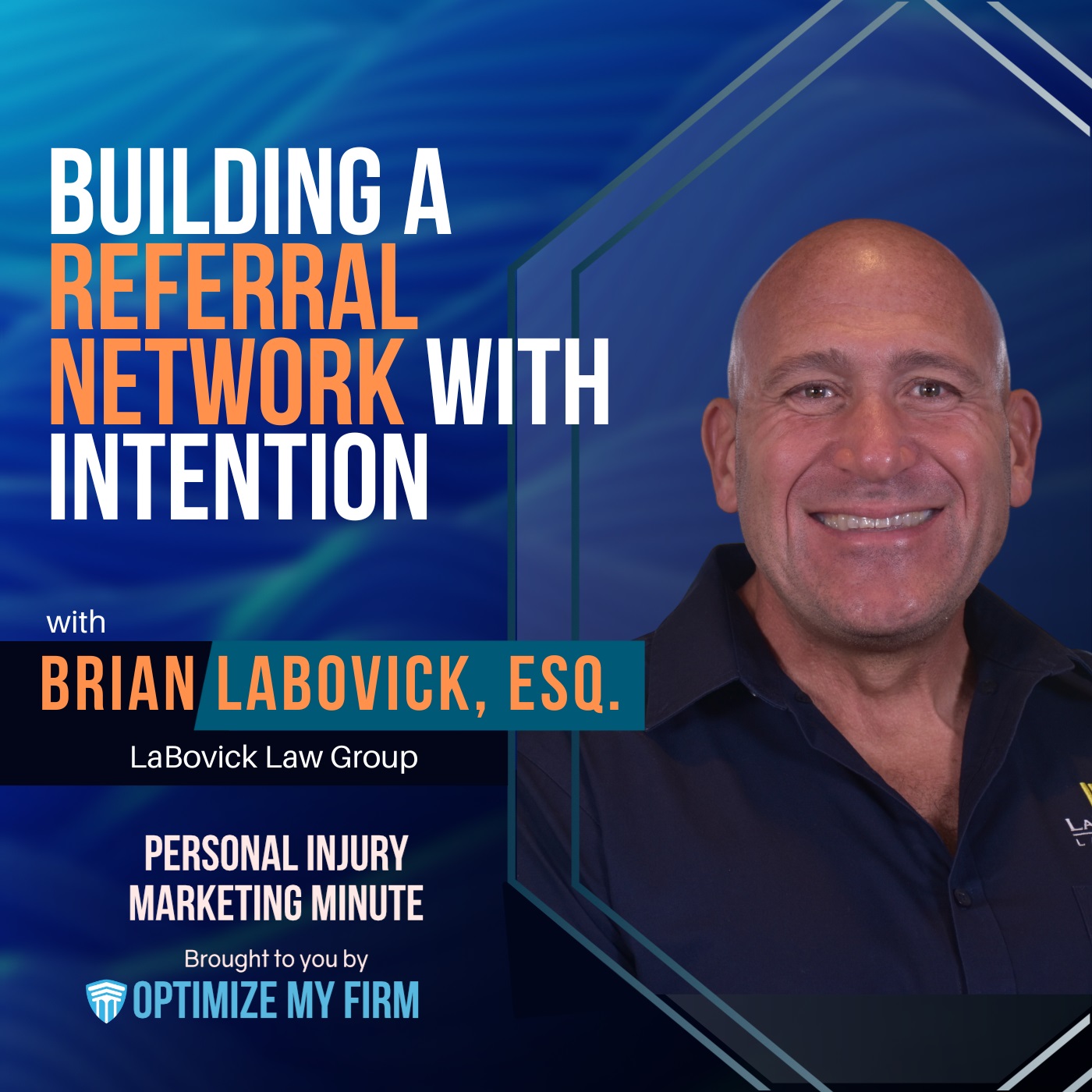 Transcription:
Lindsey:
Welcome to the Personal Injury Marketing Minute, where we quickly cover the hot topics in the legal marketing world. I'm your host, Lindsey Busfield. With very few exceptions, all of the lawyers we speak with want to grow their practices. They're looking to gain a competitive edge in the legal market in order to attract more clients. While competition is a big part of the puzzle, collaboration can also help you grow your firm. Brian LaBovick of LaBovick Law Group joins us today to share how building a referral network that they call their family of warriors has contributed to the successful growth of their firm. Thank you so much for joining us.
Brian:
Super happy to be here. Thank you.
How the LaBovick Law Group was Started:
Lindsey:
So tell us a little bit about your firm and how you got started.
Brian:
So I got started, I came out of law school. I went directly to the Honors Graduate Program at the Department of Justice, and I thought for sure I went to college and law school with a thought I wanted to be a prosecutor. And I did that for a couple of years and I realized that I really just loved being in trial, but I didn't want to work for the government my whole life.
I got a job working for a guy who was afraid to go to court. He was a solo practitioner and he didn't want to go to court, so he wanted to hire a young prosecutor to basically go to court for him. So I did that and I did that for a couple of years. It was awesome. It was a great job, but he made me start my own firm to do that. So I was getting a 1099 instead of being a wage employee. And that just kind of inspired me, that, "Well, if I could do it with one client, then I could do it with many clients," and I went out on my own after a little bit. So it was awesome. It was a really good experience. But yeah, that's how I got my start.
Presently, my firm is about 77 full-time employees and then about 25, 26 overseas teammates, which virtual assistant type teammates that are paralegals or workers for the firm in one capacity or another. So we're about 102 or 103 people total, and that's the firm right now. We practice in four major areas, so four divisions, personal injury, workers' compensation, Social Security disability, and the last one is called PIP, which is Personal Injury Protection. It's a collection for doctors and hospitals. And so we do that as kind of the business side of the practice.
How Attorney Brian Labovick Got Started with Referrals:
Lindsey:
And so you're based in Florida, and Florida can be a really great place to practice law and to bring on those types of clients, but it can also be incredibly competitive. You have some really fierce big competitors in your area, and so you have built out a referral model to help bring on additional clients as you're competing in that market. So can you tell me a little bit about how that referral model works?
Brian:
So yeah, that's a really great point. Number one, you're 100% right. I guess everywhere is very competitive in the PI market, but Florida seems to be really swimming with sharks. It's a really tough market. It's the land of John Morgan, he started here. And so we have a lot of people that have learned to compete with him, and thus I think it's super heavy duty competitive.
We've succeeded, I think, based on the fact that, A, we were in a smaller market. And so when I started, I started the practice based on a referral market. I didn't have any outlet or any money to get clients in the door. And I'm a pretty, I guess, friendly kind of gregarious guy. I like people a lot and I talk to people a lot. And so I carry my card with me. When I started, I didn't have a cell phone because we didn't have cell phones way back then, but I did tell people my phone number and give them my personal number and I was very open with people. And I learned very early on that the referral market was a way to drive in business at a low cost.
I also became very active in my local bar association, and so I made friends with other lawyers. And as I made friends with other lawyers, we started to refer each other work and I saw the power of that network. Then I kind of switched as I started to get money into the firm and started to grow the business and I became more of an advertising group. After seven or eight years, we started to do yellow page advertising, and then we went on TV and we did radio. And we grew the firm kind of in the mass media market. And as crazy as it sounds, the concept of building a referral model itself fell away. I think that there's a lot of lawyers out there who don't recognize how important referrals are. The referrals that I was getting were coming just based on my natural personality of giving cards out, and it was just who I was. And so I never really lost my personal referrals. But we never really built out a referral model for the firm. It was just kind of ad hoc.
And then we looked at where our business was coming from and we were getting some business from referrals, but not a lot a few years ago. And now I have a marketing department and I have people involved in the marketing department. And so we sat down and we kind of looked at where our best cases were coming from, what the average dollar cost was at bringing in cases. And we wanted to get really good at what the best cases would be to bring in like, "Who's that client avatar?" And there's a gazillion client avatars for PI lawyers out there. The best one is the referred in personal injury case of significant value, right? That's what most people aspire for.
And so we decided to come up with a model for building that referral network. And at the time, I was probably driving in maybe 100 cases a year on the back of my personal referrals. The rest of our model was just advertising, et cetera. And so we sat down and came up with a concept that dovetailed into who we were as a firm, and we called it our Family of Warriors. We wanted to name it, we wanted to have a program. This is a long answer, I'm sorry. But we created this family of Warriors program with the idea of reaching out into the legal community and letting them know that we were here for them, that we cared about their clients, and that we were really talented lawyers with solid core values that they could rely on to get their cases done well. So that's how we started it, and it's grown from there. Sorry about [inaudible 00:06:43].
Lindsey:
That's fantastic.
Brian:
You were very patient.
Who are your Referral Partners?
Lindsey:
No, that's a lot of really great background information and some context that I think other lawyers will be able to relate to as they are assessing what they're doing now, especially in those competitive markets across the country. And when you talk about who your referral partners are, who is it that you're partnering with?
Brian:
So I went out, I looked into the world and said the best people for us to partner with we're high level, high quality firms. Outside the state of Florida is what I wanted to concentrate on. I had made a lot of friends inside the state of Florida and I wanted to get to people outside the state of Florida. And the way to do that was joining national organizations and going out and meeting people and letting them know about this program and then building them into a network of information that we pushed out to that group of people called the Family Warriors and including them in it to tell them we want it to be their referral partner. And that's how it started. I just would join groups. I would go in, I would participate, go to seminars, et cetera, and meet people and then automatically tell them, "Hey, I want to send you some information on our referral program in Florida. And if you have somebody that gets injured in Florida, call us," right?
Well, everybody has somebody that comes to Florida for a vacation at some point, right? So I get lucky that I live in a vacation area. So a lot of people have their friends, family, people that call them for injury cases if they're an advertising firm. They go back to Kentucky, they go back to New York, they go back to Arkansas and they say, "Hey, I was injured at Disney. I was injured on a cruise boat." And we're lucky because cruise boat lawyers, so we do a lot of cruise cases, and we said, "Hey, we want to be your lawyer. When you want to refer somebody, refer it to me." And it worked out really, really well.
So three years ago we were driving in 100 referrals a year based on just kind of this ad hoc way of doing it. And now we're driving in… We probably are at about 1,500 referrals into the firm for the year. We're closing on them at a rate of about 34, 35%. So we're at about 400 cases for the year this year. It was more than I thought. When you said you wanted to talk about referral program, I went back and looked at how many cases came in this year. We're over 400 cases for the year. We expect to crush our goal of 500 referred in cases for the year, which is amazing.
Lindsey:
That's fantastic.
Brian:
Yeah.
Lindsey:
Congratulations.
Brian:
We put a lot of effort into it, but it's great. It's really a great program.
Building a Referral Network – the Family of Warriors:
Lindsey:
Well, and clearly this referral program did not happen overnight. So when you talk about going from 100 cases a year to 500 cases being your goal that you're easily going to exceed, how did you build this network? What did you put into it to make it grow so exponentially?
Brian:
So the first thing that we did is we wanted to make sure that we built a concept around who we were as a firm. So we wanted people to trust us, we wanted people to know us. We wanted people to understand who the LaBovick Law Group was. So in our firm about four years ago, we went back and we really dove into our firm culture and we set our vision of being warriors for justice in a very clear way. We have a very clear mission that everybody can recite, which is to maximize justice by aggressively fighting for our client's rights. And we have four core values which are fight to win, passion to serve, relentless innovation, and own it.
And so when we go about taking on an initiative like this, we start there and we say, "Okay, how does this initiative fit into our core values? And then how do we express that to the market that we're trying to get to?" So in this case, we're trying to get to other PI lawyers. And that means letting them know who we are, letting them know the things that we do, letting them know why they should send their clients to us, right?
I'll tell you where I got it from. So I've got a good friend of mine, Richard Harris, out in Vegas. Richard Harris has an amazing firm. He is the best at sending referral gifts and sending referral information to people. He really is the best in class guy with that. Him and his kind of secondhand person, Melissa Graham, they're brilliant people at this. So I took what they were doing and we kind of stole some of their concept of these boxes of gifts and things to give to people. We themed our boxes to revolve around things that were important to us.
So family was important to us. We're all very family-oriented. We treat our people like family. We're very family-oriented firm. So we wanted to create the Family of Warriors program, which is what we did. We started with a box where we said we wanted to give people something that they could build their own personal family around. So the first gift box out to everybody, which was nothing more than an investment because we weren't getting a lot of referrals… So it wasn't just like the people that sent me referral, it was the people that I wanted to send me referrals. So I looked out into the world and I said, "Okay, so Richard Harris is somebody that I absolutely would love to get referrals from." So I sent him a box.
I've got other friends of mine that I met in the referral groups, some really great firms, Daniel Stark in Texas, Jason [inaudible 00:12:15]. There's just really great firms in the world. And you start meeting friends in those firms, you send them your referral box, theme box. If I could show you the boxes, I think they're very impressive. They're completely branded. The whole box was branded and inside was a message about what the gift was. So the first gift that we gave them, it was like two summers ago, it was a projector with a blowup screen and Netflix movie stuff and popcorn and we said, "We want you to have a family movie night, super fun family movie for you and your family. Enjoy a movie on us and enjoy the screen and make it a big thing." So we had this whole thing about being part of family. "We're supporting your family, you're supporting our family." That was the first box. That drove in people and people got interested.
We then waited and then half a year later we did a second box. And the second box was a family box also. So that family box was… It went back to cameras and stuff. We did this Polaroid camera with a calendar and we said, "What we'd like you to do is every month take a picture of your family on this Polaroid and put it up on this little calendar that we have. And every month take a picture of your family doing something fun, and you'll have this whole year of fun with your family dealing with that. And then send us a picture of it so that then we can show everybody about what great families of warriors we had." So that was the second one. And that drove in more traffic.
And then we would send in the interim. Everybody gets on our newsletter list, everybody gets emails, everybody gets updates, they get on our social posting, so we post socially. So you just make this 360 wrapping of the people as much as you can. And that's how it started. We've been doing that. So we did a third box, and that was amazing also. Third box was about a charity. We donated to a charity in their name that was a safety charity.
Is a Referral Network Worth it – Cost Per Lead?
Lindsey:
That's a great way to really maintain those relationships, both while as a thank you for being part of the Family of Warriors, but also to connect with people that you really want to do business with. And beyond that, create relationships with, because it sounds like that's at your core, what you're about, is creating these relationships both with your family first and then extending that camaraderie to the people that you want to work with as well as to your clients. I know that many of our listeners are probably thinking through everything that you're talking about here and thinking about the investment that they would have to make both in terms of time and energy and money and wondering about the ROI on this. And so on average, what are you seeing as the cost per referral lead coming in?
Brian:
That's a great question. And that's really where the rubber meets the road really. Is it a worthwhile investment or is it just self-aggrandizing like, "Look at me, I'm so important," right? It turned into a really wonderful investment when you look at the dollars and time that we put into it. And it was a big investment. You clearly don't have to do this. If you're a smaller firm practitioner, you don't have to go big with it, right? We were able to do this because we had a really great year and we made the investment. So we've invested over three years about a half a million dollars. So it's been a little over 100,000, 125,000, sometimes even 150,000 for the year, all in. That's labor product, et cetera. We source everything ourself. We put everything together ourself. So it's a lot of human capital labor that we put in, but we all sit and make the boxes and pack the boxes, and [inaudible 00:16:10]-
Lindsey:
That's fun. Yeah.
Brian:
… mail the boxes. And it's kind of fun. It's fun to do, right? It's like craft time in the firm. We lay it out all in the big conference room. So it's fun, but it's a lot. But we made that investment. But think about it, we've had 1,000 referrals in three years. 500 of them will be this year. So at the end of this year, we'll have over 1,000 referrals. We've put $500,000 into it over three years, which means that we're getting referrals into about $500 per captured client. And in the personal injury world, that's a really good rate.
Now you have to take into account that these are referred personal injury cases and referred Social Security cases and referred workers' comp cases, so some have higher average dollar value in fees, some have lower. But on the personal injury side, those cases have very, very high average dollar cost values when it's a referred case and they're our best cases. So we think that it's an extremely solid program. We think it's good for the firm. We think it's good for our referral partners. We have great relationships all over the country now. I pretty much can go into any state and find friends.
I told you that I drove across country last week, right?
Lindsey:
Yes.
Brian:
So I'm driving across country and there's this big building out on the road that's like big personal injury building. My niece who was driving with me said, "Hey, look at that. That guy's got a great building." And it was Andy Citrin who's a referral partner. And I was like, "That guy just wrote me two days ago. He is got a referral from me. So I've just been on the phone with him." She goes, "I can't believe everybody in every state. It's so fun."
Lindsey:
Well, as a marketing firm ourselves, we take a look at ROI, and that's definitely an important factor. With LSAs, it typically costs between 200 and $500 per call. And that's not even necessarily going to lead to a good case or close or convert. And so when you're talking about a $500 lead for a personal injury case, that's absolutely fantastic.
One of the other things that we talk about a lot with our clients goes beyond the basic, "Here's how many calls we're getting. Here's the cases. Here's the bottom line," but creating a lifestyle and a law firm with a corporate culture that is going to be having a positive impact on the community, but it's also going to be creating a great quality of life for the lawyers themselves. And so I love hearing you talk about driving across the country and having friends everywhere, knowing that they've enriched your life, you've enriched their lives, you're serving your clients well and you've really become a great resource in a much bigger capacity than a typical giant law firm where everybody's just a case number. So you've really created something special here, and I applaud that.
Brian:
Thank you. Thank you. That's very kind of you.
How To Start Building a Referral Network:
Lindsey:
If our listeners here are wanting to start building referral relationships with other attorneys, where would you recommend that they start?
Brian:
People do business with people they know, like, and trust, right? That's such a common thing to know. So put your cell phone number on your card and give your card to everybody and explain what you love doing and tell them that you want to help their people and love what you do with people. And just start giving that business card to people.
One of the best referral guys that I know would get his haircut every single week at a different barbershop. So he just wanted barbers to know him. He got to be friends with a bunch of different barbers. So he was getting his hair cut. His hair was always perfect, never a hair out of place, but he had referrals coming in from barbers everywhere, right? So if you want lawyers to be referring you cases, go to the bar associations. And let me tell you, people go to bar associations in their own subcategory. But if you want divorce cases, join the trial bar, join the PI bar. None of those people want to do divorce and they all get referred divorce cases.
If you're an immigration practitioner, join everything because no one else is an immigration practitioner. Join the divorce bar, join the bankruptcy bar and join the PI bar. Go and meet lawyers who don't do what you do. Give them your card, go to lunch with them. The very first question at lunch is like, "I want to do a great job for you and your clients. What can I do differently than other lawyers have done that have been hard? I know that lawyers don't always do a perfect job in the referral. So what can I do to make sure that it's great for you?" And find out immediately what drives people crazy?
You know what drives people crazy? Having to chase their referral fee. Create a program that keeps people up to date on their referral and you will win their hearts forever. In our program, when we did this, we wanted to make sure that we had best in class technology. And so, we immediately made sure that we had workflows that attached to every referral case that kept the referral lawyer up to date on what's going on, estimated timelines, estimated value lines, so that they knew these people are on it and I don't have to chase my money. That's a huge problem in referrals. Just start there.
Thank You Brian!
Lindsey:
Yes, absolutely. You want to make sure that everything is being tracked appropriately, but that it's also transparent and people don't have to chase you down. They know that they're going to get from the financial side what is due to them at the end of the day without having to put an extra effort to chase you down. So that is just fantastic. Well, thank you so much for sharing all this information with us. I know that lawyers are increasingly trying to find other ways to collaborate and break outside of the law firm walls to build their networks. So thank you so much for sharing all that information with us today.
Brian:
Absolutely. It was a wonderful… What a pleasure to be able to tell people about it, so thank you for the opportunity.