Podcast: Play in new window | Download
Attorney Kyle Smith is a cyclist who works exclusively with bicycle crash victims in his area at Paceline Law. In this podcast, Kyle explains why people remember him when they need his services.
Kyle also discusses the pros and cons of having a niche, provides amusing stories about unequipped insurers, talks about working on cases he actually enjoys, gives us powerful insight into how his law firm's name was selected, touches on how other personal injury attorneys could select a niche of their own and how much experience they may want to have before diving into a niche practice.
Visit California Bicycle Crash Attorney Kyle Smith's law firm online at https://pacelinelaw.com/.
See all episodes or subscribe to the Personal Injury Marketing Minute here: https://optimizemyfirm.com/podcasts/.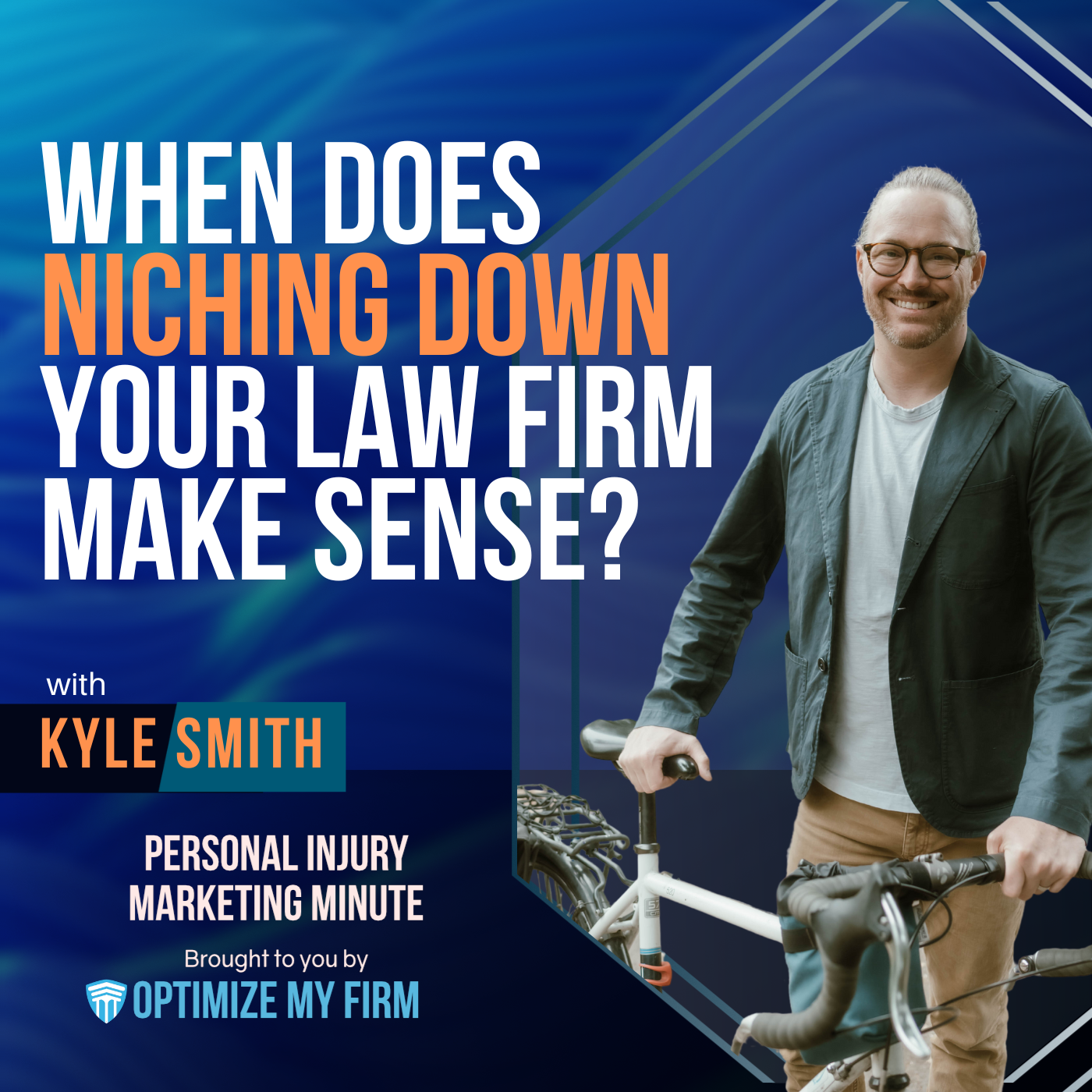 Lindsey:
Welcome to the Personal Injury Marketing Minute, where we quickly cover the hot topics in the legal marketing world. I'm your host, Lindsey Busfield.
Most lawyers want to get cases. That really isn't a shocker. They don't necessarily want to take over the world and be the largest personal injury firm in Chicago, but they do want their slice of the pipe. So how do you do it? In highly saturated markets, it can be tricky if you don't have millions of dollars at your disposal to go toe-to-toe on advertising with some of those other giants. They have the budget, they have the billboards, they have the household name.
So you can either move to a less saturated market or you can niche down and focus on one very specific service area or demographic. Kyle Smith of Paceline Law is joining us today to discuss how he started his niche bicycle injury practice and how niching down has helped him grow. Thank you so much for joining us, Kyle.
Kyle:
Thanks so much for having me.
About Kyle Smith and Paceline Law
Lindsey:
So tell us a little bit about Paceline Law. Why did you decide to start it and make your focus on cyclists?
Kyle:
Sure. So for me, the decision to focus on cyclists was personal and natural. I'm a cyclist. I've been riding my bike much longer than I've been practicing law. And for me, it felt natural to represent the people that I like to spend time with and to work with a community that I'm a part of. I actually had started my career as a corporate attorney on the defense side, and after about a year of working for a big bank foreclosing on homes, they told me I didn't seem passionate about the work we did, which-
Lindsey:
Shocker there.
Kyle:
Yeah, thanks. I thought I was doing a great job hiding how much I hated it, but there you go. So I made the switch over and worked for a plaintiff's firm that was focusing on bikes as well at the time. It went from me feeling like I had to completely shoehorn myself into the job every day to feeling like, "Oh, this is completely a natural extension of who I am and the things I care about."
What Does Paceline Mean?
So the name Paceline is one of those things too that it makes sense to cyclists and is just kind of a weird word to anyone else. So if you've ever seen cyclists riding in a big, long single file line, that is called a paceline. The idea behind that is that it helps reduce wind friction and resistance and can make riding so much easier by taking turns at who's riding at the front.
So I wanted that with my firm to reduce the friction and make it so that I can take on people's cases and they can get behind me and let me pull them through to the finish line.
Lindsey:
I love that. I love the explanation behind that and I know that as a driver, when I see that paceline of cyclists, there's also a sense of safety in the numbers. There's a herd of them traveling together, and that's a really cool way to name your firm so that they know that that is their community. You are their community and you're a member of them.
Benefits of Niching Down Your Law Firm
Lindsey: When we talk to other law firms about niching down and trying to figure out what that niche should be, there is always a question of, "Well, what kind of niche should we focus on?" And people will know whether or not you're faking it. And you can't be a cyclist attorney and say, "I represent cyclists," if you don't know how to ride a bike. They're going to sniff you out and they're going to know that you don't speak their language.
So that is great that you've been able to come into that organically and naturally and really find something that fits well both for you, but you're also passionate about serving your clients. And so as you decided to start Paceline and focus on this niche, what are some of the benefits that have come out of niching down?
Kyle:
I think one of the big benefits is that people really remember what you do. If you work for a large firm that does a lot of stuff, which when I did that, I don't think my mom knew where I worked. People would ask her, "Oh, your son's a lawyer, where does he work?" She's like, "Oh gosh, it's four last names." "What do they do?" "I don't know, everything."
It doesn't have that hook to it. It doesn't have that sort of memorable factor to it. I think that when I talk to people, if I'm just meeting people at a friend's birthday party and I say what I do, they kind of laugh at first. They're like, "Bicycle lawyer." I think everyone makes the same, always sunny in Philadelphia, bird law joke. "I didn't know there were bike lawyers." And I'm like, "Yeah, there are."
And that's the huge difference too. If I tell people who are not bike people what I do, they are always like, "Oh wow, there's people who can focus just on that?" And when I tell bike people what I do, they're like, "That makes sense. This is a danger." So for me, I think the niche makes me memorable.
So when someone has a legal issue that is bike injury related, I'm kind of pop up first in their mind. Whether it's other attorneys I've worked with, friends from law school, friends in my life, colleagues, family, et cetera. If they hear someone was injured by a bike, they immediately think, "Oh, that's something that Kyle does."
Whereas if you do a little bit of everything, they have that, "I think maybe my cousin does criminal law and divorces and insurance settlements." So they don't really think to reach out to you. But when there's that straight line, it's like, "Oh, Kyle. The bike lawyer," that's who you are.
Becoming That Lawyer
Lindsey:
You are the bike guy. And I would think that it would give clients a sense of security knowing that all you do is bike law. So when they have a case, when they are in a pivotal point in their life that is a very stressful moment and they need to be able to trust somebody who has the experience and expertise in this, they know that this is what you do. You're not going to be focusing on this and a divorce and a car accident. This is where your head's at.
Kyle:
Exactly. I think you want your lawyer to not be surprised by your case. And of course, just when you think you've seen it all, you see something new. But I've seen a lot of car versus bike, but I've seen dog versus bike. Bike versus bike. Scooter versus bike. Pothole versus bike.
Lindsey:
Bird versus bike.
Kyle:
Exactly. At this point, I think I've represented someone in just about every way you can be injured on a bike, and so I think that helps. It gives people a little comfort when they say, "Hey, this happened." And I can say, "I've dealt with that same injury and that same mechanism of injury and here's what happened last time. You're going to be okay and we're going to take care of this." You don't want your attorney to go, "Gosh, let me Google this and figure out what it is you're talking about."
Lindsey:
Right, right, exactly. And you've got the background in it and you guys can get through it together in your paceline.
Kyle:
That's right.
Cons of a Niche Law Firm
Lindsey:
Have you noticed any cons of having a niche?
Kyle:
I think that the cons of having a niche is probably just that you miss out on cases that maybe you could completely handle. I focus on bikes and that's what I've done virtually my entire career. But I've also represented pedestrians, which is super similar. I haven't done very many car versus car collisions, mostly because I think people don't think of me for that. It's certainly, if it's that kind of case, I could take that on. I know how to do it.
It's pretty similar in a lot of ways, but I think you miss out on cases outside of your niche, which is probably only a problem if you are trying to be that huge catchall type of practice. But for me, I don't really mind missing out on those cases because I like bike people and I like working for that group.
Lindsey going on a rant about pickleball again…
Lindsey:
You would think that it would kind of cut down on the amount of surprises that you have to face as an attorney. I mean, I'm a pickleball person myself.
Kyle:
Nice.
Lindsey:
But I know people in the pickleball community. I know how to speak their language. We all have something similar in common because we've landed on the same hobby, and I would think that the same would be true about the bike community. Where you guys all got into this for some reason, but landed at the same place.
Kyle:
I think bike people with pickleball people, both are activities that are somewhere between cult and hobby-
Lindsey:
I don't disagree.
Kyle:
… and both exploded even more during the pandemic and seemed to annoy the neighbors. But I think that they just need to become one of us and they'll have a lot more fun.
Lindsey:
Well, if I were just to bike to pickleball, that'd be a great day, right?
Kyle:
That's right. That's right.
When is the Right Time to Niche Down Your Firm?
Lindsey:
Finding that niche, it gives you something to wake up for and really put your passion into. And with that, you're going to have a natural amount of knowledge for it because you gravitate towards it naturally. Which can make it difficult for some other attorneys who are trying to figure out whether or not to niche down and whether it's the right time. How much practice should a personal injury attorney have before they really start targeting one thing exclusively?
Kyle:
That's a good question. I didn't start my own practice until I was at about a decade of experience. So for me, that felt like the time was right. That I was at a place in the firms where I was working, where I didn't need a ton of direction and was fairly autonomous. So having my own practice made a lot of sense. In terms of deciding whether to niche down.
I think ultimately it's one of those things where it shouldn't be a conscious decision so much as a natural extension. That it should almost become the sort of thing that you're like, "These are the cases that kind of keep coming to me because it's what I'm doing, it's what I'm good at, and word's getting out." So at that point, get the focus and brand your firm accordingly and brand yourself accordingly.
But I think that, like you said, people can smell a cash grab and a fraud. Some things maybe don't have to be a passion. You don't have to have a niche like cycling where it's also a shared hobby. If you're doing printer patents or trademarks in the food space or something like that, you don't have to absolutely love that and have it be an extension of who you are. But if it's what you're good at and it's what you care about and you've developed that experience over time, then I think going for a niche practice is really a great way to go.
Lindsey:
Baseline care about something.
Kyle:
Exactly.
Tips on Niching
Lindsey:
Right, absolutely. Well, and do you have any advice for other injury attorneys who are looking to select a niche?
Kyle:
I think that part of it is looking around what makes sense in your area. I don't know if it's a chicken before the egg thing, but I grew up in the Bay Area and it's a great place to ride bikes cause the weather is quite nice and there's a lot of cool hills though I suppose some bike people might not like that with the hills. So for me it was a natural extension. There's a lot of cyclists in the area, and so there's that case work to take on.
That might not be the case in other places. There may be injuries that pertain to skiing or whatever outdoor activity is popular in a particular geographic area. But I think that as long as there's the market there and it's a market you care about, then it's a great way to go.
Obviously there's no one who said, "Hey, I'm really passionate about industrial solvent poisoning and accidents." It's not a hobby. But if that's something you work in an area with a lot of manufacturing and you feel like you could make a difference helping people and help make their working conditions safer, then I think that's a great niche to take on and just to see what is the community that needs your help and how can you genuinely be a part of it?
Unique Challenges for Bike Lawyers
Lindsey:
That's a great place to start. Just looking around and seeing what makes sense for your area and then picking something that you care about. And as a bicycle exclusive attorney, clearly you are a minority with a lot of the cases that are out there. Do you have any interesting experiences dealing with more car-centric insurance companies? Has that come up as a problem over the years?
Kyle:
Oh, definitely. The car insurance companies are so used to dealing in auto collisions, and they kind of just ask the same questions each time, which is always funny. I remember I've had times before they said, "Hey, we never got your client's statement of insurance for their vehicle." I was like, "He doesn't have one." They're like, "Well, I don't see anything in the police report about him being cited for being uninsured." "Well, it's because he was on a bicycle." And you can tell they're just like, "Oh."
I've even had them before where I report it's a bicycle collision and they say, "Oh, we only have a box for auto or pedestrian." Kind of like, "Well, you might want to-
Lindsey:
Have a box there.
Kyle:
… have a box for that." But the one that I come up against a lot is people not realizing that bikes can be expensive. I think that there are some people in the very car-centric insurance world who maybe haven't ridden a bike in 25 years. And so when I tell them that my client's bike costs $8,000, their head explodes a little bit or they think I'm making it up. But my record of most expensive bike was about $25,000.
Lindsey:
Oh, wow.
Kyle:
It was a custom triathlon bike for one of the tallest people I've ever met. So you can't get a production bike off the shelf if you're Olympic swimmer kind of height.
Lindsey:
Right.
Kyle:
And for triathlons.
Lindsey:
Ultra lightweight but for the ultra tall.
Kyle:
Exactly.
Lindsey:
It doesn't get much more expensive than that.
Kyle:
That's right. And so that was one where the car insurance people really, who gave me a hard time and had to really substantiate that as to why it costs more than some cars they deal with.
Lindsey:
Well, and just another reason that your clients are benefiting from working with somebody who is truly a specialist in their field. Where you will be able to argue and explain why exactly this bicycle costs so much. Because you know it, your head's in it, you have all of the experience both as a lawyer but also as a cyclist that you can put towards your client's benefit.
Kyle:
I think another one that kind of made me laugh is that a Toyota Corolla comes in different colors, but it's one size fits all. Bikes are sized to the individual. So like I said, that bike was expensive because it was bigger than production models. I once had a client have his bike totaled in a collision, and the insurance company made me what I thought was a really low offer on that specific type of bike.
The insurance adjuster said, "Well, I found one on eBay for that amount." And I went and looked at it and my client rode a 56 centimeter bike, which is a taller guy, but fairly commonly sized, and this one was a 48 centimeters. So it would've been for someone who was probably under five feet tall. And I was like, "My,-
Lindsey:
Oh, gosh.
Kyle:
… six foot tall client probably can't ride this-
Lindsey:
Teeny tiny bicycle.
Kyle:
… tiny bike." But the insurance company was like, "Wait. What do you mean it's the same bike though?" "I mean, it's the same jacket, but it's in an extra small. It's not going to work for me."
Lindsey:
That's hilarious. Well, thank you so much for coming on today. I really appreciate you sharing your knowledge about this and your stories about successfully niching down and being able to serve both your clients and your community as well as the bicycle community that you're a part of.
Kyle:
Thanks so much Lindsey. Appreciate being on.