Podcast: Play in new window | Download
Episode #43 of the Personal Injury Marketing Minute features Trademark Attorney Alex Toporek and we discuss trademarking attorney's slogans.
In this podcast, you will learn:
What is a trademark?
Does a trademark prevent others from using my slogan?
What can be trademarked?
Can attorneys use other attorney's slogans?
Should attorneys trademark their firm's slogan?
Need a Trademark for your Law Firm? Visit Alex online here: https://toporeklaw.com/.
See all episodes or subscribe to the Personal Injury Marketing Minute here: https://optimizemyfirm.com/podcasts/.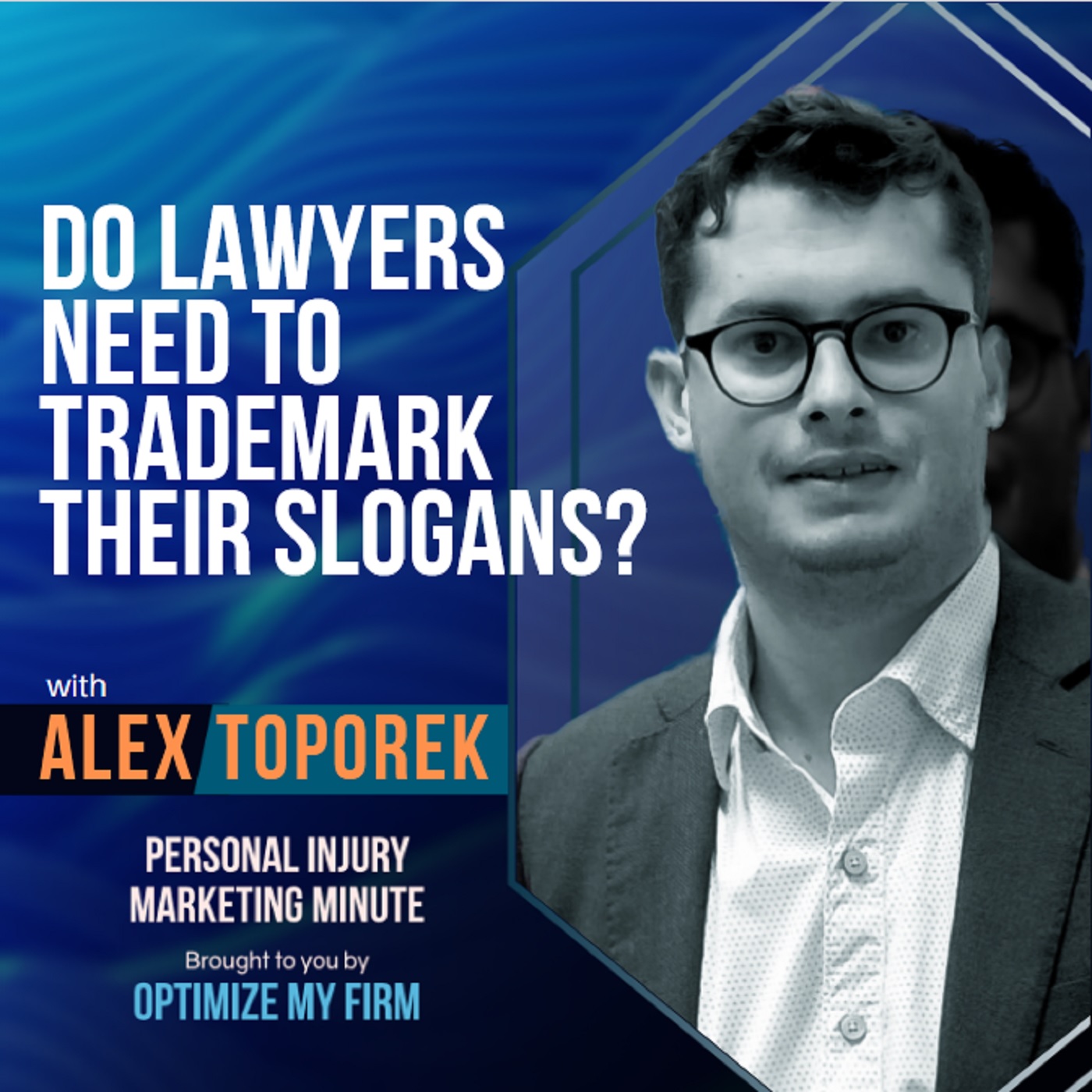 Transcription:
About Alex Toporek:
Lindsey:
Well, tell us a little bit about yourself.
Alex:
Sure. My name's Alex Toporek and I'm out of Charleston, South Carolina. I've got an office here and I've been practicing for a little over 10 years now, and I've done a few different areas of the law, but the last few years I've kind of settled into helping small businesses with trademark registration and federal trademark registration, and it's been going pretty well. So that's been my focus, like I said, the last couple years and going forward.
How is a Trademark Different From a Copyright?
Lindsey:
That's great. So you know the ins and outs of all things trademark, and I want to get really basic because not everybody understands what a trademark is, what a trademark does, whether or not they need one. And so you've got copyrights, you've got trademarks. So what is a trademark and how is it different from a copyright?
Alex:
Sure. And yeah, that's a question I get a lot as well. So copyright protection deals more with content. So the actual, if you write a book, the actual wording, the language you use in the book, or if you're producing a video, writing a song, things like that, that's where copyright protection comes in. Trademarks are a little different and the registration process is a little more technical than registering for a copyright and trademarks protect essentially, I think the best way to explain it is brand identifiers that are unique to your business and that you're using to distinguish and identify the goods and services that you provide. So that can be a brand name, it can be a slogan, it can be a logo, even in some, and these are a little more rare, but even sounds and jingles and things like that, that those potentially could be ripe for trademark protection.
If I Trademark My Slogan, Does It Prevent Others From Using It?
Lindsey:
And going back into the history of trademark, there's the term trademark itself where you are literally marking your trade or your brand. And so if I'm understanding that correctly, anything that sets you apart, your brand apart from other similar brands would be the mark that you're putting on your particular trade. And so going back to the question of the slogan, if I trademark my slogan, does it prevent others from using it?
Alex:
So trademark, if you go through the proper steps to get through the whole federal trademark registration process, what that does is it gives you the exclusive rights to use that more within your class of goods or services that you provide. It does require, if you want to really police that and you should, you do have to have some sort of monitoring and effect so that you can see if other people are using that and maybe keep tabs on the trademark database as well to see if anyone else attempts to register something similar. But I guess in basic terms, the idea is it does give you exclusive rights over that trademark.
What Lawyers Can and Cannot Trademark:
Lindsey:
And going beyond that is an interesting question where what is eligible for trademark and what isn't? Because as a law firm, I could go and try to register the trademark of lawyer or Philadelphia lawyer and that would, of course, not be eligible for trademark. But can you explain a little bit as to what you can and can't trademark?
Alex:
And I think it's, obviously everything's on a case by case basis, but it goes back to what we started off with. And it's got to be something that's unique and unique to your business and distinguishes your business. If you attempted to file a trademark for Charleston Personal Injury Attorney or Georgia Criminal Defense Law, you're most likely going to get a one if somehow it did by a miracle make it through, it's not going to have a whole lot of weight behind it. But most likely you're going to get what's called an office action saying that that is too descriptive and too generic of a phrase, of a slogan, and it essentially just describes what you do. And they're not going to let it go through most likely. And if somehow it does, like I said, it's not going to be afforded a whole lot of weight in the legal world.
Lindsey:
Well, and it gets a little bit confusing sometimes with what is protected and what isn't and how they're protected, because we see things like get the hammer or somebody who is the wrecking ball, and we see that a law firm in Kentucky, we see that with a law firm in California. Do they not have those slogans trademarked or is it geographically exclusive, or are those not trademarkable? How are multiple law firms using the same slogan?
Alex:
My guess is, and I haven't researched those specific phrases, but my guess is these have not gone through the federal registration process, so they haven't been vetted by the examining attorney at the Patent and Trademark Office to see if they are unique and distinguishable to those individual law firms. And that's how, my guess is that's why you see many people using it. And then on top of it's probably in some ways it's got to be pretty effective if people are using it. So while I may not get trademark protection, and this gets out of my area of expertise, obviously related, but from a marketing sense, you can still have some effective marketing using some of those generic phrases like that.
Can I Trademark a Slogan That Is Similar to Someone Else's?
Lindsey:
Absolutely. Because everybody knows the hammer and it conveys a certain image. And if you do have law firms, multiple law firms that are using one phrase like the hammer, would another law firm still be able to trademark that phrase and exclude other people from using it?
Alex:
I think they would probably have some issues with that as well. And what would likely happen if an application was filed for something like that, what likely would happen is you would get an office action like I just mentioned before, and that's essentially a correspondence from the Patent and Trademark Office examining attorney telling you, Hey, there's something wrong with this application and we need some clarification. And what they'll likely do is issue something that says issue what's called a 2D likelihood of confusion office action, which is that is serious and time-consuming of an office action as you can get, because they're basically saying, this is too similar to something else, we're not going to let it go through. And now you got to prove why it is distinguishable.
So my guess is something like that, if there was an attempt made, you would end up getting an office action like that. And if there are savvy attorneys out there with a savvy marketing department that's maybe monitoring the trademark database and they see an application come up for that phrase, it's probably going to get their attention and they're going to make a note to oppose it or send some correspondence to fight. So, I do think that would cause some issues trying to go down that route.
How Do You Check if a Trademark Is Available?
Lindsey:
Because if it is infringing upon something that's too similar to another business that's already out there, their slogan that's already out there, it doesn't encroaches on their protections. So let's say that I have a law firm, I have a really great slogan that I just came up with. I think it's fairly unique, I haven't seen anybody else with something like it. How do you check if a trademark is available?
Alex:
So the first step, and this is something that I do as a courtesy to folks when I'm first meeting with them, but you can go to the US PTO, which is the United States Patent and Trademark Office, go to their website and you can search their database to see if a word or an exact phrase or even an image or a logo has been registered. What you really should do, and what I do at the outset of any trademark project that I get involved in is I perform a comprehensive clearance search. And we're going to search not only the federal trademark database, but all the state databases, business databases, half stores, social media, you name it. And we're going to see if there's anything identical or similar or different variations of different spelling, something like that, and we'll see what's out there.
And doing that at the outset, it gives you a little more flexibility to strategize how you're going to file your application and hopefully try to avoid some of these office action issues that I have mentioned so far. And there's different, I include that in my trademark registration package when I'm working with a client, there's different vendors that use that can range all sorts of different prices, but that can perform a comprehensive search. But that's really the best way to see if there's something out there similar. And not to be too long-winded, but the idea is what you want to avoid is developing your brand, developing a slogan, a logo, getting years down the road of building that consumer base and so forth just to find out, well, someone else is using it and now I may have to go back and change everything. And that's costly just from a dollar and cents standpoint and also to your brand reputation. So the idea is to, if you can, and if it's top of mind to do that at the outset before you really start putting the word out there and so forth.
Do Law Firms Need to Trademark Their Slogans?
Lindsey:
Absolutely. There's a certain amount of due diligence that you really should put in, especially if you're wanting to build a larger brand, something that requires a great slogan to be memorable. And obviously you're wanting to grow your law firm. And so putting the investment in ahead of time to make sure that you are building your brand on something that's sustainable long term is a great and important investment. So I guess the bottom line that we're getting at is do law firms need to trademark their slogans?
Alex:
I think it's always a good idea to explore, and I'd mentioned earlier, one main aspect of one big benefit that you get from trademark registration is that exclusive use over the trademark. Another angle of it is it creates an asset of your business. And prior, I'm sitting around thinking about how we're going to sell our law firms or anything like that, but it may happen down the road. And when you do that, having a brand, having a registered trademark as part of your intellectual property portfolio, it just enhances the value of your business, whether it's a law firm, or anything else. It's always a personal decision, obviously. But if you really are attached to a slogan or a brand name or something like that, and hopefully you are, if you're using it, then it is something to at least explore. And I think it's, like you said, looking at it as an investment, because it really is an asset to your business at the end of the day.
Contact Alex Toporek for More Help With Trademarks.
Lindsey:
That's an excellent point. Well, how can people get in touch with you if they want to learn more?
Alex:
Sure. Well, probably the best way to reach me is just through my website. It's toporeklaw.com, and my last name is spelled T-O-P-O-R-E-K. And all my email, social media, contact form, all that stuff, my calendar's on there as well if you wanted to schedule a call or a video. And I may have mentioned earlier, I certainly don't charge anything to jump on the phone with anybody. So I'm always happy to discuss it.