Welcome to the Personal Injury Marketing Minute where we quickly cover the hot topics in the legal marketing world. I'm your host, Lindsey Busfield.
As I mentioned in an earlier podcast – All About Backlinks for Law Firms – law firms who show up on the first page of Google have typically all purchased links. As I also mentioned, it is officially against Google's guidelines to purchase backlinks, but lawyers do it anyway and it has helped substantially…until now.
On December 14th 2022, Google rolled out their December 2022 Link Spam update. This is Google's biggest fight yet against inorganic link building. They are using an AI-based spam prevention system called SpamBrain to identify sites that sell inorganic links and discredit the link's power. While it will not actively penalize sites that buy and sell links, it will nullify the credit from any unnatural links.
It will take about two weeks to fully roll out, but I anticipate that you will begin to see the results of this launch within the next month.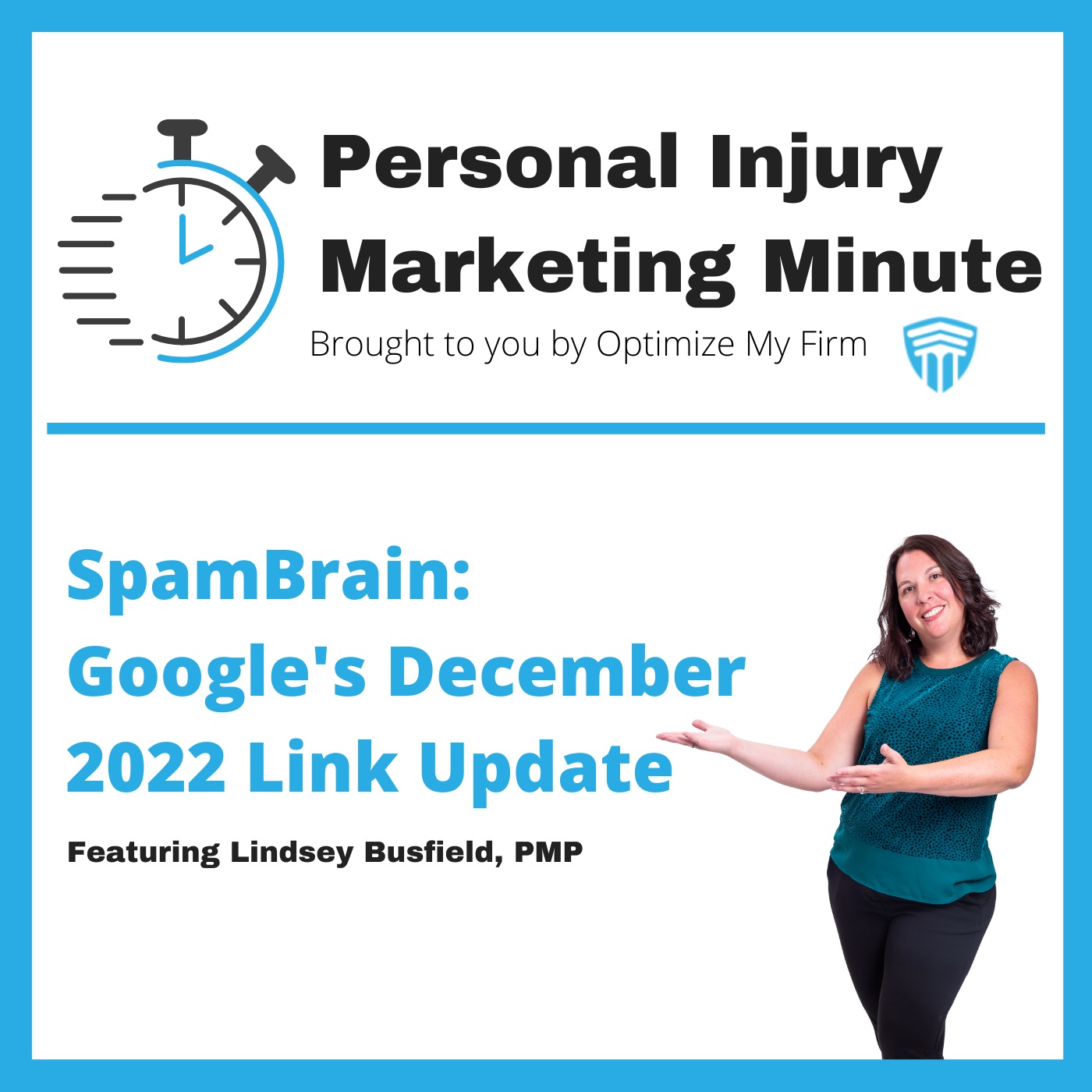 Let's say your law firm is on page 1 of Google's search results, but only because you bought a bunch of links from spammy websites – more likely, your SEO company bought a ton of dime-a-dozen links in an effort to quickly boost you to the top. This update will make is so that those links never existed. It won't actively penalize your website, but it will discredit all of those links and your site will likely slip in the search rankings. However, many of your competitors will also be impacted by this update, so they will fall in the rankings as well. On the other hand, if you have great links from real sites – like news sites and credible publications with strong journalistic standards, you will get the added bonus of gaining more traction over those who tried to take shortcuts. If you have more questions about this update or how to keep the traction you have built for your site, feel free to contact me at optimizemyfirm.com
Podcast: Play in new window | Download