Podcast: Play in new window | Download
Danny Decker is a business coach and marketing consultant. In this podcast, Danny explains how lawyers can tailor their messaging.
We are thrilled to have marketing guru Danny Decker back on our show this week to talk about how to create a messaging strategy that will speak to your clients in a way that resonates.
Danny may be contacted here https://dannydeckermarketing.com/.
Get Danny Decker & Rjon Robbins' book "The Automatic Marketing Machine" here: https://automaticmarketingmachine.com/.
Danny's previous book "Marketing Simplified" is available here: https://www.amazon.com/Marketing-Simplified-Built-Seven-Figure-Business/dp/1483493199/.
See all episodes or subscribe to the Personal Injury Marketing Minute here: https://optimizemyfirm.com/podcasts/.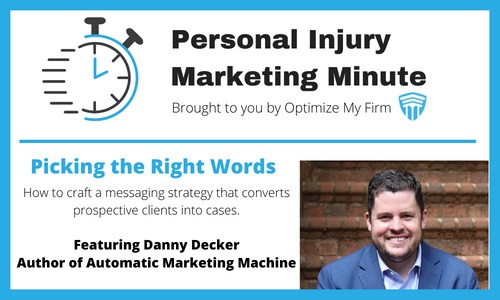 Transcript coming soon.