Podcast: Play in new window | Download
In this podcast, Lindsey covers the basics to Google Business Profiles, which are extremely important for law firms.
Your Google Business Profile, formerly known as Google My Business page, needs to be created, claimed and optimized for your law firm to display in local search results.
See all episodes or subscribe to the Personal Injury Marketing Minute here: https://optimizemyfirm.com/podcasts/.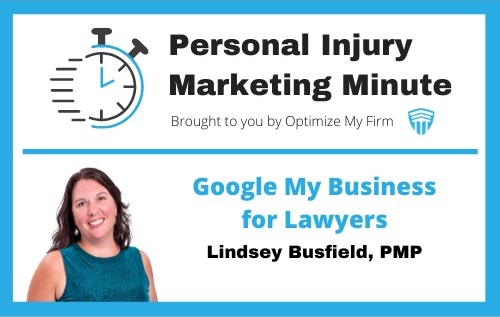 Transcript:
Welcome to the Personal Injury Marketing Minute where we quickly cover the hot topics in the legal marketing world. I'm your host, Lindsey Busfield. In talking with several lawyers who try to take on their own marketing initiatives, the three words that can turn their stomachs are Google-My-Business (also known as Google Business Profile).
Your Google My Business profile appears on the right side of the results page when someone Googles your law firm directly by name. For example, when someone Googles "florist near me," Google provides several listings and a map so that I can choose from local florists.
However, if someone Googles "Preston Flowers," the Google My Business profile for Preston Flowers shows up. Their profile displays a link to their website, pictures, directions to their store, their phone number, reviews, hours, and a host of other information about their specific business.
It is especially important for lawyers to have their Google My Business profile set up so that potential clients can easily find your information. A personal referral is no good unless they can find your firm. Otherwise, that lead will go to your competition who shows up in an ad or higher organic result.
So how do you get started?
There are a few ways to do it.
Start with a Google search for your law firm. If a Google My Business profile already exists, you can click "Claim this business" or "Own this business." Google will give you a few options on how to verify your business ownership. If you get stuck there, give us a call.
If your law firm doesn't have a Google My Business profile show up when you search your law firm's name, visit business.google.com to get started. You will need to have a Gmail email address to create an account.
The platform is fairly intuitive to set up, however the business verification process can be a pain. Google will want to send a postcard to your physical address in order to confirm that your business actually exists.
Unfortunately, the postcards can get lost. Also, Google will sometimes want to take the verification process a step further with photo documentation and a video call. If this is the case, they will send you an email with the steps to set up the call.
During this call, which will take place via Google's video platform, you will need to physically be at your location. They will ask to see signage from the outside, marketing materials (like a business card), and a package or envelope addressed to your location.
Once your Google My Business profile is set up, you will want to keep it updated with your services, hours, and other posts. You can add photos of lawyers, images pertaining to the services your provide, and other details to personalize and welcome prospective client to work with you.
Or, if you don't want to deal with any of that, Optimize My Firm offers Google My Business profile management as a part of our SEO package. To learn more, contact us today.