Podcast: Play in new window | Download
The Personal Injury Marketing Minute episode #17 is part 5 of a mini-series about marketing personal injury law firms. In this podcast, Lindsey discusses referral marketing.
Referrals and clients who hear about you via word-of-mouth are tricky parts of marketing. Lindsey goes over some strategies some from the personal injury attorneys we work with use to generate leads.
Listen to all episodes or subscribe to the Personal Injury Marketing Minute here: https://optimizemyfirm.com/podcasts/.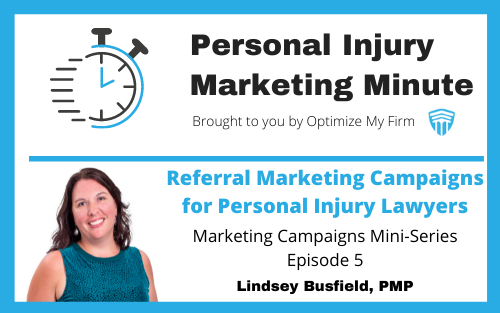 Transcription:
Welcome to the Personal Injury Marketing Minute where we quickly cover the hot topics in the legal marketing world. I'm your host, Lindsey Busfield. Continuing in our marketing campaign series, today we will be exploring referral marketing campaigns.
Let's just jump in with a real-life story:
I have the best pest control guy in the world. His name is Sal Dimino of Dimino Pest Control. He is a military veteran who started his company when covid hit. He is the kind of guy that you can call if you have a question about bugs, rodents, or even dog vomit fungus. It is a real thing and it is oh so gross. And Sal helped me with it. As a new homeowner, it is important for me to have a guy like Sal who I know will be there whenever I need him.
After hearing this, wouldn't you give Sal a call if you lived in North Carolina and had a bug issue? I bet you would, and here is why:
One – Sal provides a service that you need.
Two – Sal stands apart from the crowd in a meaningful way.
Three – If you listen to my podcast regularly, you probably trust my opinion.
Four – Now you don't need to look up anyone else's phone number because I can easily give you his information.
Now how does my pest control story relate to you?
As a personal injury lawyer, referrals are crucial to your non-digital marketing success. They provide warm leads that are automatically more likely to convert into clients.
So how do you get more referrals?
They don't come from sitting around and hoping people will talk about you. There are a few steps you need to take to lay the groundwork.
The first step to every marketing campaign is to identify your target market. With your target market in mind, you will want to create referral partnerships with people who are already connected to this demographic.
For example, if you want to target the bicyclist community, partner with bicycle safety advocates and influencers. That way, you will be providing a service that you know they need – and it will align with your overall business objectives
Second, you need to stand apart from the crowd in a meaningful way. Let's go back to the Sal example. He knew his audience. As a new homeowner with bug problems, I was freaked out, intimidated, and needed immediate help – probably a lot like your prospective clients.
Not only does Sal text me before he arrives, but he also chats with me about life when he gets here. And he is patient with me when I ask questions about lizard poop.
In fact, he is so personable and sincere that I know I can call him if I have any questions. And to top it off, I don't have pest problems ever.
If you can be sincerely caring and back it up with great results, people will be thrilled to refer new clients to you.
Finally, don't be afraid to ask for referrals. The way I see it, referrals come from three main sources:
The most obvious source for referrals is former clients. Former client referrals are money in the bank. They know first-hand how you treat your clients and the results that you get for them. I would always trust a friend who has been through a similar experience over just about anyone else. These can be a bit tricky, so I will be doing another podcast on reviews and former client referrals, so subscribe to our podcast to learn more about this later.
The second kind of referral relationships is professional referral webs. These are referral partnerships with doctors, chiropractors, physical therapists, and acupuncturists. This can be challenging for new law firms since many of these relationships have already been established.However, you can think outside the box here. Who else do clients interact with after an accident? Life coaches and trauma specialists? Cannabis shops? How about the hair stylist that everyone tells everything to?
Go out and form some referral relationships around town.Networking relationships are the final key to this referral strategy. Go out and network among other professionals in general. Join your chamber of commerce and get plugged into their events. Create a meetup group for pickleballing entrepreneurs.
Bottom line is to get out of the office and go talk to people. When you create relationships with other professionals, they will be much more likely to refer you to prospective clients in their network.
One tip on successful networking is to be a great referral partner to those who you want referrals from.
Is there a massage therapist who specializes in medical massage? Talk about them to your friends. Send them business. Be their ultimate hype man. Odds are, they will return the favor.
If you are looking to have a hype-person in your corner to build your law firm and take your legal marketing to the next level, feel free to reach out to me at optimizemyfirm.com
Take care now!