Podcast: Play in new window | Download
The Personal Injury Marketing Minute episode #15 is part 3 of a mini-series about marketing personal injury law firms. In this podcast, Lindsey shares what does not work and 3 actionable tips for potentially successful PR.
Listen to all episodes or subscribe to the Personal Injury Marketing Minute here: https://optimizemyfirm.com/podcasts/.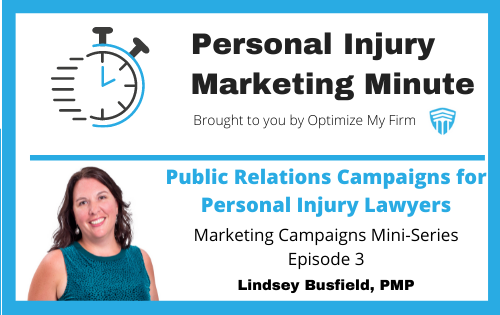 Public Relations Campaign: Do Something.
Welcome to the Personal Injury Marketing Minute, where we quickly cover the hot topics in the legal marketing world. I'm your host, Lindsey Busfield. Continuing in our marketing campaign series, we will be covering public relations campaigns for personal injury lawyers.
Public relations is easy. You simply draft a press release, send it out through a PR service, and done. Podcast over! Just kidding.
You can do that…if you are ok with spending time drafting a press release, spending money submitting it and waiting around for your phone to NOT ring.
The reason that the phone isn't ringing in the plan above is that it is missing a critical step: the law firm didn't actually DO anything. Many firms start with the press release in mind before the firm has actually done anything PR worthy. Once the firm does something PR worthy, then they should submit a press release – or if it is really PR worthy, buzz might naturally generate.
Let's talk about the concept of PR Worthy, since it does seem to be the lynchpin determining the success of your PR campaign.
Something that is PR Worthy has these three essential characteristics:
1. It is valuable.
This seems like a no brainer, but there are thousands of press releases floating in the digital cosmos about useless crap. "Lawyer Recognized as a Super Lawyer" is not valuable. Most people don't know what a Super Lawyer is – other than he might wear a red cape and his undies on the outside. Those who do know, well…you know how much of an announcement that is.
2. Something PR worthy should capture the attention of your target audience.
While it is nice to gain attention from the world at large, you want to capture the attention of a particular demographic.
As a personal injury lawyer, your target audience could be pretty large seeing as anyone, anytime is at risk of an injury.
While that is true, you will likely want to use a PR campaign as a part of a larger marketing campaign that is targeted towards a particular target audience.
And as for capturing their attention, you need to figure out what they care about and then actually do something. Let me say that again – you need to go do something.
If you are trying to attract more bicycle accident cases, then you need to show up in the bicycle community. You can advocate for bicycle safety measures by sponsoring a bicycle safety rally. You can launch a bicycle accident hotline where you can answer legal questions after a bicyclist is injured. Did you just rebrand the "free consultation?" – I think you just did. And then you wrote a press release and got some attention and community good will out of it.
3. Your PR worthy concept should be time sensitive.
If your story isn't time sensitive, it won't be prioritized.
Nothing kills a PR campaign like getting back-burnered. If you have contacted your local news agency and they say that they will call you next week, they likely won't be calling you next week – that is, unless there is absolutely no other news story to run.
Instead, you want to put an event date, launch date, or some other time constraint on your event in order for it to move up in the queue.
Additional PR Tips:
Once you have your event, product launch, or whatever it is that you are getting off your keister to do set up, you can draft your press release. Better yet, you should hire a professional to draft your press release, if you don't already have one in house.
Press releases must follow a specific technical format and must also be written in a way that is going to capture the media's attention.
Every day, the media gets bombarded with press releases that are slapped together, poorly written, six pages long, or simply are not news. And that is if you can get past a title that is boring, incomplete, or OMG waaaay too long.
While I can work a lot of marketing magic, I can't teach you how to write a press release in these last 15 seconds. But, be on the lookout for an article about perfect press releases coming soon.