Podcast: Play in new window | Download
The Personal Injury Marketing Minute episode #13 is the beginning of a mini-series about some of the many ways to market a personal injury law firm and obtain more cases. SMART marketing is Specific, Measurable, Attainable, Relevant, Time based marketing.
Listen to all episodes or subscribe to the Personal Injury Marketing Minute here: https://optimizemyfirm.com/podcasts/.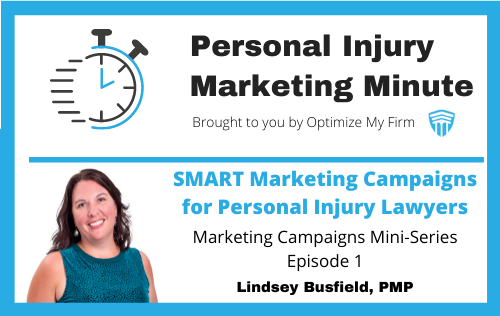 Transcript:
Welcome to the Personal Injury Marketing Minute, where we quickly cover the hot topics in the legal marketing world. I'm your host, Lindsey Busfield. If you are listening to this, you are probably a lawyer. And if you are a good lawyer, you probably know a lot about law. And let's just say less than a lot about marketing campaigns. It's safe to assume that you at least know that marketing is important if you want your law firm to get more clients. And you are right. But if you blindly are throwing your marketing dollars at a wall, i.e. your marketing department or agency, without a clear cut strategy, you will have no way of knowing what type of marketing campaigns are giving you the best return on your investment. That is why we are starting a new podcast series that will quickly cover about a dozen specific types of marketing campaigns that personal injury law firms use to get more business.
We'll discuss everything from brand awareness campaigns, to email marketing, to of course, SEO. Before you decide on any marketing campaign you should start with a goal in mind. While every law firm's ultimate goal is to make more money and attract more clients, your goal should be SMART. Yes, that is an acronym, S means specific. You need to have a specific goal in mind, instead of saying, "Meh, I want more clients." Why not target a specific demographic? M is for measurable. What is the metric that you will use to define your success? Does success mean that you're generating more overall website traffic? Is success having a hundred thousand views to your ad? Is success attracting five more clients to your law firm each month? You decide. Attainable is what A stands for. If you are an independent personal injury lawyer in a super saturated market, it is probably not realistic to expect a social media campaign to turn you into the most wildly successful lawyer in New York City.
However, setting up an optimized landing page that is targeted towards millennials in New York City who are injured on their bikes could realistically generate more traffic and more cases for your firm. You need to make sure that your goal is relevant, R for relevant. Your goal should align with your firm's values and long-term objectives. Make sure that your campaign goals are relevant to your firm's long-term goals. Use your resources wisely. You could spend your marketing money into being the most followed Facebook lawyer, but if you are getting lots of attention and no cases, then that approach probably isn't the most relevant for your firm.
Finally, your goal should be time-based, T for time-based. Marketing campaigns should regularly be evaluated. For example, Google Ads should be AB tested and evaluated to find out which versions are best at converting into cases. You should do this on a regularly timed basis, whether it's every month for Google Ads, or every year for your SEO strategy. Every marketing campaign should have a time-based check in date to evaluate how well it's working. With any marketing campaign, the evaluation piece is key, and each campaign is going to have different goals, measurements, and time thresholds.
We are happy to discuss your marketing strategy and help you develop a marketing campaign that is right for your law firm. Also, if there's a specific type of marketing campaign you would like for me to cover in this series, or if you would like to share a strategy that has worked well for you and your firm, please reach out to me at lindsey @ optimizemyfirm.com. I look forward to hearing from you.