Prior to working exclusively with attorneys we had the opportunity to work with a wide variety of eCommerce companies, news agencies and international companies. We still have access to Google Analytics data for 100+ sites and analyze Google's Core Updates when they roll out. We rarely post about them here unless they impact attorneys.
Google March 2023 Core Update Impacts Law Firms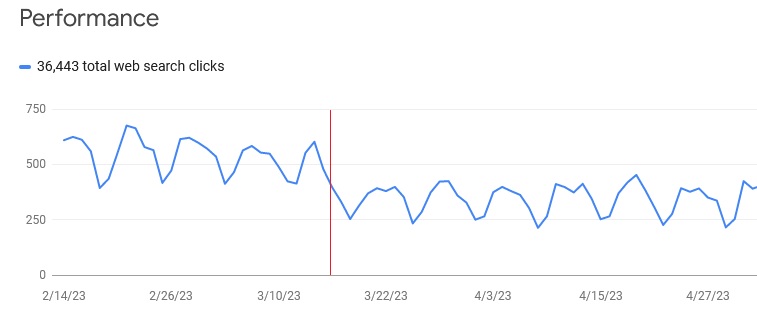 The vast majority of law firm websites will feel little to no impact from Broad Core algorithm updates. In general, these updates impact larger sites, such as Justia, Yelp, Expertise, etc. When those sites move, you can move up or down a point in the rankings.
However, some law firm websites have something which gets them impacted, such as:
News. Websites indexed in Google News.
Medical information. Some personal injury websites have medical information on them which can be impacted.
Thin content. This is rarely a problem unless you're dropping large numbers of short press releases, such as around securities litigation.
Technical problems. While rare, we have seen numerous problems over the years
Above is a screenshot of a law firm which was negatively impacted by the most recent update.
In this case, there is nothing to be alarmed about. It turns out, they get impacted by ALL Core Algorithm updates. It's almost always positive or negative each time. That's because they have a variety of medical content on the site that is in the algorithm's crosshairs. It's legal content, but it's about specific bodily injuries, and it's just enough to make them gain or lose some traffic each time. Most of the traffic is worthless traffic for major keywords displayed around the world or comes from Featured Snippets. They're still at the top of page 1 in their market.
Today we released the March 2023 core update. We'll update our ranking release history page when the rollout is complete: https://t.co/sQ5COfdNcb

— Google Search Central (@googlesearchc) March 15, 2023
The March 2025 Broad Core Update ran from March 15, 2023 – March 28, 2023. If your website was impacted by this update, your traffic changes could have occurred at any point, but most sites we monitor felt impact around March 16 and March 17.
Another website which was negatively impacted by this update was Yelp.
Yelp suffered significant visibility loss with this update: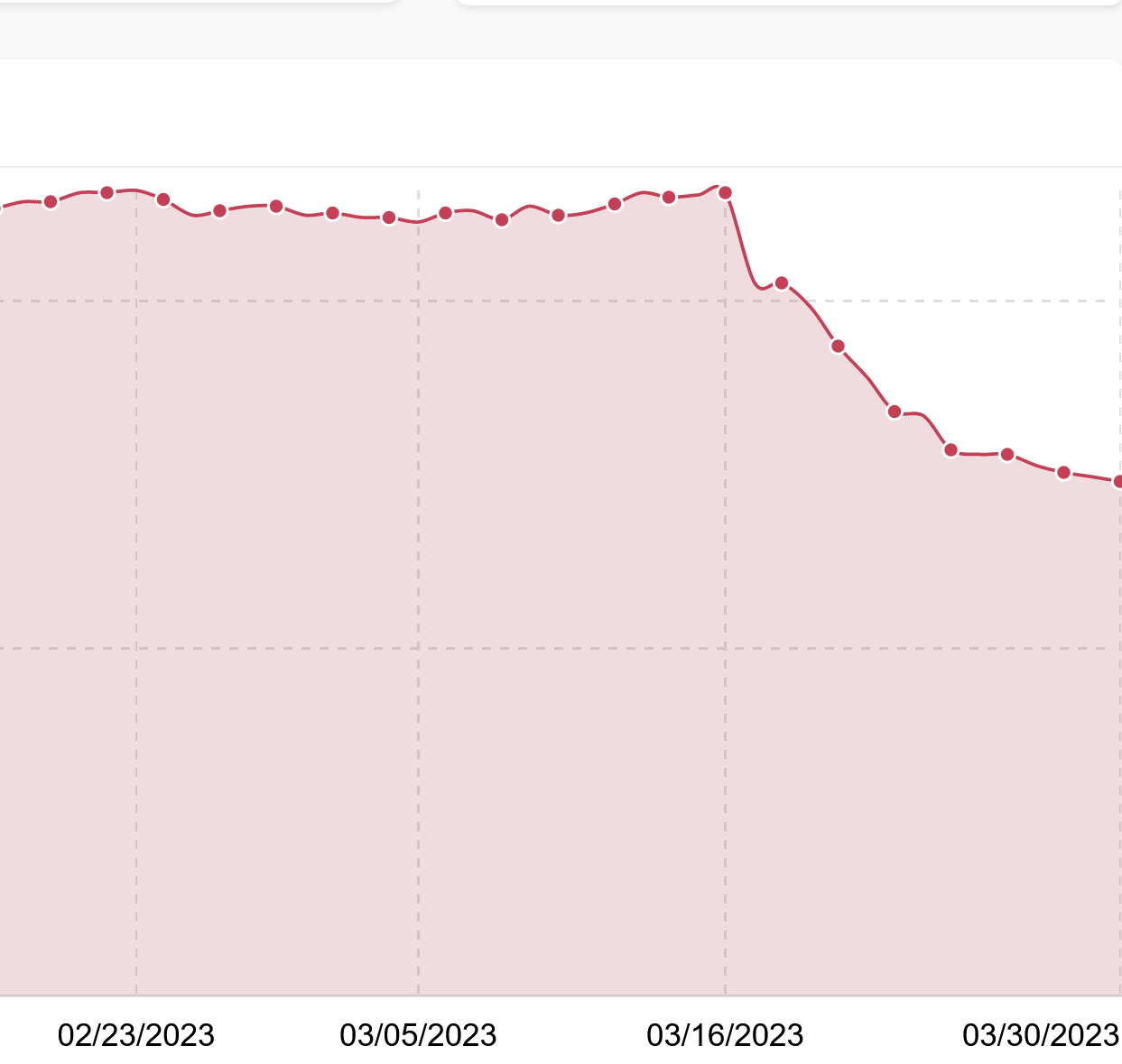 Diagnosing a Traffic Loss after a Google Broad Core Update:
As noted above, a loss of traffic is not always that bad of a thing, nor does it necessarily mean a lack of visibility locally. That said, if you're not sure why you are gaining or losing traffic to a site and need an expert opinion feel free to reach out and we'll take a look at what you've got going on. It's important to determine which pages are impacted, and why. Technical SEO factors such as page speed are rarely the cause.