Running a local brick and mortar business from 2001 – 2012 gave me a whole new level of appreciation for local business owners, and I'm able to connect with them instantly. There are rewarding days, like when "Kim the Cookie Lady" stops by to tell you what a wonderful job you're doing, and there are upsetting days, like when you respond to an alarm, drive in during the middle of the night and find that thieves have smashed out your front windows, run in and stolen as much as their arms can carry.  I know multiple stressed out business owners who had heart attacks by age 44. Some of them didn't make it.
I love keeping as many things local as possible. I get my milk, honey, meat and vegetables locally, from ethical, sustainable farms. I've gotten so into food I was invited to join the local farmer's market board of directors and served on it for several years. I was the only non-farmer. It was enjoyable, even though I had the softest hands in the room. My family and I eat at local restaurants, volunteer and love our local businesses.
Does Legal SEO Require Specific Expertise?
There's a law firm a block away from me. The attorney who works there drew up my will. He's a great guy, but…. I'm not going to use him for a complicated product liability claim. I wouldn't call him if I were thrown in jail for a crime I didn't commit. And if I were affected by Camp Lejeune's water I am most definitely calling Ed Bell who authored the Camp Lejeune Justice Act. Ed is not in my state.
As for Legal SEO, it's completely unique.
Organic. Do you want the local SEO agency who has worked with some plumbers working on your site, or the marketers who have created, analyzed and ranked tens of thousands of pages on Google for over a decade?
Google Ads. Local SEO agencies usually have a little experience with $500 campaigns targeting a small geographic area. We have access to tens of millions of dollars worth of click data here. And we don't even run ads! Attorney PPC alone is so unique even we rarely touch it.
Local Services Ads. It's simple to set up, but, we get calls every week from local SEO agencies asking us questions which are unique to law firms.
Content. Your content is probably not going to get created correctly. We have seasoned writers and attorneys on staff who write legal content 5 days/wk. A local SEO agency will outsource this.
Do they have any experience with law firm sites? Do they know what is bar compliant?
Can they show you results like this? Here's a firm we work with which has gone from 80 calls per month to 580 calls per month over the last 24 months:
We would never accept a client who operated a hotel. Hotel SEO is totally unique. Same for restaurants. Same for International SEO, same for eCommerce SEO, same for Publishers. These are very, very unique practice areas.
If you were accused of murder would you call the nearest lawyer if they were a probate attorney? No.
Most Local SEO Agencies are Terrible.
Most law firms hear about SEO, google it, then call whoever pops up in their search results. After all, if they can rank their own site, shouldn't they be able to rank yours? Unfortunately, it's apples and oranges.
There's a reason the front page of our website reads "The Last SEO Law Firm SEO Company You Will Need". It's because after getting stuck with a local SEO agency, a year or two goes by, they get no results, then they either ask other attorneys for a referral and get sent here, or they google something technical and discover our blog. Then they make the switch.
Here's a screenshot of an email I received just today: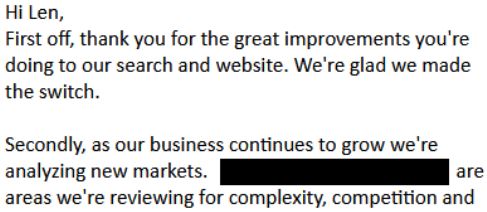 Local SEO agencies are notoriously terrible. Don't get me wrong, there are indeed absolutely wonderful SEO agencies out there who totally rock. And there are even 4 or 5 really good Legal SEO companies out there. But, the chances of you being located near one of the "good guys" is very slim.
If this sounds too biased, just call any personal injury attorney on page 1 and ask them how they got there. It was not with a local SEO agency, it was with a boutique firm or a specialist.
Aren't We Local?
In 2012, when I sold my brick and mortar IT firm, I set up to create something virtual. Since then, we've attracted several law firms on the west coast. We have an international law firm. We have even done some work for clients in London and Brisbane.
I personally am a resident of North Carolina and Florida.
Our employees are in North Carolina, Florida, Texas & West Virginia. Although, one of them is currently in Antigua, one is in the Republic of the Philippines and one is from and spends time each year in Wisconsin.
Sometimes we visit client's cities for photos. In the last couple of years we have photographed San Francisco, Los Angeles, Philadelphia, Louisville, Chicago, Tampa, Milwaukee and Baltimore.
So.. Are we local? I suppose it depends who you ask. ¯\_(ツ)_/¯
Let's Conclude This … Rant?
A client who has been with us for 10 years now initially hired a local agency. They had interviewed us and went with the local agency instead. They came back. They're one of our favorite clients now. We work closely with them and they invite us to their firm's annual trip to Cancun. We also frequently use them as a reference.
This repeats itself about once a year. Then a year or two later, the firm circles back…
I really don't want to be the "I told ya so" kinda guy, but….. I do indeed dislike seeing entrepreneurs waste time, money, or both. Plus, when they come back, we usually have to undo everything the last place did.
SEO is not for every law firm. To explore if your needs match our abilities, contact us today and we'll see if we can help you.