I have personally written around 4,000 articles for personal injury law firms.
Most of those pages rank well. Some get traffic, some do not. Most do not result in cases.
However, some of those pages do very well, making all of the effort worth while.
These days, our team of attorneys, writers and editors handle the content, but I still brainstorm with them monthly and pay extremely close attention to how people interact with those pages and which pages generate leads.
Experience pays.
This article is about personal injury but you will greatly benefit from hearing about this totally unrelated topic.
My friend Eric is an expert land sales agent and top producer. He has a lot of knowledge tucked away in his brain. We do videos once a month and cover all things land. At one point, he got smart and hired me to help him with SEO. He told me his important keywords were City name + Real Estate. I was like hell no. That keyword belongs to Zillow. We need real content. Thankfully, he loves being on camera. I set up my camera and began recording. Fast forward a couple of years and here are some of the articles/videos we have put together which have resulted in new clients:
Which local neighborhoods allow chickens
Will the local nuclear power plant affect my property value
How to sell land for solar farms
Can I hunt deer in my back yard
Easements and landlocked properties
Selling inherited land
How to sell a horse farm
How to determine price per acre in our county
Selling land during a divorce
Will our dirt support fruit trees
The above topics have resulted in many land sales. People have seen these articles and built solar farms. Farmers have sold property with him. People have purchased land to hunt on. He gets a lot of strange calls about chickens, including someone who recently asked him how they can increase egg production.
How does this apply to attorneys?
People are asking questions. Those questions vary from area to area.
Potential clients in San Francisco want to know what happens if they hit a car door while biking through the city.
Potential clients in rural Tulare County want to know if they can sue for getting hit by a tractor.
Potential clients in Tampa want to know about PIP insurance.
Potential clients in LA want to know about compensation for hit and runs.
Philly clients want to know about hiring an attorney if they were hit by an Uber driver.
In addition to those local questions, people are mostly asking about:
Compensation
How long settlements take
Insurance questions
How the process works
Basically, you need to make sure you're catering content to people who have the intention of looking to retain an attorney, and that content should cater to local intent as well.
Most important keywords.
Of course, aside from the creative content ideas mentioned above, there are very important keywords. But you don't need a tool to tell you the most important keywords. I'll tell you what they are here:
(City) Personal Injury Lawyer
(City) Car Accident Lawyer
(City) Injury Lawyer
(City) Accident Lawyer
That's it. Those are, hands down, the most important keywords to rank for.
In general, the earlier mentioned content ideas help anyone who is in a saturated area that is unable to compete for the big terms, or, they also help the large, more powerful sites who already rank well and want to scoop up the other cases by answering people's questions via basic legal information.
But I Still Want Keyword Research!
That's ok. I still do keyword research as well. Here are a few ways I do keyword research for the personal injury law firms that we work with here.
Google's People Also Ask box.
Easily triggered by random hypothetical legal questions, People Also Ask (PAA) boxes show us exact searches that other people are also doing. As a side note, these search queries can almost always produce a Featured Snippet when someone types them in word for word. If you're creating this type of content, just be sure to craft it towards your local audience.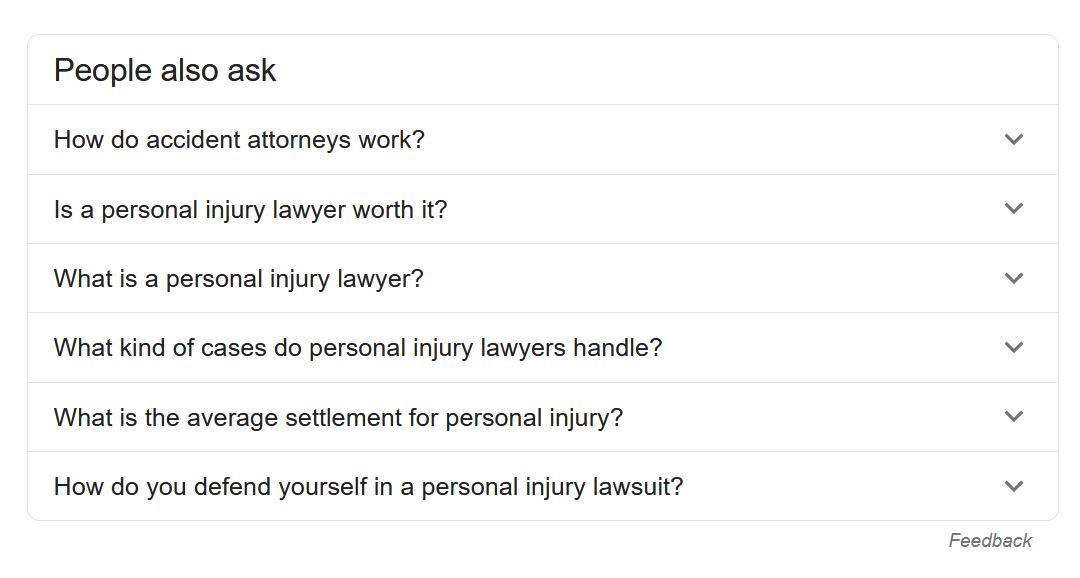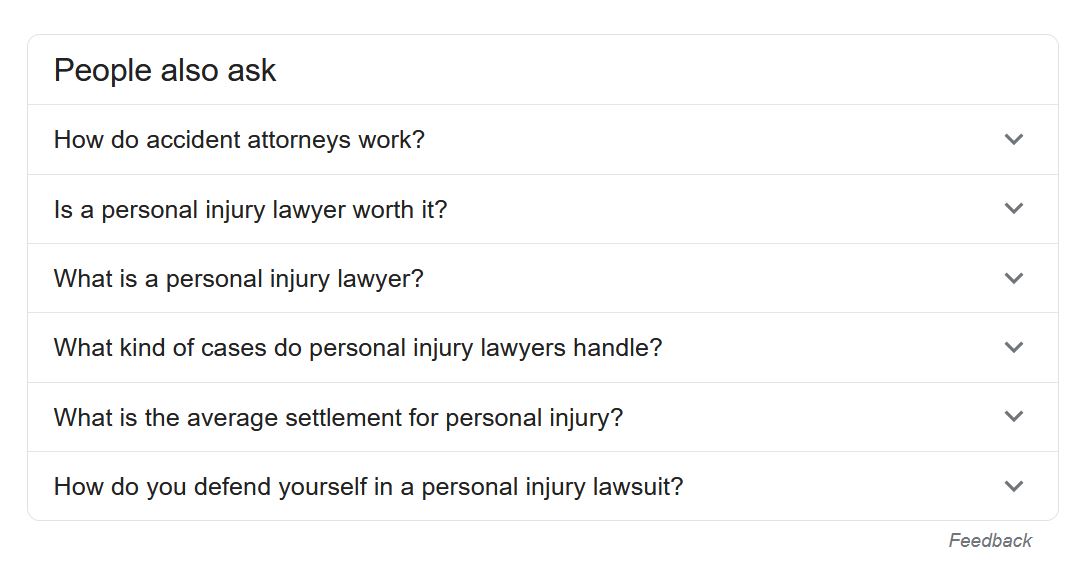 Google's Related Searches.
This section usually sits at the bottom of a Search Engine Results Page (SERP) on Google. Simply put, these related searches are similar search query suggestions. While related searches do not show up for every search query, if you poke around for a few seconds you'll see them. It is usually a good idea to create content based around these related search queries.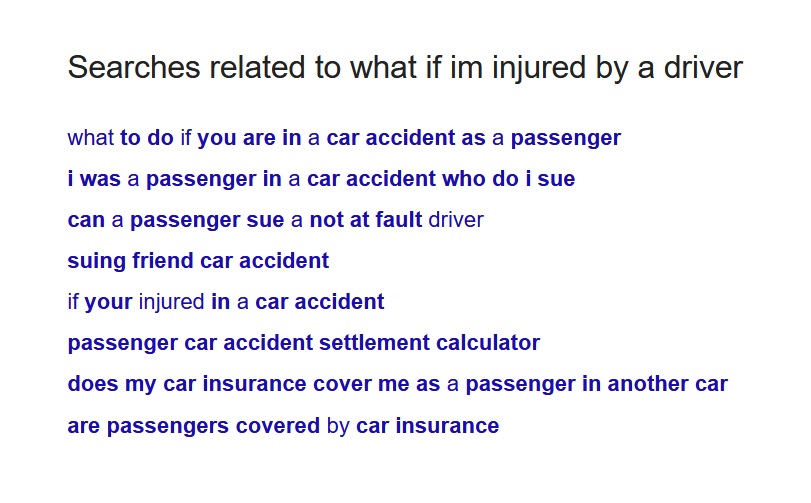 Google Autocomplete.
Google autocomplete is helpful for keyword research for personal injury law firms because it suggests searches based on real search queries. To get this going, simply visit google.com and begin typing something in.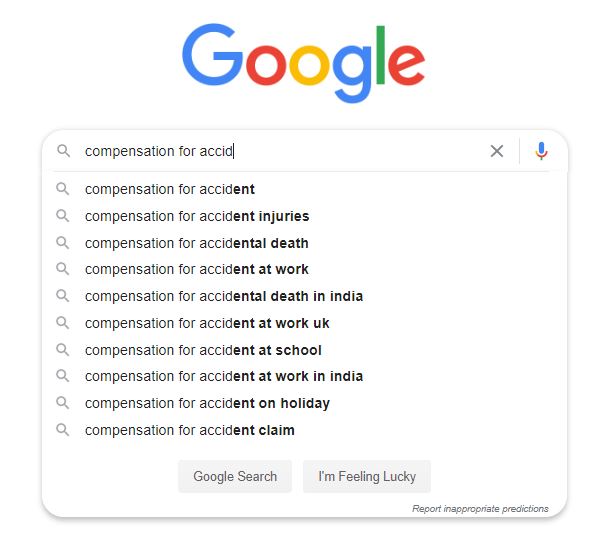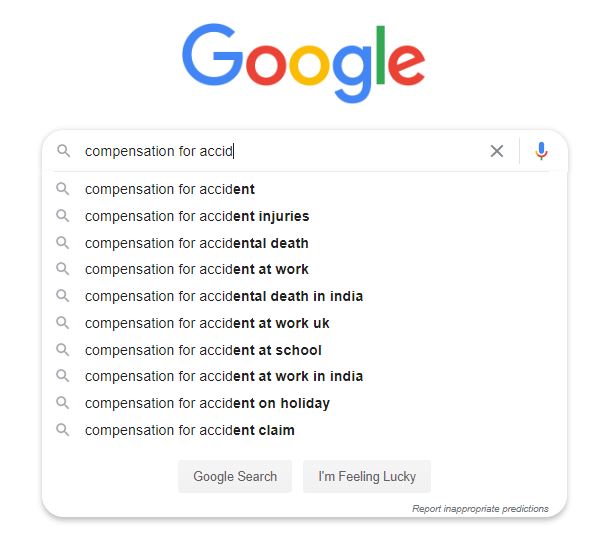 Tools Like Answer The Public.
Ok, now that we've covered using your brain and using Google, let's check out some tools. The first one up is answerthepublic.com. This tool basically generates PAA search queries. The graphic below shows what happens when you search for "personal injury lawyer". Other similar tools are KeywordTool.io and Ubersuggest.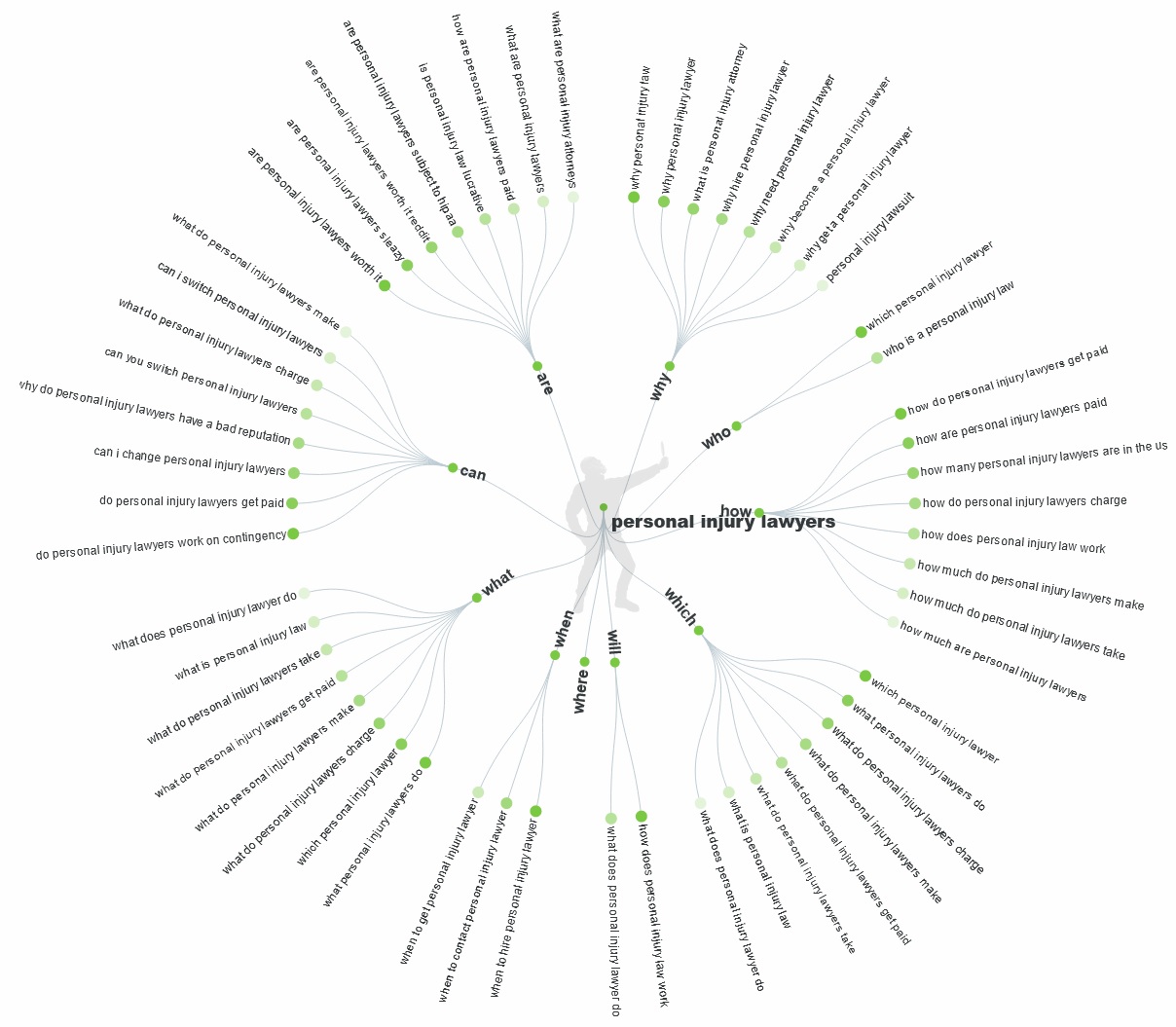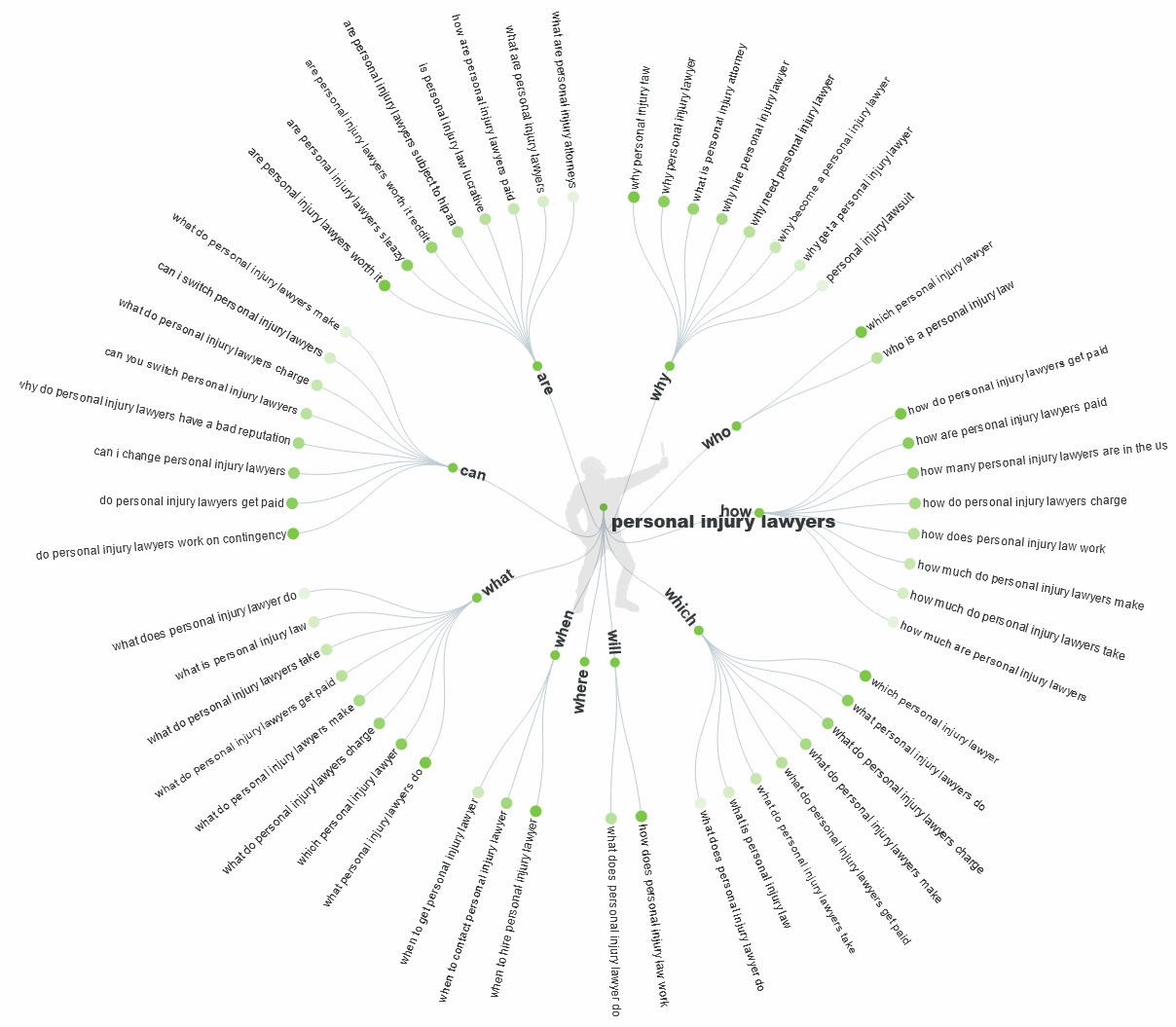 More Keyword Research Tools.
There are a variety of research tools out there. I use SEMRush, as many of my clients use SEMRush as well. Other similar tools are available from ahrefs, Google Keyword Planner, SpyFu and WordTracker. Most of these tools also allow you to see what competitor's most trafficked pages are.
Google Search Console and Google Analytics.
While Analytics doesn't show us exactly what people searched any longer we can still get a good idea based on the pages visited. Well, at least I can,a as I monitor tens of thousands of pages. But you can too as you begin creating content by seeing which pages perform.
AVVO, reddit and legal information forums.
FindLaw, AVVO and reddit all have forums where people ask legal questions. On these forums you can see exactly what people are searching for, in their own words.
Recap of Keyword Research for Personal Injury Lawyers.
Your most important keywords show clear intent of someone looking to hire an attorney, such as "Louisville personal injury lawyer". These keywords also generate a 3 pack in Google Local Search.
People are also searching Google for answers to their legal questions. These are potential clients who haven't yet made up their mind but may make it to your website and decide to call for a free consultation.
Many keyword research tools exist, however, these analyze major nationwide searches and scrape data from Google Ads. Your local clients may be searching for something different, so use your head or hire someone who has been writing this type of content for over 10 years and provides SEO for personal injury law firms.