Whether you love Google My Business or it is the bane of your existence, it is important that your law firm leverages it as a tool to attract prospective clients. This important piece of Google real estate is the first comprehensive look that a client might have of your business. It tells them your firm's name, website link, location, phone number, office hours etc. However, one tool that Google My Business provides that many lawyer firms fail to leverage is the Product Images.
When looking at a typical Google My Business listing for a retail store, it naturally makes sense to have images of the products they sell. For example, a toy store would have pictures of toys and games. A clothing store would have pictures of the latest fashions. But how can lawyers use this section of Google my business to capture client attention?
Why Personal Injury Lawyers Should Use Product Images on Google My Business
When browsing the internet, users' eyes gravitate towards images first. So, when given the choice between reading "Car Accidents, Pedestrian Accidents, Bicycle Accidents, etc." and having a visual like the one below, you have better odds of getting the first look with the latter.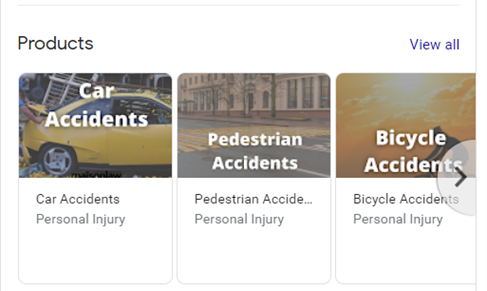 The visual representation of the service immediately captures the eye and tells the client the service that you provide. If the client clicks on the image, they get even more information about the particular service. The longer you can engage their attention, the more likely they are to pick up the phone or visit your website.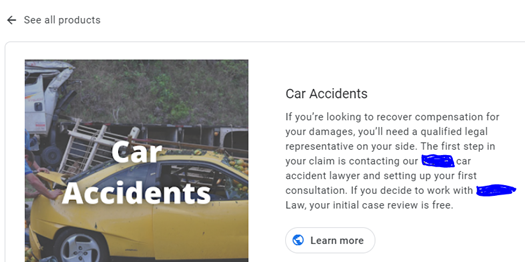 How to Create Product Images for Google My Business
While you can always hire a graphic designer to create product images, you can save a few pennies by doing it yourself. All it takes is a picture and a photo editor like Paint or Canva.
Finding Free Images
There are several opensource options to get free images. I personally prefer Pixabay.com. All of the images on Pixabay are royalty free and open for commercial use. All you have to do it search for the type of image you want to use. For example, you might want to type in "car accidents" or "bicycles."
Picking the Right Image
You will want to select an image that immediately portrays the service you are providing while not being insensitive or emotionally jarring. So, no gurneys, blood, or other gruesome scenes. You will also want to be mindful of the color tone of the image. If it is too light or dark, the words you place on top of them might be difficult to read. The same is true if the image is too busy. You will see through trial and error which images work best.
Editing the Image
My favorite image editing software is Canva.com. They have a free version that is great for lawyers. Their platform is super easy to use – click and drag.
Here are the steps to create the Product Image:
Click "Create a Design" and select Instagram Post (the sizing works well for this project)
Click "Uploads" and choose "Upload Media"
Upload the picture you want to use for your Product Image
Drag the corners of your image so that it fills the box
Click "Text" and "Add a heading"
Double click the text and change it to what you want it to say
Drag the box to where you want it
If you would like to change the color of the text, double click the text and hit the A with the color rainbow below it. If you want to change the size of the text you can either drag the corners of the box to make it larger or adjust it using the numbers to the right of the A with the rainbow.
Once you are happy with the result, hit "Download" in the upper right hand corner.
Save it in a place where you can easily find it later.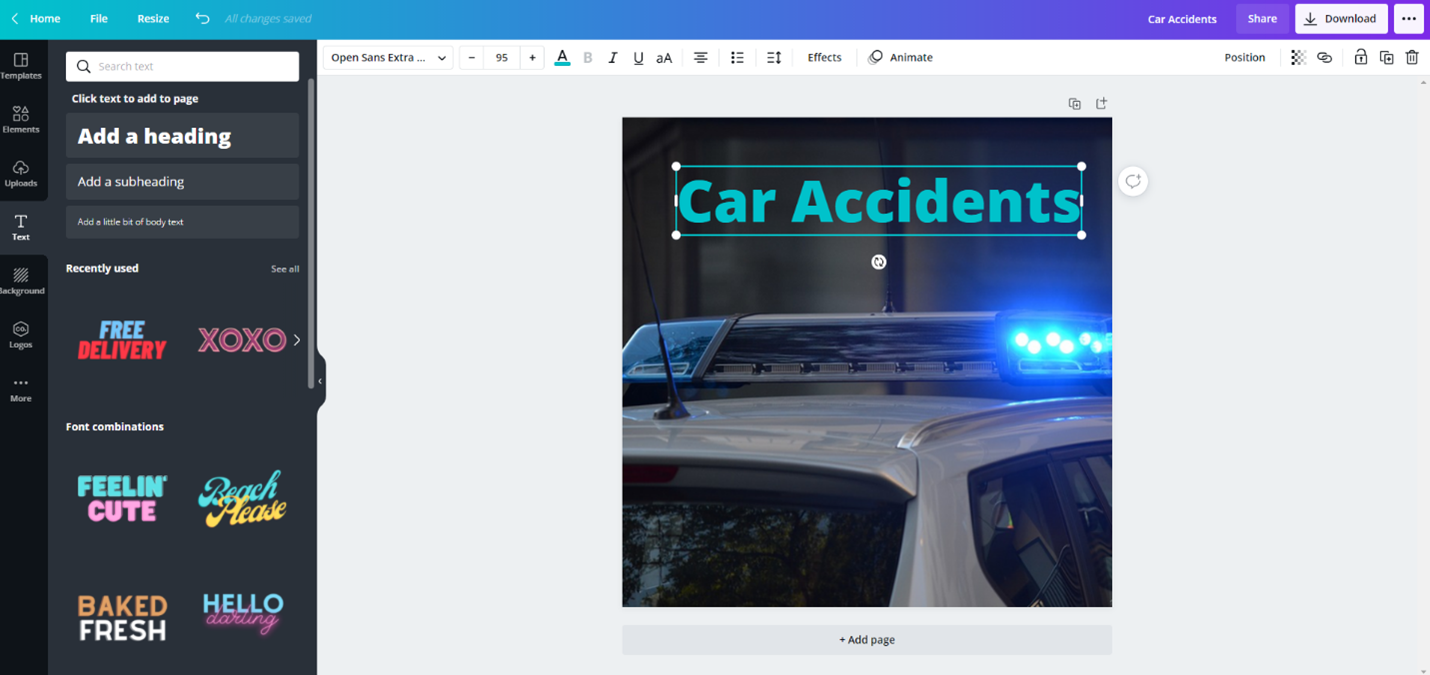 How to Upload Product Images to Google My Business
Creating product listings in Google My Business is very simple.
Log into Google My Business through business.google.com and sign in with your username and password.
On the left-hand navigation, select "Products." If you haven't used this section before, click the button that says, "Get Started."
Next, click "Select a photo" and choose one of the product images that you just created.
For the product name, pick a name that best suits the image that you have chosen, like Car Accidents
For Product category, I recommend typing Personal Injury.
I would leave the price blank unless you charge a flat fee for your services.
Under Product description, you can provide a great sales narrative for why prospective clients should choose your law firm to represent their case.
Add a button. The one that makes the most sense for law firms is "Learn More." It will then provide you with a space to put a link to your website.
Finally, click save.
Google will review and approve. Once complete, this will be added to your Google My Business profile. Repeat the process for as many products are appropriate for your business.