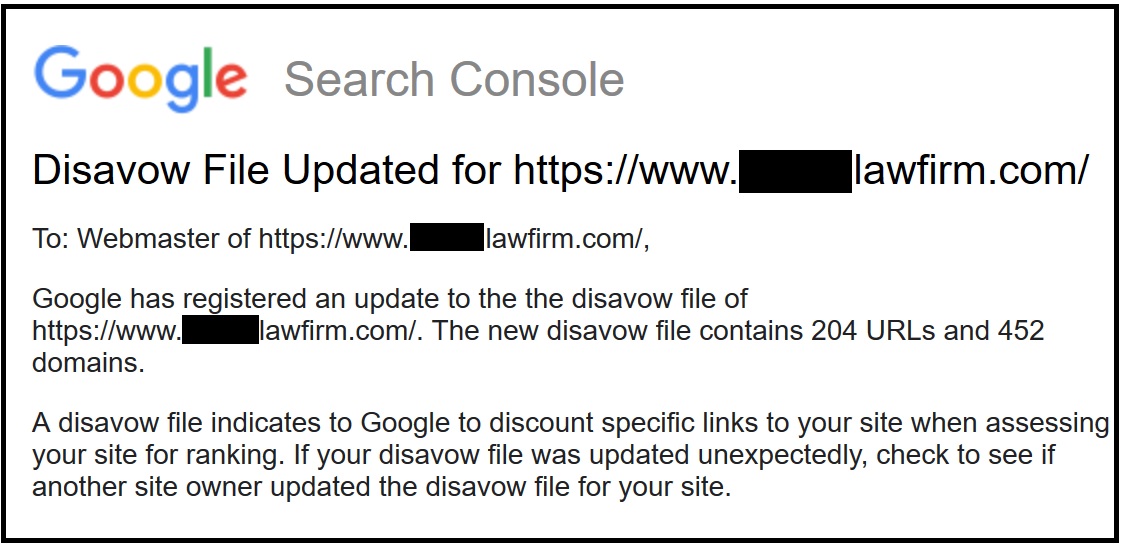 Since the late 1990's, search engines have used backlinks as their primary ranking signal. Nearly all law firms which rank on page one have done some sort of linkbuilding.
In general, backlinks come in three flavors: good, bad, and ugly.
Good backlinks could be from the bar association, your Yelp page, or a local Chamber of Commerce. Other necessary grey area backlinks which positively impact your site may come from a decent linkbuilding campaign where your site is cited or mentioned (in context), or from sponsoring local events, or from local scholarships, etc.
Bad backlinks could include reciprocal linkbuilding, links from low quality sites, exact match anchor text links directly to your important landing pages (think "Los Angeles Car Accident Lawyer"), or User Generated Content (UGC) links (think NoFollow links found on blog comments or in forums).
Ugly backlinks could include links from identifiable Private Blog Network (PBN) websites and other websites which exist solely for link placements, backlinks inserted into old content, backlinks inserted into totally off topic content, or backlinks which are obviously paid links. These are links which do more harm than good as they can demote your site's ranking in search engine results pages or cause a search engine to lose trust in your website. If you had a search engine, would you trust a website that was always trying to manipulate it?
What is a Disavow File?
In April 2012, Google launched the Penguin algorithm. While it never impacted myself or any of the sites I've ever worked on, many SEO agencies who practiced ugly linkbuilding tactics were left scrambling as their client's sites were absolutely crushed and kicked off of search engines.
In October 2012, Google launched the disavow links tool. The tool accepts a disavow file.
A disavow file is a file containing a list of URLs or domain names that you wish to have stop impacting your site. Once a disavow file is uploaded to Google, Google stops using those sites to rank your website.
Disavow files may be used for algorithmic penalties or manual actions. An algorithmic penalty (or demotion) occurs when your site ranks poorly due to it's lack of quality links or due to the negative impact of ugly links. A manual action is a much stiffer penalty and your website will be kicked out of Google's search results until a human can examine your actions to get back within the Google guidelines. The vast majority of people reading this will be interested in better rankings.
Do You Need to Disavow Links?
At least 99% of law firms will never, ever need to disavow backlinks to their website.
As of September 2016, Google Penguin became part of the Google Core algorithm. That means Penguin now works in "real time".
These days, Google devalues links they think are trying to manipulate rankings. This is significantly different from links which demote a website's rankings.
There is a lot of trash on the web, and modern search engines are able to demote almost all of it. Law firms have nothing to worry about most of the time. In most cases, attorneys are worried about 100 random links. That's nothing. I've seen news websites with 50 million trash links pointing at them and they performed absolutely fine in Google's search results.
In some rare cases, however, we will disavow links. Here are some examples of when we have disavowed baclinks:
A negative SEO attack on a Philadelphia personal injury attorney. If you're familiar with Ahrefs or SEMrush, take a look at any personal injury attorney on the front page of Google in Philly. They're going to have backlinks for some crazy terms from adult websites. Any attorney on the front page in 2019 was the victim of a huge coordinated attack. In my opinion, these nasty backlinks never hurt any of the attorney's websites. Still, I was comfortable disavowing these links because – while they didn't appear to be hurting anything, they definitely weren't helping.
A manual action on a Los Angeles Personal Injury attorney. Their previous agency absolutely trashed their website.
A new personal injury client in Tampa Florida. His last SEO agency had done absolutely nothing but add them to about 700 directories. Who knew there were still 700 directories on the Internet? This site was just pegged to page 3 and getting no traffic, despite being mentioned in the local news and prominent local websites. Something was wrong. The site did perform better after the disavow, however, we had made many other improvements as well, so the disavow was not necessarily causation.
In addition to my experience, Google employees are on record dozens of times stating that disavowing backlinks is almost always totally unecessary. Here are some quotes:
"The disavow is really for very rare cases & manual actions. Most never need it."
– Google

"If you do not have a manual action then you do not need to submit a disavow!"
– Google
Worried about backlinks?
Nearly every attorney we chat with has had a marketing agency either neglect their site or put it through some sort of traumatic injury. We're here to help you get the site back on it's feet and producing leads again. If your site is performing poorly and you're not sure why, contact us today and we'll be happy to take a look at what you've got going on.