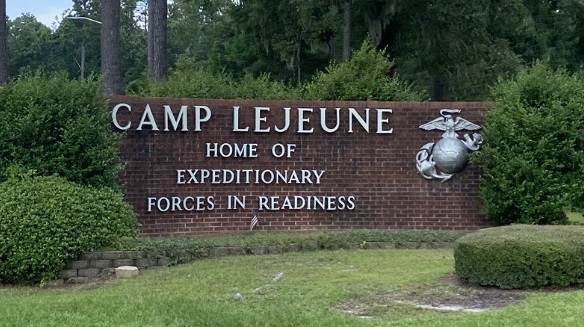 Nearly every Personal Injury Law Firm in the USA is going to want to be in on Camp Lejeune water contamination claims.
Whether you plan on taking Camp Lejeune cases on yourself or referring cases to another firm, here's what you need to know before you start marketing.
The Camp Lejeune Justice Act (CLJA) is Approved:
On June 16, 2022, the U.S. Senate overwhelmingly passed the Camp Lejeune Justice Act by a resounding 84-13 margin. That gives former residents of North Carolina's Marine Corps Base Camp Lejeune who lived on the base for at least 30 days between August 1, 1953 and December 31, 1987 the right to seek damages from the U.S. government for toxic water exposure on the base.
Update August 10, 2022: President Joe Biden signed the "Camp Lejeune Justice Act of 2022"  (S.3373) into law when he signed the PACT Act of 2022 (H.R.3967).
Handle Cases Yourself or Refer Out?
Attorneys have a couple of options here. Because we specialize in digital marketing for Personal Injury Law Firms, we work closely with a variety of clients. Our personal injury clients are all taking different approaches. The two options are to either handle cases in-house or refer them out.
Options:
Refer out: We work with a Mass Tort Litigation Firm who does a 50/50 split with attorneys who refer cases to them. The clients pay 40% in attorneys fees. Recovery is split with 50% going to the mass tort firm and 50% going to you.
In-house: At least one of our clients is handling the claims in-house. It will be a lot of work as they're a larger firm, but, they have the experience to make it happen.
The Mass Tort Litigation Firm has a streamlined, yet slightly complicated, the process for intake. Potential clients can fill out a form to see if they're eligible, and if they are, they are then sent forms to docusign. Forms include HIPPA, Form 95, Authority to File & an SF 180 which authorizes you to request military records.
Is This Big? Who is Eligible?
I live 20 minutes from Camp Lejeune. For decades, I have heard horror stories on the local news channels about mothers losing their babies, soldiers getting Leukemia, and children being born with terrible birth defects. I have friends who trained at Camp Lejeune and were terrified to have children of their own as drill instructors and sergeants all had kids with Down Syndrome and other terrible diseases.
I am appalled by what happened and happy that at least some sort of compensation will finally be available to our heroes.
The CLJA is huge. Around 1 million potential claimants will include former military personnel, their family members, and former federal employees on the base.
The bottom line is this. The CLJA allows military members, veterans, and their families to file civil lawsuits against the U.S. Government for harm caused by exposure to water at Marine Corps Base Camp Lejeune in North Carolina from August 1, 1953 to December 31, 1987
I'm not a legal expert, but I feel like this is an unprecedented case because the government is admitting guilt. It hits different.
This is just a portion of the diseases people will be able to be compensated for: Aplastic anemia, Bladder cancer,  Breast Cancer, Esophageal cancer, Female infertility, Hepatic steatosis, Kidney cancer, Leukemia, Liver Cancer, Lung cancer, Miscarriage, Multiple myeloma, Myelodysplastic syndromes, Neurobehavioral effects, Non-Hodgkin's lymphoma, Parkinson's disease, Renal toxicity, Scleroderma, Cardiac defects, End-stage renal disease, Kidney disease, Oral cleft defect, Soft tissue sarcoma, etc, etc, the list goes on.
What Happened?
Between 1953 and 1987, well water at Camp Lejeune was found to have been contaminated with highly volatile organic compounds that included known carcinogens of up to 280 times the level that regulators presently believe to be safe. In 2013, a study by the U.S. Department of Health and Human Services Agency for Toxic Substances and Disease Registry (ATSDR) revealed four core chemicals and 70 secondary chemicals in Camp Lejeune's water that included vinyl chloride from PVC pipes, trichloroethylene and tetrachloroethylene, both used as metal degreasers along with a fuel compound known as benzene. These chemicals were believed to have leaked from an underground fuel tank that may have spread millions of gallons of contaminants over several decades, along with contaminants from a nearby dry cleaning business and other chemicals used on the base.
The U.S. Centers for Disease Control and Prevention believes that between 500,000 and 1 million people were exposed to the contaminated Camp Lejeune water during the time period contemplated in the legislation. One epidemiologist from the University of Massachusetts remarked that he'd been working on "this kind of thing" for 30 years, and he'd never seen a community before with the level of contaminants as Camp Lejeune. The water that was used for bathing, cooking and cleaning has been tied to a variety of cancers, including male breast cancer, Parkinson's disease, infertility, stillbirths miscarriages, and other extremely dangerous health conditions.
A study was conducted by ATSDR comparing the causes of death of Marine Corp and civilian residents of Camp Lejeune and Camp Pendleton in California between 1953 and 1987. No contamination was found at Camp Pendleton during that time period. The study found that the incidence of kidney cancer was 35% higher at Camp Lejeune than at Camp Pendleton. Liver cancer was 43% higher as was esophageal cancer and cervical cancer was 33% higher. Hodgkin's lymphoma was 47% higher and cases of multiple myeloma were a startling 68% higher.
Documents discovered by veterans' groups implied that the Marine Corps was slow to act when contaminated water was found at Camp Lejeune early in the 1980s. In 1984 and 1985, some drinking water wells were closed, but sources of contamination continued to be unabated. The disingenuous position of the Marine Corp was that the contamination wasn't intentional, and that federal law didn't limit toxins in drinking water. More than 800 alleged victims sued the federal government pursuant to the Federal Tort Claims Act. Unfortunately, their lawsuits were dismissed pursuant to an obscure North Carolina 10-year statute of repose. The statute of limitations expired on them before many of them even knew that they were ill. On that basis, members of congress drafted the Camp Lejeune Justice Act that's waiting for the President's signature.
How Personal Injury Lawyers May Obtain Camp Lejeune Water Contamination Cases:
If you've searched online for attorneys seeking CLJA clients, you're probably already seen our work. 😉
Surviving former Marine Corps members and their families are scattered across the United States. At this point in time, only a few law firms are lining up Camp Lejeune drinking water cases, so opportunities are there for ambitious personal injury lawyers who wish to represent victims who have been injured or the families of those who died from contaminated water on the base.
Timing is everything, and it's critical to start marketing before President Biden signs off on the subject legislation. Getting signed retainer agreements early on will be essential. (This article, published in June 2022, has been updated (above) to reflect that the law is now signed).
Here are some ways attorneys are marketing CLJA:
Content. We primarily help Personal Injury Lawyers by getting content up on their website which is likely to rank well in Google's search results. In June we launched several pages focusing on specific states which instantly ranked at the top of page 1. Leads have been pouring in. It pays to be first. It pays to be #1.
SEO. Part of our strategy is to be first. We wrote the first Uber accident lawyer page on the web. We had the first Camp Lejeune articles on the web as well. If you're starting late, you'll need a solid SEO strategy executed by an experienced, niche agency with experience marketing mass torts.
Local. Local marketing around Camp Lejeune and other Marine bases is also important. Many retired marines and their families still live in the area.
Social Media. This is not our specialty, however, we're seeing plenty of ads on YouTube, Instagram, Facebook & TikTok which are simple enough to target veterans.
Television. We are currently in talks with multiple media buyers and are having video advertisements created. While we do not shoot videos here, we can advise on this.
Feel Free to Contact Us.
Larger firms have already started lining clients up. There's nothing prohibiting referral fees, so long as they're in compliance with applicable ethical rules.
Opportunity is knocking. Contact us today if you need assistance getting cases online.