Optimize My Firm had a fantastic time at the 2022 Maryland State Bar Association Annual Meeting in Ocean City, Maryland. This was our first convention that we attended as exhibitors – one of many to come in the near future. For anyone considering attending an MSBA annual meeting either as a lawyer or an exhibitor, here is how our experience unfolded.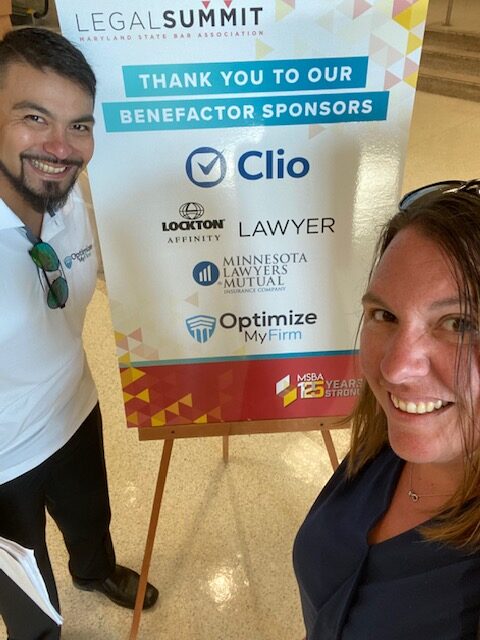 Joe, our Sr. SEO Manager, and I arrived Tuesday afternoon. I drove up from North Carolina and picked him up at the Salisbury Regional Airport. I mention this because I was shocked and delighted by how tiny this airport is and how it is tucked away in a neighborhood in Ocean City. Never in a million years would I have expected to find an airport there, but lo and behold, there it was in someone's backyard. The alternative would have been to fly into Baltimore which would mean a lot more driving, traffic, and coffee.
After managing a seamless pickup and 30-minute ride to Ocean City, Joe and I explored the strip. The typical surf and trinket shops bedazzled the main road. You could find everything from candy shops to sharks in a jar (sad). There is also a smorgasbord of restaurants ranging from seafood to acai bowls. Our favorites were 45th Street Taphouse and Guido's Burritos. Though I am demanding a trip to Shmagels Bagels next time.
We set up our booth on Wednesday morning, which was also opening day for MSBA attendees. We were able to speak with a handful of attendees after we got set up, but we spent a lot of time chatting with other exhibitors and getting the lay of the land.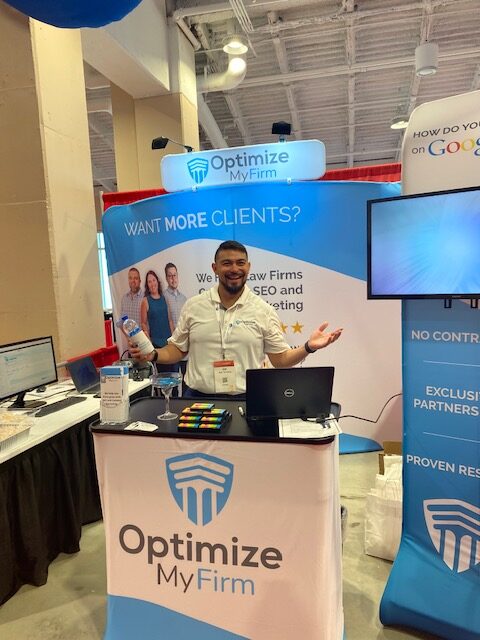 That evening, we attended the welcome reception and late-night party at a gorgeous penthouse suite at the DoubleTree by Hilton. This mom of two had forgotten what 11pm looked like. We had a great time getting to know some of the attorneys, judges, and other legal industry experts in attendance. We talked about everything from law school to fried chicken. Publix fried chicken was the clear winner.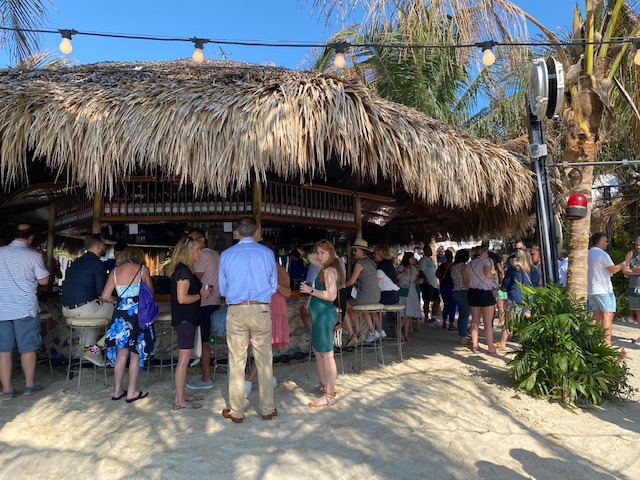 As an exhibitor, Thursday was the heart of the show. During the breaks in the schedule, attorneys would venture into the expo hall, grab snacks, and chat with vendors. We were able to make some great connections and received a handful of prospective leads.
There is no shortage of need for SEO in the legal world. We spoke with lawyers from every sector. We strategized with lawyers who want to open new practices. We collaborated with legal organizations offering public services.
The creativity and genuine desire to help the Maryland community through legal support was simply energizing.
And the cookies. OMG the cookies.
Every exhibitor brings swag to entice prospective customers to visit their booth. There were some branded bags, water bottles, and a few nifty gadgets. But our cookies were the best.
We brought macaron cookies from Mon Macaron in North Carolina. They were fluffy and sweet and just amazing. We had people coming back 2-3 times asking for cookies for girlfriends, kids, and grandmas that they swore they were taking them home to. At the end of the conference, I had a waiting list of people who wanted to come back if we had leftovers (we didn't).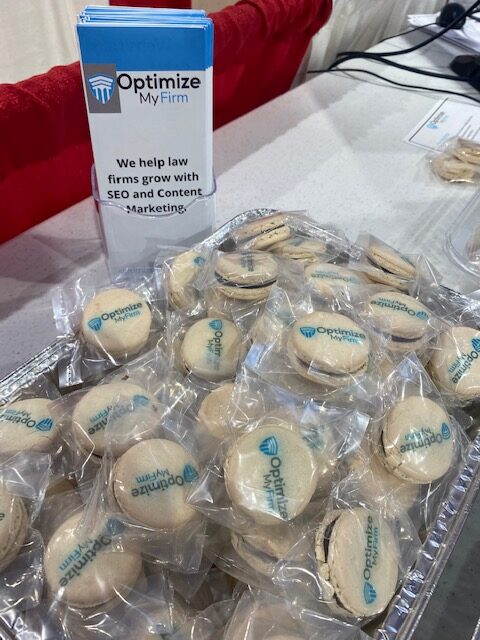 Friday was a slower day. Attendees who had been interested in the exhibits had made their way through on Thursday. Don't fact check me because I am going off of feeling and not fact, but there were about 500 total attendees of whom 350 visited the exhibition hall. By Friday at noon, exhibitors began packing up and rolling out.
Major Takeaways:
Overall, a fun event. Great people. Great parties.
Lawyers all reported learning a lot from the lectures and presentations.
We made several great connections and might be a good fit for a couple of clients.
There were a few hiccups in MCI's planning (no refreshments on opening day, not having expo hours on opening day, general scheduling mishaps, no lunch break, etc.)
The lead capture tool was really nifty and an asset for following up with leads.
We will definitely plan on attending next year.
We will bring the cookies.